Iwakuma seeks 'balance' between upper, lower body
Mariners right-hander unable to find rhythm over recent rough stretch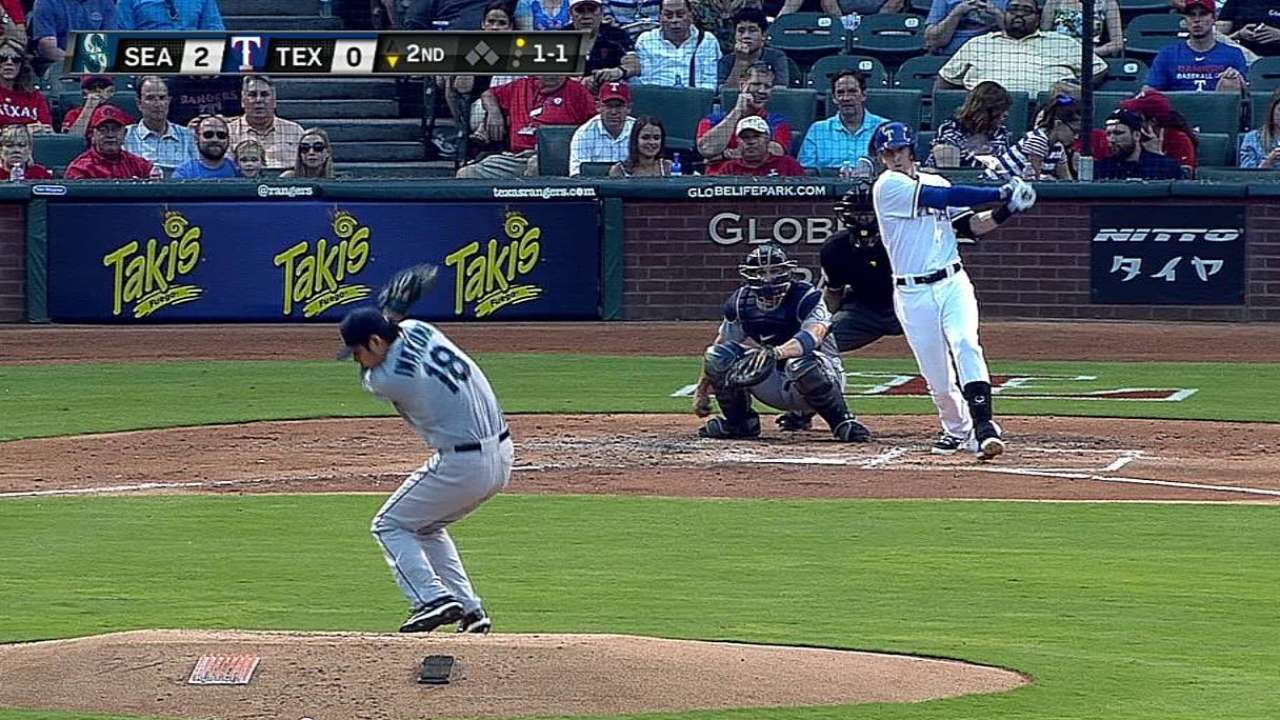 ANAHEIM -- Looking to explain his recent struggles, Mariners right-hander Hisashi Iwakuma went a little abstract following Monday's rough outing against the Angels. He said his "balance in general, his upper body and lower body are not linking right now" and thus he's not been able to make the pitches he needs at key times.
That raised some obvious follow-up questions as reporters tried to understand what the 33-year-old standout meant, with the result appearing to be that Iwakuma simply hasn't felt in the right rhythm in his last five starts while giving up 22 runs in 21 1/3 innings.
"It's just a feel thing. It's hard to explain in words," Iwakuma said through interpreter Antony Suzuki. "It's a feel I have in my body where it links from the bottom. You want to generate power from the ground and that's how I get it from my lower body to my fingertips."
While Iwakuma may have a different way of expressing it, the bottom line remains. He's a pitcher who relies on pin-point control and an outstanding splitter. When he's not commanding his pitches as well as he'd like and starts leaving offerings up in the zone, he's vulnerable.
"You want to attack and I'm usually good at attacking and getting ahead early," said Iwakuma. "All pitchers have the same issue. If you try to be too careful, you try to hit the spot and it kind of gives you a step back because you're trying to be too careful and you're missing. That's where you have to make your adjustments."
Iwakuma gave up a career-high seven runs in 3 1/3 innings in Monday's 8-1 loss and uncharacteristically walked two batters in a four-run third inning. He still has the second-best strikeout-to-walk ratio in the league, is fourth in WHIP and has the lowest pitches-per-inning and pitches-per-plate appearance, all indicators of his remarkable efficiency.
The rarity of the two walks -- both coming with two outs -- in the same inning Monday were a reminder of how sharp Iwakuma normally has been in his three seasons with Seattle.
"Two-out walks, leadoff walks, any walks, they always seem to show up somewhere," catcher Mike Zunino said after both those runners wound up scoring Monday on Albert Pujols' bases-loaded double. "It just always seems to happen. No matter what team or scenario, walks kill you. We've done a good job all year limiting that. Especially with Iwakuma, it's extremely rare."
Greg Johns is a reporter for MLB.com. Follow him on Twitter @GregJohnsMLB as well as his Mariners Musings blog. This story was not subject to the approval of Major League Baseball or its clubs.