Coulombe impresses in first day in Dodgers bullpen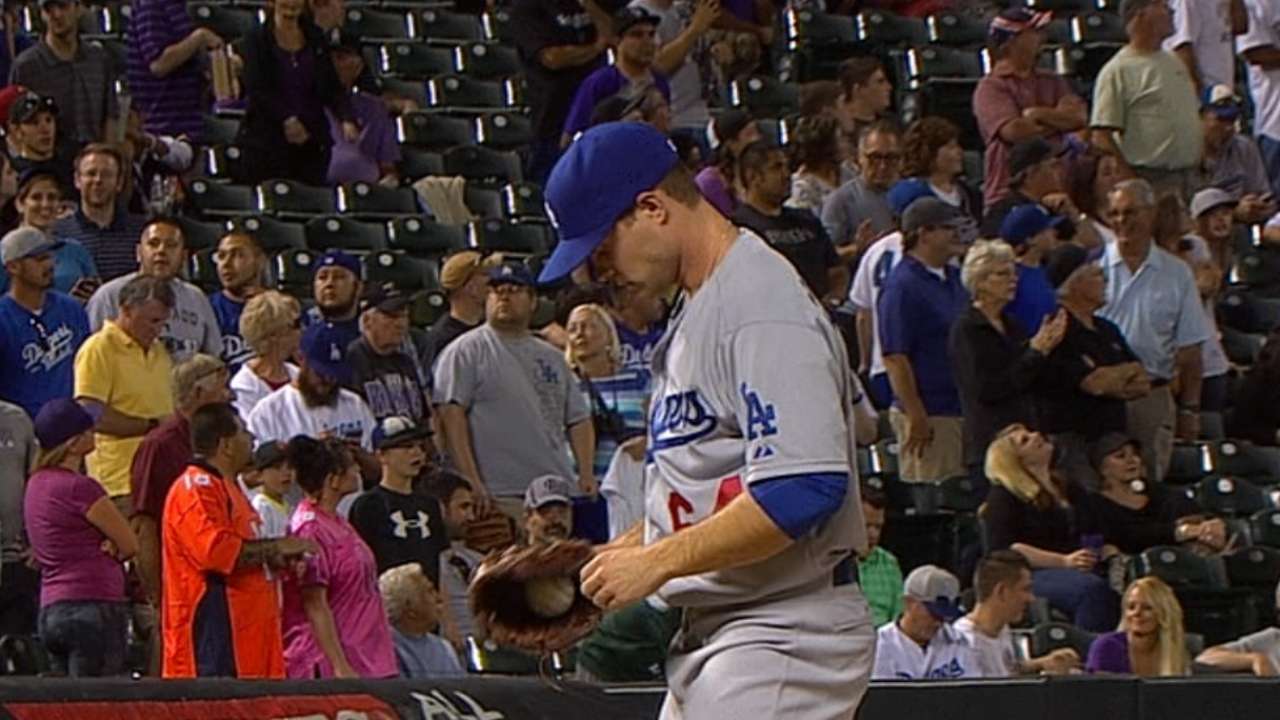 DENVER -- When the Dodgers recalled left-hander Daniel Coulombe from Double-A Chattanooga on Tuesday, manager Don Mattingly said the idea was for him to be used in situational, one-batter matchups. But with the National League West leaders trailing the Rockies, 7-2, in the seventh, Coulombe was given a full inning for his Major League debut.
Coulombe, a 25th-round pick out of Texas Tech in 2012, sat the Rockies down in order, including a strike out of Rafael Ynoa, the first batter he faced in the bigs.
Not a bad first impression for someone who skipped Triple-A to join a team in the midst of a playoff push. And at Coors Field of all places.
But for Coulombe, it was just another day at the office.
"For me, it's still baseball," Coulombe said after the Dodgers' 10-4 loss. "It's the same game and it always will be. … You've just got to throw the ball over the plate and hitters have to hit it. I just kind of cleaned up. That's what you've got to do."
In the span of five days, the Dodgers have gone from having only J.P. Howell as a left-handed option in the bullpen to an embarrassment of southpaw riches. Lefties Scott Elbert and Paco Rodriguez were recalled on Friday and Saturday, respectively.
Coulombe struck out 31 batters in 21 innings with a 2.57 ERA at Double-A. Although his Minor League season ended three days ago, Coulombe has been playing catch at the Dodgers' Spring Training facility in Arizona.
"I was sent to 'stay ready' camp in Arizona, so I had an idea this could happen," Coulombe said. "I made sure I was ready to go."
Coulombe relies heavily on his slider and curveball, two pitches Mattingly was impressed with when he watched his tape.
"We've had some glowing early reports about him," Mattingly said. "He's a guy that closed out the last three games they had in the first round in the playoffs. … He has a possibility of being a guy that we might see next year, so we wanted him to get some time around the club."
To make room for Coulombe on the 40-man roster, the Dodgers recalled right-hander Stephen Fife from Triple-A Albuquerque and placed him on the 60-day disabled list.
Before undergoing Tommy John surgery on Aug. 13, Fife had 6.34 ERA in 49 2/3 innings at the Triple-A level. Fife also made a spot start for the Dodgers on May 4, allowing four runs on seven hits in six innings against the Marlins.
Cody Ulm is an associate reporter for MLB.com. This story was not subject to the approval of Major League Baseball or its clubs.