Tulo staying focused on getting ready for 2015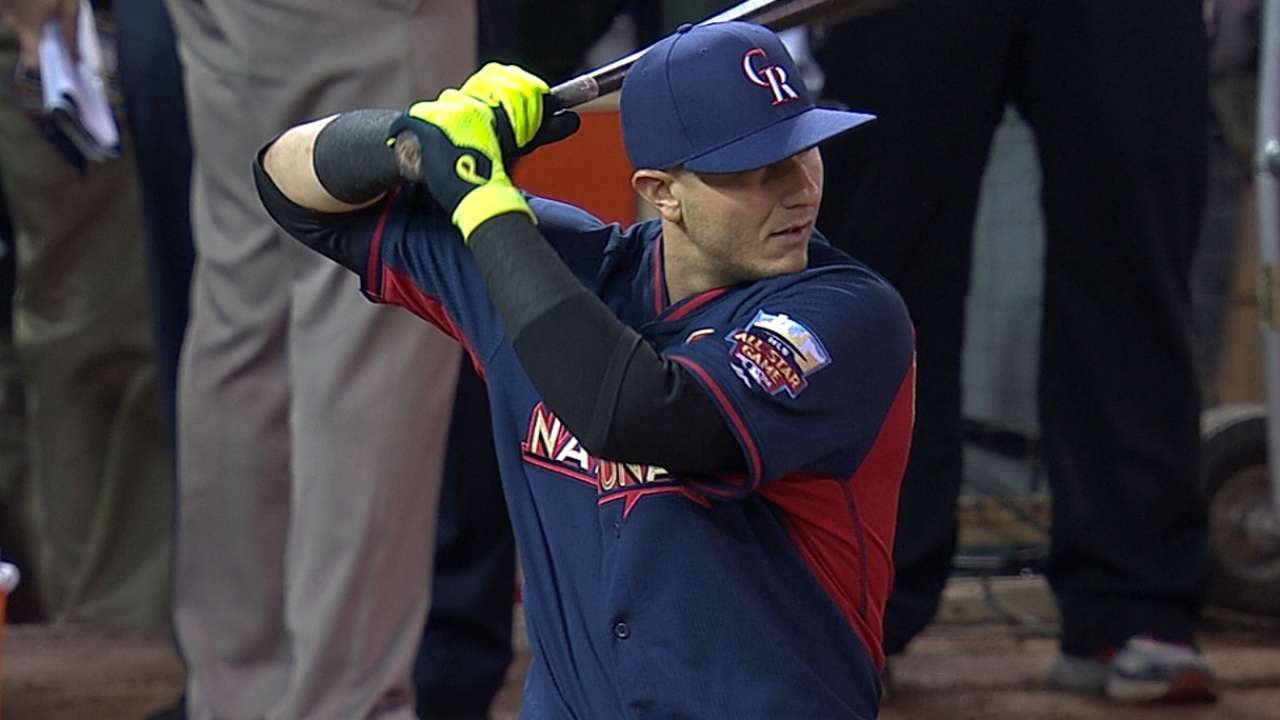 DENVER -- It was old times, kinda. Rockies shortstop Troy Tulowitzki walked the tunnel from the home clubhouse at Coors Field to the dugout without a limp. His step, in lime-green sandals and socks, didn't exactly have a bounce, but it was not bad for a guy who had a torn left hip labrum repaired on Aug. 13. The crutches and brace have been gone for a week.
"All I can do is have positive thoughts, do all my rehab the way it's supposed to be done, be ready for Spring Training and go out there and play my game," Tulowitzki said.
Tulowitzki's season is as good an illustration of the Rockies' season as any.
He led the Majors with a .340 batting average, his 21 homers had him battling for the National League lead, and his fielding numbers had him in line to win his fourth career Gold Glove. Then he was hurt, as were so many other Rockies. Now he is watching a depleted team that is flirting with a third straight last-place finish in the NL West and is in danger of losing 100 games for the first time in franchise history.
He and the Rockies are trying to put all the pain of 2014 behind them.
"I'll do what I can do to help make things more positive," Tulowitzki said. "As a team and as an individual, it stinks to lose games and be on the DL."
The offseason will not be a comfortable time for the Rockies. The fan base is tired of seeing seasons fall apart because of injuries and a lack of depth. The front office is under pressure. With Tulowitzki's season ending at 91 games, it means he will have finished with fewer than 100 games two of the last three years and under 130 for the fourth time in five years.
Tulowitzki is due $118 million 2015-20. The Rockies' other high-priced star, outfielder Carols Gonzalez, is coming off left knee surgery that ended his fourth straight series of fewer than 136 games and is due $53 million over the next three years. The club also badly needs pitching, starting and relief, and depth. There will be pressure to deal big-contract players, but there would be difficulty getting value given the injury histories of Tulowitzki and Gonzalez.
Tulowitzki, who will spend the winter at his Las Vegas home, will concentrate on rehab and not allow himself to be distracted by rumors.
"I don't control that," Tulowitzki said. "Hopefully we can put a good team on the field next year."
Tulowitzki expects to be ready for Spring Training. For now, he can do leg exercises and ride a stationery bike, but no weight-bearing movements.
Tulowitzki's hope is correcting the labrum will help him avoid future muscle injuries. Whatever the answer is, he doesn't believe moving from shortstop -- a demanding position, especially for a bigger player (listed at 6-foot-3, 215 pounds) -- is part of the answer.
"If I feel like I'm harming the ballclub being at short, then it can be talked about," he said. "But I feel like that's where I make the biggest impact. I feel I help the team most at shortstop. Until I feel like there's another position that's better-suited for me, I'm going to stay there."
Thomas Harding is a reporter for MLB.com. Read his blog, Hardball in the Rockies, follow him on Twitter @harding_at_mlb, and like his Facebook page, Thomas Harding and Friends at www.Rockies.com. This story was not subject to the approval of Major League Baseball or its clubs.