Play at plate sums up Dodgers' loss to Rockies
Turner knocks in two before out call and review stalls LA rally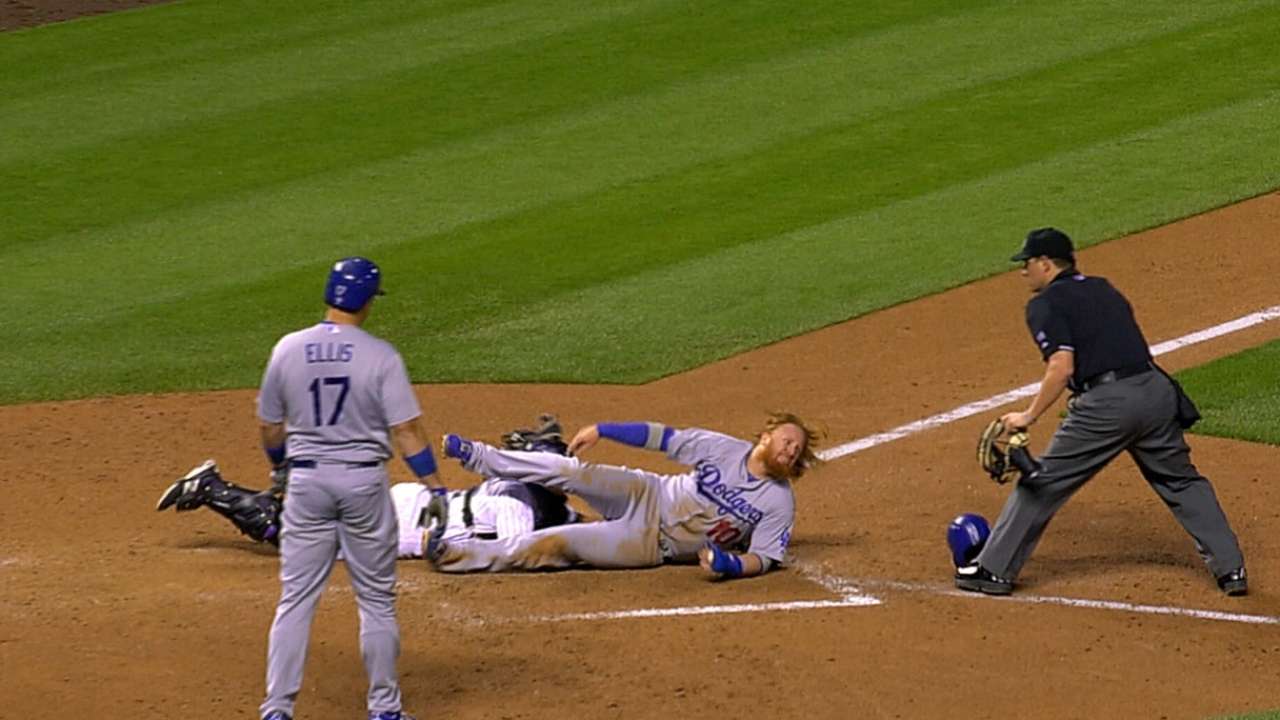 DENVER -- On most nights, outhitting the Rockies by seven at Coors Field is a recipe to at least keep it competitive. For the Dodgers, Tuesday wasn't most nights.
Entering with 32 runs in their last three games, the Dodgers tallied 16 hits but fell to the Rockies, 10-4. With the Giants also squeaking out a 2-1 win in Arizona, the Dodgers' National League West lead shrunk to three games.
Although the Dodgers stranded 10 men on base and finished the evening 3-for-14 with runners in scoring position, Tuesday's contest could have taken a much different tone had two borderline pitches gone the other way.
All five baserunners right-hander Dan Haren allowed came around to score, starting with Charlie Blackmon's leadoff walk in the first.
Justin Morneau plated Blackmon on an RBI groundout, and the Rockies would get another run in the first inning on a wild pitch. But it was the cutter on the edge of the zone that was called a ball on a full count to Blackmon that haunted Haren.
"That was a tough way to start, for sure," Haren said. "I didn't get the benefit of the doubt there. [Umpire D.J. Reyburn] had a pretty generous zone for most of the night, with the exception of that one."
Corey Dickerson's towering, two-run homer off Haren in the fourth inning put the Dodgers in a 5-0 deficit.
One night after scoring eight runs in the sixth inning, the same frame seemed destined to be kind to the Dodgers again.
Justin Turner's two-run double put the Dodgers on the scoreboard before he was thrown out at home on Juan Uribe's proceeding double, on another tough call that didn't go the Dodgers' way. Turner slid into catcher Michael McKenry, who was blocking the plate, prompting Don Mattingly to question whether the Rockies' backstop violated MLB's new rules involving such plays.
After crew chief review confirmed McKenry was within the rules, A.J. Ellis' walk put an end to left-hander Tyler Matzek's evening, Right-hander Tommy Kahnle came on to face a pinch-hitting Hanley Ramirez.
Ramirez, a late scratch with a right elbow sprain, struck out swinging. Then, with the bases loaded, Yasiel Puig suffered the same fate on called third strike that could have gone either way. Puig was visibly upset at the call. Mattingly was more upset about his team's overall performance.
"I don't think it does us much good to talk about the umpiring, really," Mattingly said. "If one thing is going to cost you the game, you didn't play that good."
Puig would end up blasting a two-run homer to right-center in the ninth before right-hander LaTroy Hawkins settled down enough to put an end to the Rockies' seven-game losing streak.
In his only previous start against Los Angeles, the Dodgers stuck Matzek with a loss after he allowed three runs on 10 hits. This time, Matzek surrendered one more hit but managed to escape with the victory, striking out six against two runs in 5 1/3 innings.
After surrendering eight runs in 5 1/3 innings in July at Coors Field, the Rockies got to Haren for five runs in his five innings Tuesday.
"If I could just throw out my two Coors Field starts, I'd feel a lot better about my year," Haren said.
Cody Ulm is an associate reporter for MLB.com. This story was not subject to the approval of Major League Baseball or its clubs.