Cards mulling rotation plan for Lackey, Wacha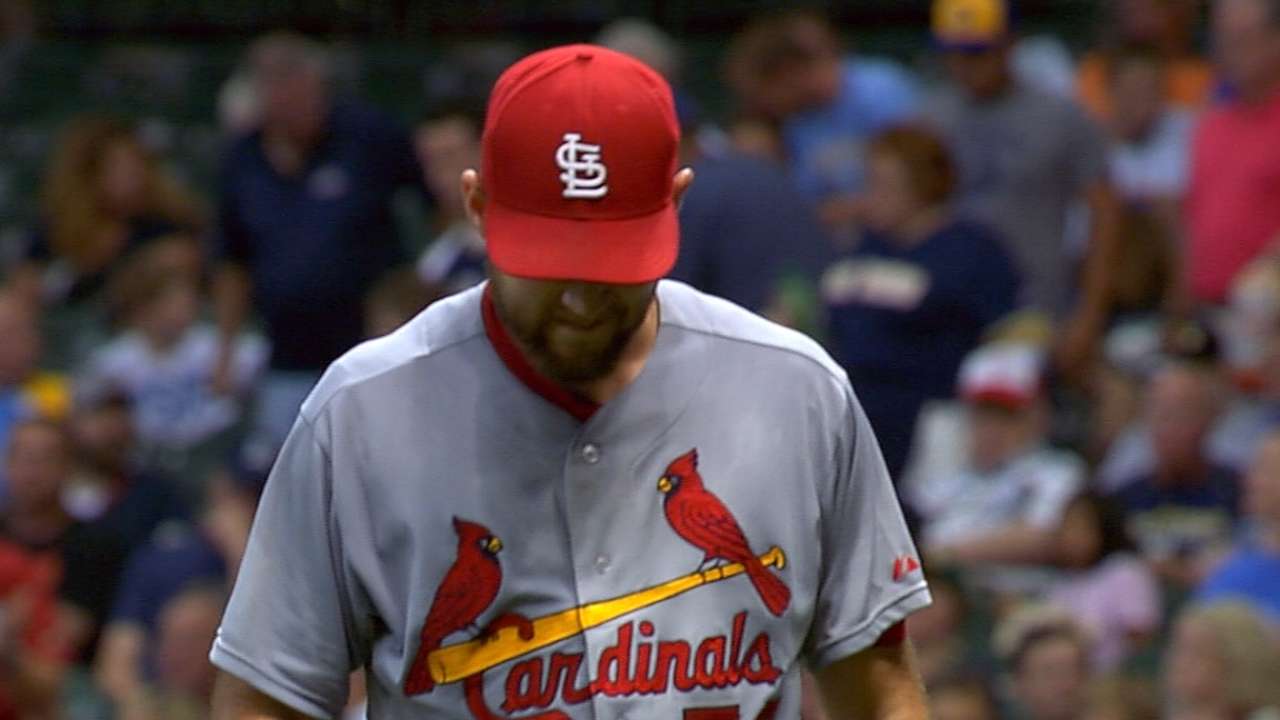 ST. LOUIS -- The Cardinals' rotation plans for their weekend series against the Reds remain unclear, as the club plans to first see how Michael Wacha responds to throwing off the mound on Wednesday before making any firm announcement. The organization has resisted even guaranteeing that Wacha will return to the rotation at all, given the complexities of his recovery from a right shoulder stress reaction.
While Wacha's status is unclear, so is John Lackey's next start date. The Cardinals do anticipate having Lackey start against the Reds, but they have not announced on which day. Lackey threw his side session on Tuesday, making him an option to start as early as Friday.
Lackey, who was initially scheduled to pitch Tuesday night's series opener against the Brewers, had his start pushed back in order to help him deal with what he described to the coaching staff as "dead arm."
As for Wacha, his recovery and return are much fuzzier. The Cardinals first have to determine whether they are comfortable having the right-hander return to the mound this season, and then decide in which role he would best fit. The ideal scenario would be to have him start, though Wacha's health and command will dictate whether that's feasible.
The Cardinals were encouraged by how well Wacha felt after throwing a side session on Sunday.
"We have a few options here," manager Mike Matheny said. "He starts soon. He starts later. He relieves soon. He relieves later. Or he doesn't pitch at all. But things are going in a direction to where I imagine he'll be pitching sooner rather than later. Just like everybody else, I'd like to see Michael out there on the mound. I'd like to see him starting. But we're going to make sure with this kid. We're going to make sure everything is right before we do that."
Wacha made two starts -- totaling seven innings and 120 pitches following an 11-week absence -- before the Cardinals put on the brakes. With Wacha not feeling as well as hoped after each start and having trouble finding the feel for his changeup, the club opted to stall his schedule.
"We have a guy who we're making sure is right," Matheny said. "We don't have anywhere to send him to go pitch [now that the Minor League seasons are over], so we have to get the work in somehow while also monitoring how much, while also keeping eyes on how he's responding, how his arm is holding up. It's a unique injury. We don't have a lot of protocol for that, so we don't know a lot about what that looks like. So the answer is this is something we're trying to feel our way through to protect this kid, but also if we can, we have to take our best shot."
Worth noting
• After sitting on Sunday due to discomfort in his left oblique, Matt Adams returned to the lineup and started at first base for the Cardinals on Tuesday night. Adams missed two games earlier this month due to the same injury.
• Triple-A manager Ron "Pop" Warner joined the Cardinals during their weekend series and will remain in St. Louis this week as an extra instructor. The Cardinals recently had Mike Shildt, the manager of the Double-A club, spend time with the Major League team for the same purpose.
• Prior to Tuesday night's game, players cast votes for the Major League Baseball Players Association Choice Awards, which will be handed out after the season. Those awards include four league-specific ones and another two that are each given to one player in the Majors.
Jenifer Langosch is a reporter for MLB.com. Read her blog, By Gosh, It's Langosch, and follow her on Twitter @LangoschMLB. This story was not subject to the approval of Major League Baseball or its clubs.