Tex out with wrist pain; Girardi unsure of return
Battling slump, first baseman bothered since Yanks' latest homestand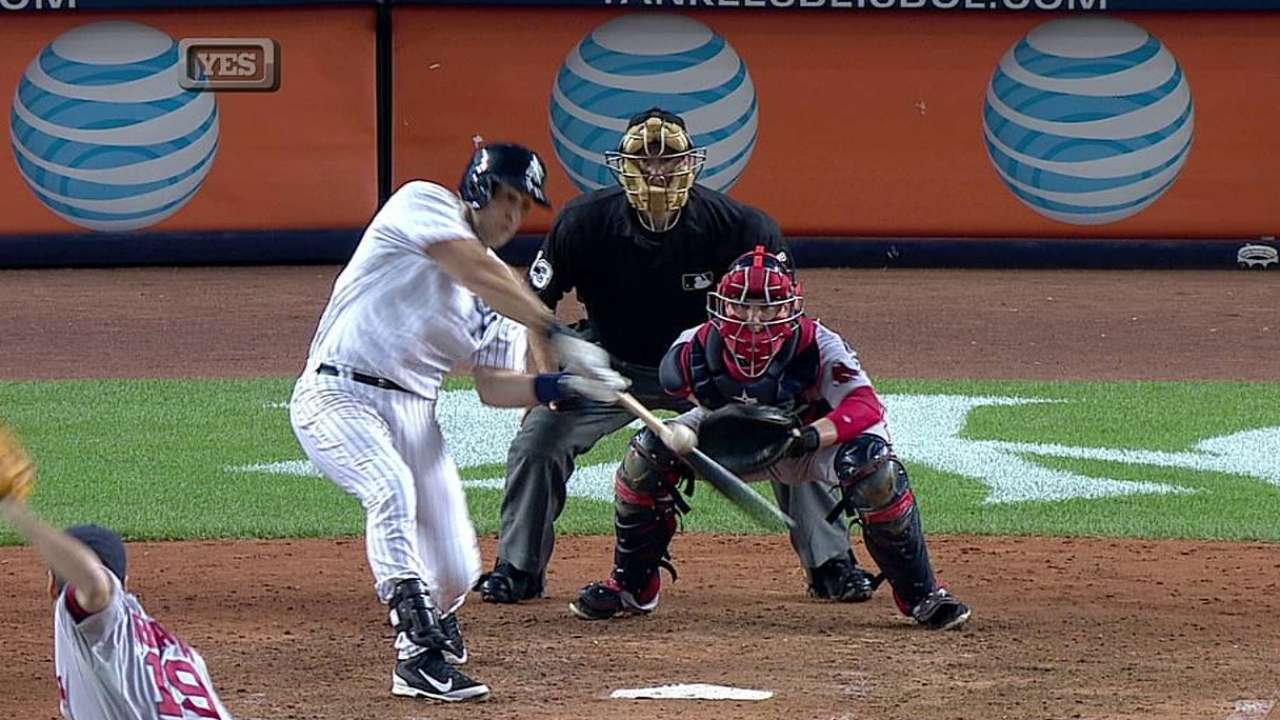 ST. PETERSBURG -- Mark Teixeira was held out of the Yankees' starting lineup against the Rays on Tuesday with discomfort in his surgically repaired right wrist, and manager Joe Girardi said that he is not certain when the veteran first baseman will be ready to return.
According to Girardi, Teixeira said that the wrist has been bothering him since the end of the Yankees' most recent homestand. Teixeira has two hits in 14 at-bats (.143) on this road trip.
"I told him, 'Come see me when you're ready to go again,'" Girardi said.
This most recent flare-up is the latest incident in what has been an injury-marred season for Teixeira, following a 2013 campaign in which he was limited to 15 games and had surgery to repair a partially torn ECU tendon sheath.
Jose Bautista of the Blue Jays and David Ortiz of the Red Sox are among the big leaguers who have had similar procedures, but their return to form was not immediate; Teixeira, who was unavailable to speak before Tuesday's game, seems to have fallen into the same group.
"You're hoping when you have the surgery that you're healthy and you can play every day, but for whatever reason, it's lingered with him," Girardi said. "Maybe the offseason will help and he'll get through it and we won't have that problem. That's my hope for next year."
Teixeira got off to a decent start this season, batting .241 with 17 homers, 48 RBIs and an .805 on-base plus slugging percentage in 73 games. His production fell off sharply following the All-Star break, after which he has posted a .179 average with four homers and 10 RBIs in 42 games.
"His first half was pretty productive," Girardi said. "His second half has been much tougher, obviously, and he's a big bat that we need. We need consistency from him."
Bryan Hoch is a reporter for MLB.com. Follow him on Twitter @bryanhoch and read his MLBlog, Bombers Beat. This story was not subject to the approval of Major League Baseball or its clubs.