Brilliant Arrieta flirts with no-no, fans 13 Reds
Righty tosses 7 1/3 no-hit innings before allowing double to Phillips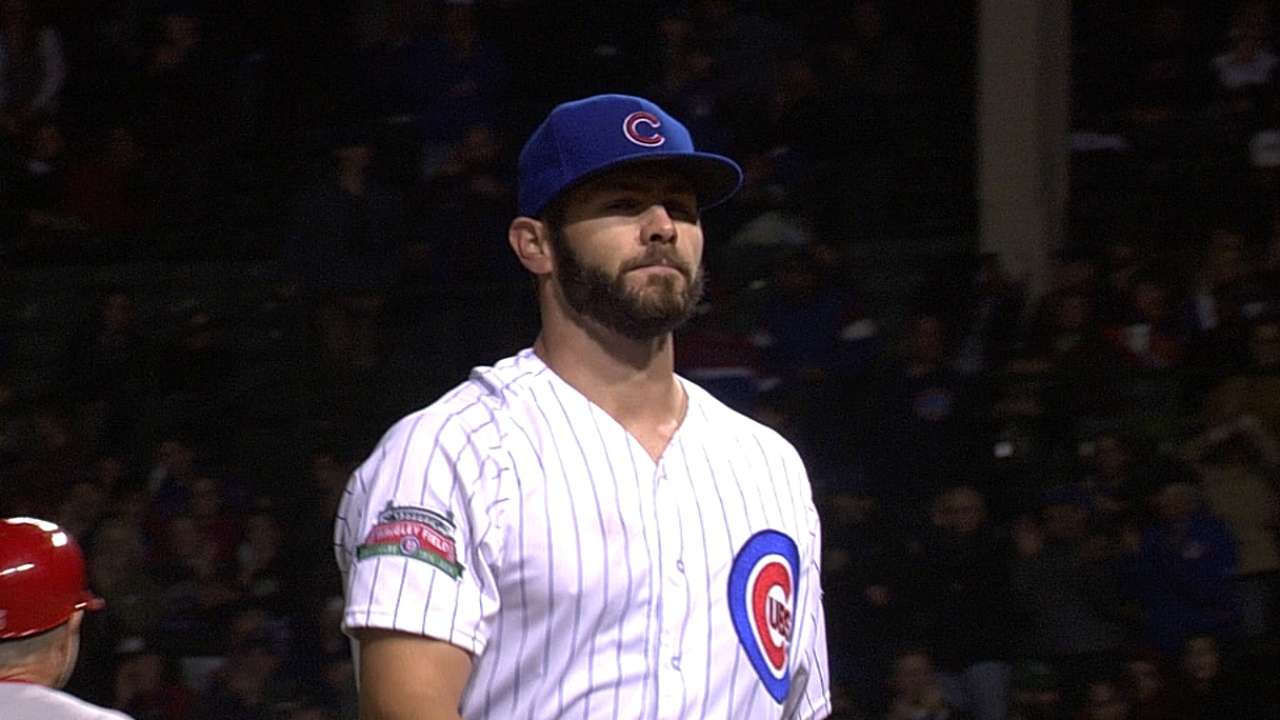 CHICAGO -- The third time was nearly the charm for Cubs pitcher Jake Arrieta.
Arrieta carried a no-hitter into the eighth inning Tuesday, only to have it broken up by Brandon Phillips with a one-out double, as the Cubs posted a 7-0 win over the Reds in front of 33,812 at Wrigley Field. Chris Coghlan drove in three runs and Jorge Soler drove in two to back Arrieta, who struck out a career-high 13.
"It's an exciting night and a lot of fun and one I'll remember for a long time," Arrieta said.
Arrieta, who tossed his first career complete game and shutout, almost threw a no-hitter six years to the day of the last Cubs' no-hitter on Sept. 14, 2008, when Carlos Zambrano shut down the Astros in a game relocated to Miller Park because of Hurricane Ike in Houston.
This was the first one-hit shutout by a Cubs pitcher since Jon Lieber did so May 24, 2001, also against the Reds.
It was a perfect night to pitch at Wrigley with the game-time temperature at 60 degrees and a gentle wind from the east at 10 mph.
Arrieta struck out Jay Bruce to start the Reds eighth, but Phillips lined an 0-2 pitch into the gap in left-center for the first hit, although center fielder Matt Szczur made a great attempt to catch the ball.
Arrieta's reaction to another end to his no-hit bid?
"Frustrated isn't really the right word," Arrieta said, "but I was able to take a deep breath, and let it out, and say, 'All right, it's over now, so let's try to get a few more outs.'
"I think it was a little easier having those experiences early in the season," he said. "I was able to slow it down and take it one pitch at a time, and I know that's as cliche as it gets, but in those situations that's what you have to do."
The Reds' Billy Hamilton had spoiled Arrieta's bid on June 24 when the right-hander had a perfect game into the seventh. Hamilton led off the seventh that day with a single. In Arrieta's next start against the Red Sox, he had a no-hitter through 7 2/3 innings. Arrieta is the first Cubs pitcher to take no-hitters into the seventh inning three times in a season since 1950.
"I was able to slow the game down a little bit more after having a couple experiences similar to this one," Arrieta said of Tuesday's outing. "I kind of tried to really just put [the no-hitter] in the back of my mind. Obviously, everyone knows what's going on."
Hamilton could've been the spoiler again. He led off the seventh on Tuesday, but Arrieta was prepared this time and got the Reds center fielder to fly out to left.
"Before the inning, I knew he was coming up, and replayed that in my head a couple times," Arrieta said. "I wanted to continue to do the same thing and try to keep him honest inside and try to get him to maybe roll something over or pop something up. He's a tough hitter. He's a tough out. He battles, and obviously when he gets on base, he can do some damage. It was nice to keep him off the bases."
The right-hander has been stingy this season, giving up one or no earned runs in 14 of his 24 starts. He's thrived at Wrigley Field, and now is 5-1 with a 1.60 ERA in 11 starts, giving up 13 earned runs over 73 innings.
The Cubs have been careful with Arrieta's pitch count all season after he reported this spring with tightness in his right shoulder. Manager Rick Renteria said there wasn't much discussion about whether to send Arrieta out for the ninth.
He's been the most consistent of the Cubs starters.
"He's got really good stuff and an electric arm," Renteria said. "His pitches obviously have really good life. I also think this year he's shown some resilience in that there have been instances where an inning opens up and he's been able to keep calm and work through it and get out of jams. That's been part of his growth this year. That's been something he's able to sustain."
It's the second straight night the Cubs have blanked the Reds, who lost 1-0 on Monday.
"To his credit, he was sharp in the zone," Reds manager Bryan Price said of Arrieta. "I thought he did a great job of working ahead. He used both sides of the plate. It was a very, very difficult matchup, and it would've been a difficult matchup for any club when he's locked in like that."
Carrie Muskat is a reporter for MLB.com. She writes a blog, Muskat Ramblings, and you can follow her on Twitter @CarrieMuskat. This story was not subject to the approval of Major League Baseball or its clubs.