Reds' offense manages just one hit vs. Arrieta
Phillips breaks up no-no in eighth, but not enough against Cubs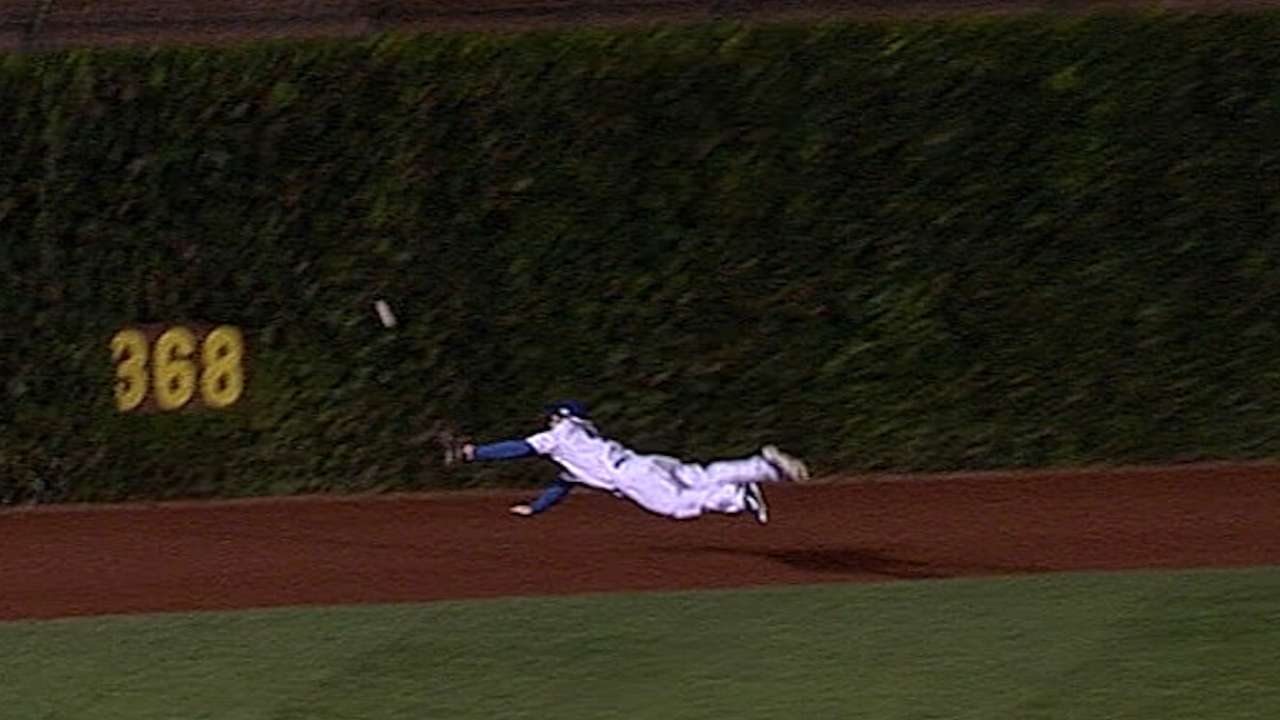 CHICAGO -- Jake Arrieta is proving to be a pesky opponent for the Reds.
Arrieta took a no-hitter deep into the game for the second time in three career starts against the Reds -- all this year -- this time coming five outs short. He finished Tuesday night's 7-0 win with a one-hitter in his first career shutout in front of 33,812 at Wrigley Field.
Brandon Phillips lined a double to deep left-center field that narrowly landed past a diving Matt Szczur. The drop prevented the Reds from going hitless for the first time since Game 1 of the 2010 National League Division Series by the Phillies' Roy Halladay.
Phillips' two-bagger was the only hit Arrieta allowed against 28 batters faced. He walked Billy Hamilton in the fourth, and struck out a career-high 13.
The 28-year-old righty fanned batters with five different pitches -- a two-seam fastball, changeup, sinker, slider and 11-5 curveball that he's steadily polished throughout the year. Four of his pitches Tuesday were used for multiple strikeouts, including four with the curve.
"There were some real, borderline bottom-of-the-zone pitches that he was able to nail with some consistency," Reds manager Bryan Price said of Arrieta, who picked up his 16th quality start in 21 tries. "He had the front door and back door cutter going; made some very good pitches.
"I thought he did a great job of working ahead. He used both sides of the plate. It as a very, very difficult matchup, and it would've been a difficult matchup for any club when he's locked in like that."
Reds ace Johnny Cueto didn't have the same showing. The All-Star righty loaded the bases five times Tuesday, issuing walks in two of those junctures.
Price, who met with Cueto on the mound in the sixth inning after the righty issued the first of the two, left the righty in to get the Reds out of the jam like he did in the first inning with three runners on.
"He might've been the only one on our staff that I would let pitch in that situation," Price said. "Through all the wildness of that inning, he probably would've been the only guy I would've allowed to do that. He's earned that right. It didn't work out obviously, but it wasn't from a lack of effort."
The manager admits that Cueto's race towards 20 wins were a contributing factor. He will have to win his final two scheduled starts against the Brewers on Sept. 23 and Pirates on Sept. 28, both at home, to reach the milestone, which would be a career first. Cueto won 19 games in 2012.
"Baseball is a statistical business and I would love to see him get an opportunity to win 20 games," Price said. "So right, typically if that's a midseason game and he's got 25 pitches in the inning and he walks in his second run, I'm going to go get him out of the ballgame."
Chris Coghlan delivered Cueto's final dagger in the sixth with a two-out, three-run double that extended the Cubs' lead to 6-0 in the sixth. Cueto allowed five of his six runs that inning, and faced eight batters.
Cueto was charged with six total earned runs with five hits and five walks over 5 2/3 innings. In three starts against the Cubs this year, Cueto is 1-2 with a 5.40 ERA, a .240 average against and 20 strikeouts.
His fastball, the pitch that's propelled him to 228 strikeouts this season, wasn't as commanding early, he said. He still posted eight strikeouts.
Catcher Brayan Peña added: "It's one of those things that shows you that Johnny is human."
Over five years in the Majors, Arrieta had never faced the Reds until June 24, in which he took a perfect game into the seventh. Billy Hamilton broke through with a single, and Arrieta allowed three hits and two earned runs that inning, but picked up the win.
In the seventh on Tuesday, Arrieta got Hamilton to fly out to left.
"Before the inning, I knew he was coming up, and replayed that in my head a couple times," Arrieta said of Hamilton. "I wanted to continue to do the same thing and try to keep him honest inside and try to get him to maybe roll something over or pop something up. He's a tough hitter. He's a tough out. He battles, and obviously when he gets on base, he can do some damage. It was nice to keep him off the bases."
Daniel Kramer is an associate reporter for MLB.com. This story was not subject to the approval of Major League Baseball or its clubs.