Rusney notches first hit, 'satisfied' with debut
Center fielder singles in fourth inning, not really tested in field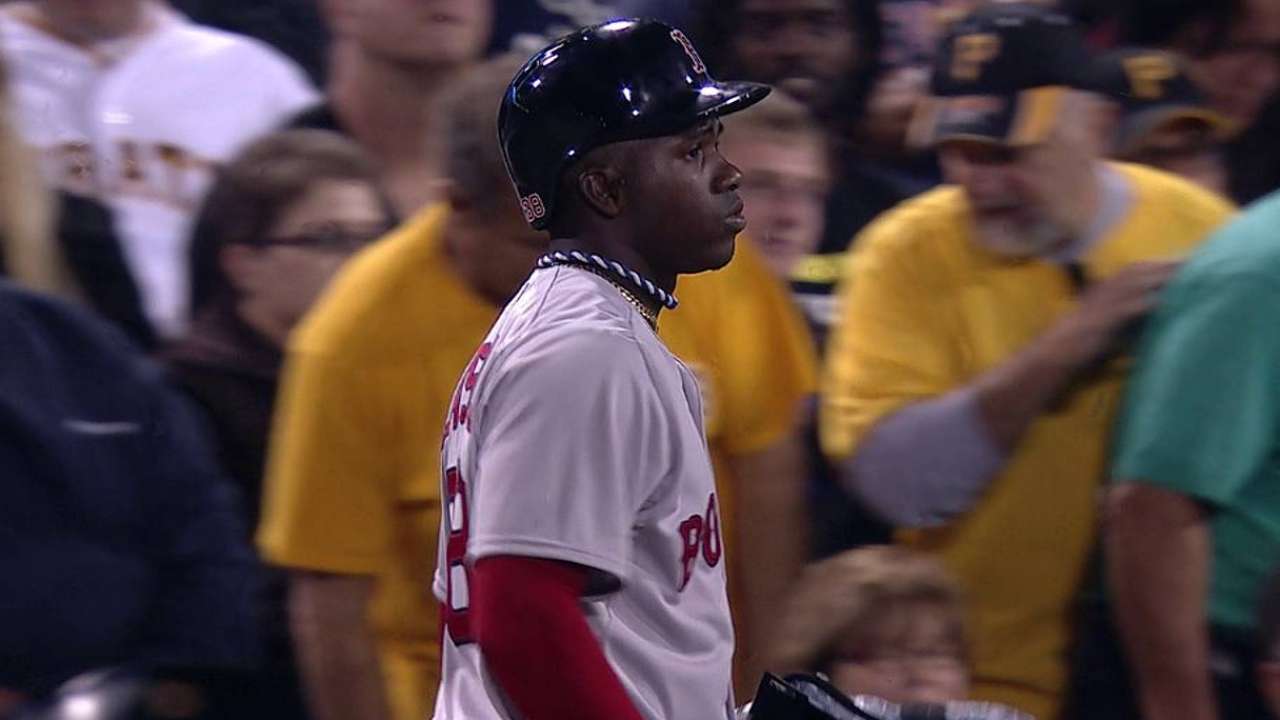 PITTSBURGH -- It took Rusney Castillo years to realize his dream of playing in the Major Leagues, but just one game to get his first career hit.
The Cuban outfielder went 1-for-4 for the Red Sox in Wednesday's 9-1 loss to the Pirates, as he came up with an infield single in his second at-bat.
"I'm pretty satisfied with that being my first game," said Castillo. "Obviously you'd like a better outcome in terms of winning the game. But I was pretty satisfied with my overall approach and the way I stepped in today and had some results. Overall, satisfied."
There wasn't much action for Castillo on defense, but he corralled the one flyball that came his way in center.
Rusney takes some swings and chats with Big Papi during #SoxBP before his @MLB debut. pic.twitter.com/2BwBr9SIgW

- Boston Red Sox (@RedSox) September 17, 2014
"He's aggressive. He's going to hit the ball where it's pitched," said manager John Farrell. "He wasn't really challenged defensively. Makes a decent running catch out in left-center field. For his debut, first action, he didn't look overmatched, didn't look overwhelmed in the situation."
The Red Sox signed the 27-year-old Castillo to a seven-year, $72.5 million contract on Aug. 23. After not playing organized baseball for more than a year, Castillo has spent the past couple of weeks playing for various Minor League affiliates, culminating in Tuesday night's Triple-A championship game, in which Pawtucket lost to Omaha.
Now, he is eager to see how his skills will play at the highest level.
"It was a great experience," Castillo said. "It was good to play, not only in Minor League games but to play in high leverage games and at that caliber. I think that will be beneficial for me being able to adapt."
Castillo was one of six players promoted by the Red Sox on Wednesday, joining outfielder Bryce Brentz, infielder/outfielder Garin Cecchini, left-handed pitcher Edwin Escobar, right-handed pitcher Heath Hembree and catcher/first baseman Ryan Lavarnway. Cecchini, Escobar and Brentz are ranked among the club's Top 20 prospects.
"This is just the continuation of an effort to get him exposed and get him comfortable in the environment and just log at-bats," said general manager Ben Cherington. "He's missed a lot of time after the defection. We just want to make up for that, log as many at-bats as we can, and that will probably continue into the fall and the winter."
In 11 Minor League games, Castillo hit .293 (12-for-41) while compiling seven runs, five RBIs, four doubles, one homer, two stolen bases, five walks and nine strikeouts.
"I've been pretty happy with the way things have worked out, and not just the success on the field, but the relationships that I've been able to develop with the coaching staff, the clubhouse staff, other teammates, that's been really beneficial as well," said Castillo.
For the remaining 10 days of this season, Farrell will pick his spots with Castillo.
"Yeah, I don't expect him to be an everyday player here. He's going to get games played, that's for sure," Farrell said. "But we've got other guys here as well. We'll strike a balance with that."
Once the season ends, Castillo will play either in the Arizona Fall League or in Puerto Rico, if not both.
After hearing so much about Castillo, the Red Sox enjoyed being able to see him firsthand.
"I don't think it's the results that you learn from," said Cherington. "I think it's just watching him around the team, pregame, interact with people, the questions he asks. All that stuff has been very positive so far.
"He's been on a little bit of a whirlwind even if you just start from the time he was in Miami at the showcases -- to go from there to signing to Fort Myers to Binghamton and Portland and Pawtucket and now here. He's met a lot of people in a short amount of time and played games in a lot of places. He's handled it all well so far."
Ian Browne is a reporter for MLB.com. Read his blog, Brownie Points, and follow him on Twitter @IanMBrowne. This story was not subject to the approval of Major League Baseball or its clubs.