Tigers' postseason push hits a snag vs. Twins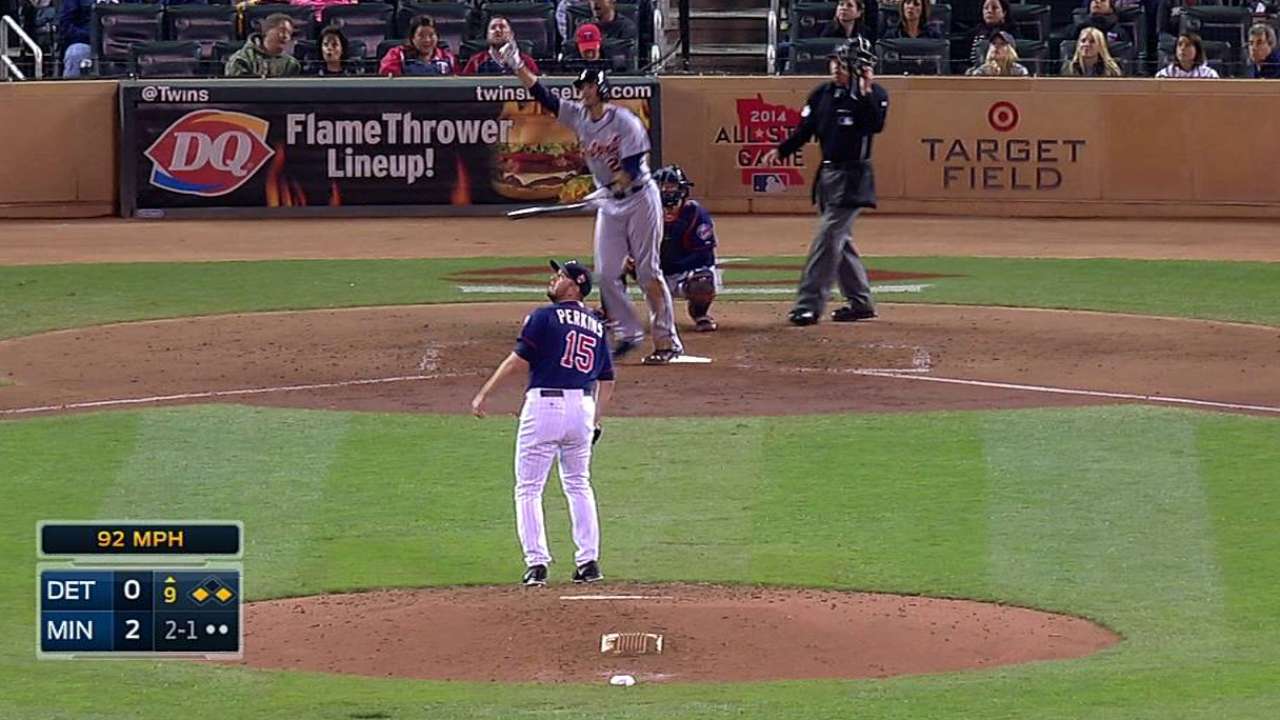 MINNEAPOLIS -- Down to their last out on Tuesday, the Tigers got another dramatic home run and were poised to pull out one of their most improbable victories of the season, but a split-second decision that worked against Ezequiel Carrera sent them home with a loss.
J.D. Martinez hit a three-run homer with two outs in the ninth inning, but the Twins rallied with two runs in the bottom of the frame for a wild 4-3 victory over the Tigers at Target Field. The loss was frustrating but it could have been costlier, as the Royals were defeated by the White Sox later in the evening, keeping the Tigers 1 1/2 games up in the American League Central.
Trying to protect a one-run lead, closer Joe Nathan issued a one-out walk to Trevor Plouffe, and Kurt Suzuki followed with a soft liner into short center field. Carrera, who had entered the game as a pinch-runner in the top half of the inning, made a dive and came within inches of making the catch. But the ball skipped under his glove and rolled to the wall, allowing pinch-runner Doug Bernier to run home all the way from first base to tie the score at 3.
"We've already talked to Zeke about it," manager Brad Ausmus said. "He was trying his tail off, which is good, but the smart play there is, if you're not sure you're going to catch it, you contain it and keep it at first and second. … I'm sure for a split second he thought he could catch the ball. It just didn't work out."
After an infield out advanced pinch-runner Chris Herrmann to third base, Aaron Hicks ran the count full, then hit a chopper up the middle and beat shortstop Andrew Romine's throw by a step.
"You can't do much more than locate a fastball when [Hicks] was probably looking slider on the 3-2 pitch and get him to reach out and hit a ground ball, which is what we were looking for to get out of the inning," Nathan said. "Unfortunately, he puts it in the perfect spot, so hats off to them -- team speed and a couple balls that were inches from going our way."
Nathan, who felt healthy after getting a day off on Monday, said the only at-bat he regrets is the walk to Plouffe. But Ausmus defended his closer, not only giving him a vote of confidence but saying that the walk wasn't the game-changer.
"When you're closing a game, you do have to be somewhat careful," Ausmus said. "You can't just pump a 3-2 heater down the middle to a guy like Plouffe, who can hit the ball out of the park and tie the game. You never like walks, but pitching in a one-run save situation is a little different than a 3-2 count in the first inning and walking a guy."
Minnesota's dramatics overshadowed Detroit's own remarkable comeback. After Ricky Nolasco stymied the Tigers for eight innings, they put together a rally against Twins closer Glen Perkins.
Torii Hunter hit a one-out double and Miguel Cabrera added a single to put the tying run at first base. One out later, Martinez hit his 23rd homer of the season on a 2-1 fastball. The opposite-field blast settled into the right-field seats, touching off a wild celebration at home plate.
"Everyone was excited," Martinez said. "We know what's going on. We're all in it. To come through was huge, but [the loss] hurts at the same time. Right now it's pointless."
Martinez's blast made it four straight games in which the Tigers hit a home run in the seventh inning or later to tie the score or take the lead. That lead didn't hold up on Tuesday, but Ausmus knows it's still a good sign.
"It definitely has created an atmosphere in the dugout that the game isn't over, even if we're trailing late," Ausmus said.
The homer also helped Rick Porcello narrowly avoid another tough-luck loss. Porcello allowed only two runs on seven hits while walking two and striking out five in eight innings. It was the fifth time in his last six starts that he'd allowed two earned runs or fewer, yet he has just two victories to show for it in that stretch.
Now the Tigers will turn to David Price on Wednesday to try to win the series and keep distance between themselves and the second-place Royals. When asked why he seemed so calm after the game, Ausmus pointed to the opportunities ahead rather than focusing on the missed chances of the past.
"We've got another game tomorrow," he said. "Anyone who thought it was just going to be easy and we were going to go out there and win every game really doesn't understand the game of baseball."
Patrick Donnelly is a contributor to MLB.com. This story was not subject to the approval of Major League Baseball or its clubs.