Cards' lead in Central shrinks with extras loss
Siegrist yields go-ahead run in 12th after Rosenthal's hiccup in 9th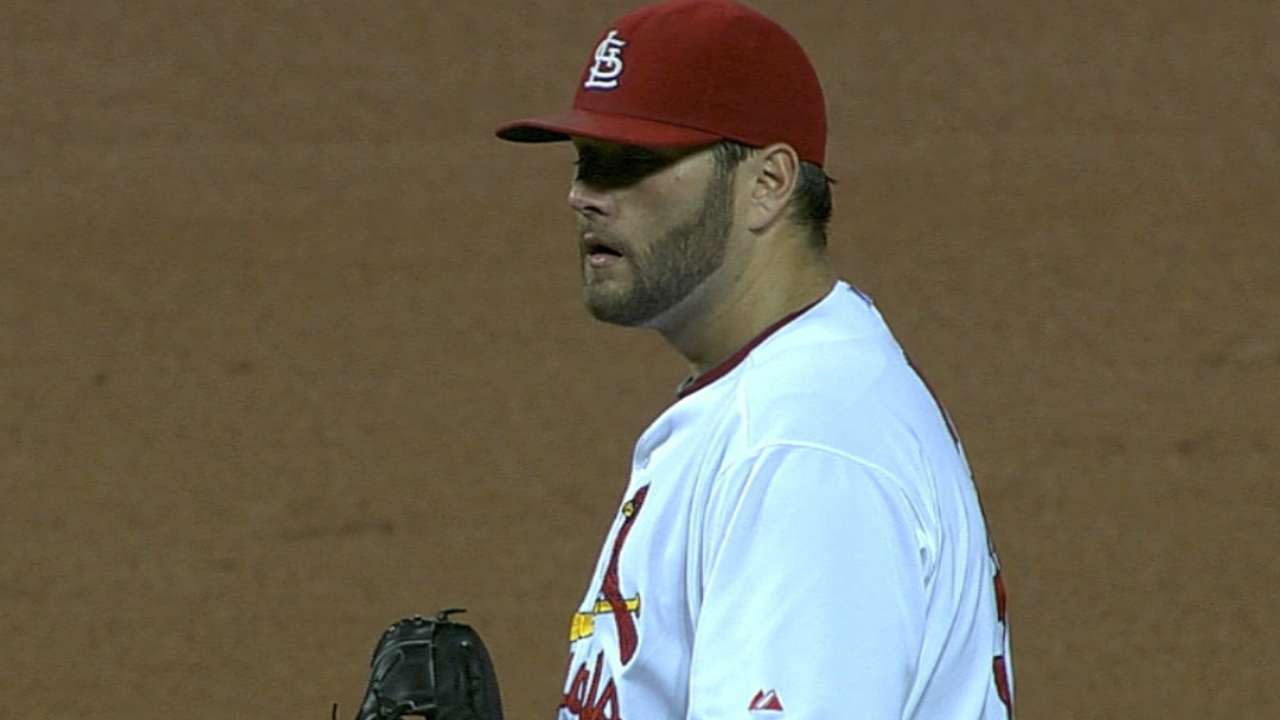 ST. LOUIS -- A tweak to the rotation lined the Cardinals up to employ their three best pitchers against Milwaukee, knowing that a strong series could knock the Brewers out of the National League Central race and inch the Cards closer to a second consecutive division title.
Lance Lynn rose to the occasion, but a disappearing offense and giving bullpen kept Lynn's strong seven-inning start from being enough. A hiccup by closer Trevor Rosenthal cost Lynn a 16th win, and a run off Kevin Siegrist sent the Brewers to a 3-2, 12-inning victory on Tuesday night in front of a sellout crowd of 44,529 at Busch Stadium.
With the Pirates defeating Boston, the Cardinals' lead in the NL Central shrank to 2 1/2 games. The Brewers are four games back.
The Cardinals' offense provided little assist in the Cardinals quest to move closer to securing their spot in October, either, as it was shut out for 11 innings after scoring twice off Brewers starter Wily Peralta in the opening frame.
"That's part of the story," manager Mike Matheny said of the absent offense. "I'd say we gave some free bases, too. That's the rest of the story."
Three outs away from shaving their magic number for a postseason berth from eight to six, Rosenthal increased the degree of difficulty of preserving a 2-1 game by walking Jonathan Lucroy to open the ninth. It put Rosenthal in far too familiar a spot, as he has allowed 40 percent of the first batters faced to reach this season.
This time, he couldn't work around it.
A double by Aramis Ramirez and a deep-enough fly ball to left from Matt Clark with one out allowed pinch-runner Hector Gomez to tag and score from third. The blown save was Rosenthal's first since Aug. 18.
"Any time you walk the first guy, it's trouble," catcher Yadier Molina said. "He made some good pitches, [gave up] only one run. But it's tough to walk that first guy."
It would be the second guy the Cardinals walked in the 12th, but the result would be the same. Carlos Gomez took the free base and promptly swiped two more as he took advantage of Siegrist's slow time to the plate. That positioned Gomez to score easily when Hector Gomez dropped a ball into no-man's land as three Cardinals defenders gave chase.
The RBI hit was the first of Hector Gomez's career.
"You know something? We deserved a bloop. We did," Brewers manager Ron Roenicke said. "They [the Cardinals] get bloops to hurt us all the time. They hit the ball hard, but they also get a lot of bloops to beat us. We deserved a bloop."
The Cardinals nearly countered the Brewers' bloop with a blast, but Jhonny Peralta's drive to left fell just short of the wall and became the second out of Francisco Rodriguez's clean inning.
"I thought he got that one," Matheny said.
While the Cardinals' bullpen couldn't stand toe-to-toe with Milwaukee's, it was the offense's inability to add on that allowed the Brewers time to methodically work their way back. After scoring twice in the first, St. Louis mustered four hits (all singles) and never advanced a runner to third. Twice, the Cardinals had runners thrown out on the bases.
Milwaukee starter Wily Peralta faced the minimum over his final six innings after working through what could have been a disastrous first inning for him. The Cardinals struck with three straight singles to start the game, and Matt Adams pushed a run in with a full-count walk. A second run scored on Peralta's double play, though that sapped the potential for an even more lucrative inning.
It was a bit of déjà vu, as Peralta's previous start against the Cardinals on Sept. 4 opened with three straight singles and two runs scored off of him. The Cardinals went on to win that game by one run.
Lynn made that two-run lead stand as he allowed only one extra-base hit (Gerardo Parra's fourth-inning home run) and four singles. Lynn, who lowered his ERA to a season-best 2.68 while making his 22nd quality start, snuffed out the only semi-rally the Brewers got going by striking out Peralta with runners on the corners in the third.
Lynn's fastball command was slow to come around, which led to some longer-than-desired innings early. Still, Lynn closed his outing by retiring 10 of the last 11 batters he faced, including the final three on four pitches in the seventh.
"One bad pitch [for a] solo homer," Lynn said. "They gave me two early runs to work off of. I didn't have the best command, but I had enough to get by through seven tonight."
"I thought he was very consistent with what we've see the last few starts," added Matheny. "It was exactly what we needed. We just needed to give him some more room."
With the loss, Saturday is now the earliest that the Cardinals can clinch a postseason spot.
Jenifer Langosch is a reporter for MLB.com. Read her blog, By Gosh, It's Langosch, and follow her on Twitter @LangoschMLB. This story was not subject to the approval of Major League Baseball or its clubs.