Crew clips Cards in 12th to trim Central deficit
H. Gomez's clutch hit keeps Milwaukee 1 1/2 back in Wild Card race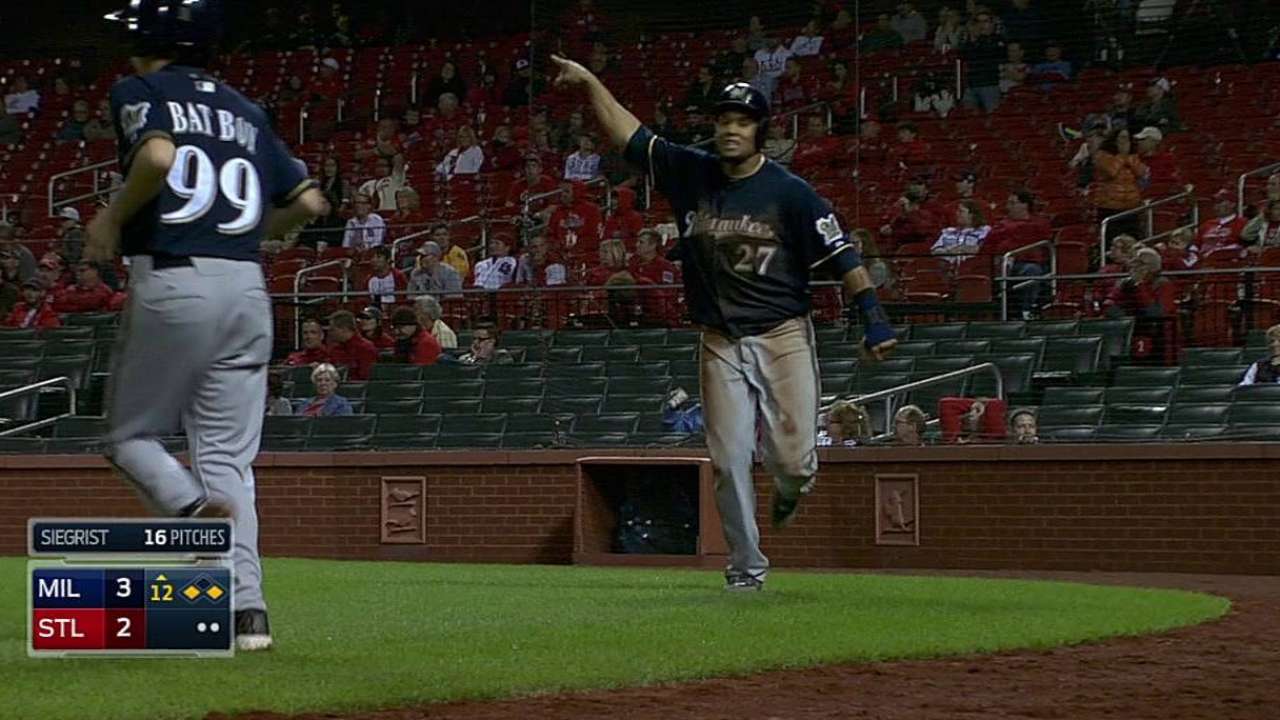 ST. LOUIS -- "It's 10 days, nine games," Brewers manager Ron Roenicke was saying two hours before the start of his team's most critical road trip, "and probably the first two are going to tell a lot of what's going to happen here."
If that's the case, the Brewers are in for quite a ride. They began their trek on Tuesday night by rallying for a ninth-inning tie on a sacrifice fly by one September callup (Matt Clark) and winning in the 12th on a bloop single by another (Hector Gomez). A pitching-fueled 3-2 victory over the Cardinals pulled the Brewers within four games of National League Central-leading St. Louis while remaining 1 1/2 games behind the Pirates in the chase for the National League's second Wild Card.
"We're playing like a playoff right now," said center fielder Carlos Gomez, who scored the go-ahead run. "Everybody is intense. Everybody is excited. I think that's what we need to continue to play good. Nobody told us it was going to be easy. We have to fight for it."
Gomez fought for the game's decisive run after working a 12th-inning walk off Cardinals reliever Kevin Siegrist. Noticing Siegrist's deliberate move to the plate, Gomez stole second base with one out and third base with two outs, positioning the "other" Gomez -- Hector -- for his first Major League RBI.
Hector Gomez, who had scored the tying run three innings earlier as a pinch-runner, dumped a go-ahead single into shallow right field.
"As soon as I saw the ball had a chance, I was thinking, 'Oh boy, we have a chance!'" said Hector Gomez, with coach Mike Guerrero serving as translator. "It went good, and that was a great feeling."
"You know something?" Roenicke said. "We deserved a bloop. We did. They [the Cardinals] get bloops to hurt us all the time. They hit the ball hard, but they also get a lot of bloops to beat us. ... Whatever, I'll take it."
Brewers starter Wily Peralta was hurt by one of those bloops in a two-run first inning, only to settle in nicely. The online play-by-play of that frame read like a horror story for Milwaukee fans willing their team to the finish from afar: Ground-ball single, line-drive single, soft line-drive single and a walk. Eighteen pitches into the game, with none out, Peralta and the Brewers found themselves in a 1-0 hole.
The Cardinals made it 2-0 on Jhonny Peralta's double-play groundout, which began Peralta's turnaround. He made a fine play on Yadier Molina's comebacker to end the inning, surrendered a Kolten Wong single leading off the second, then faced the minimum through the end of the seventh inning. Right fielder Ryan Braun aided Peralta's cause by throwing out the speedy Peter Bourjos trying to stretch a single into a double in the fifth.
Peralta retired the next seven batters and was replaced by a pinch-hitter when that spot in the batting order appeared during the Brewers' half of the eighth inning.
By then, the Cardinals had also replaced Lance Lynn, who pitched seven innings to lower his lifetime ERA against Milwaukee to 2.26 -- best among active pitchers who have started against the Brewers at least nine times. The right-hander surrendered Gerardo Parra's two-out solo home run in the fourth inning plus four harmless singles over seven innings. He walked one and struck out five.
Peralta's line was similar: Seven innings, five hits, two earned runs, one walk and three strikeouts. From the third inning through the end of the game, Peralta and six Brewers relievers -- Will Smith, Jonathan Broxton, Jeremy Jeffress, Zach Duke, Brandon Kintzler and Francisco Rodriguez -- combined to surrender three singles and no runs. Rodriguez logged his 42nd save.
"We came in on one mission, take every game we can possibly take," Rodriguez said. "This is it. It's not like we have another two-three weeks to rebound. We only have 11 games left. Every single game from now on is just do or die."
The Brewers' in-season additions are playing a major role. Of the three players who drove in a run Tuesday -- Parra, Clark and Gomez -- none were with the Major League club before July 31. Likewise, Jeffress and Broxton joined the team along the way, Jeffress from Triple-A Nashville and Broxton in an Aug. 31 trade with the Reds.
Asked about those late additions, Carlos Gomez said, "I don't look at it like 'September guys.' They're the Brewers. We look at this like a team."
Adam McCalvy is a reporter for MLB.com. Read his blog, Brew Beat, and follow him on Twitter at @AdamMcCalvy. This story was not subject to the approval of Major League Baseball or its clubs.