Bats struggle again as Harang takes tough-luck loss
Braves can't gain ground in WC race as Nats clinch NL East title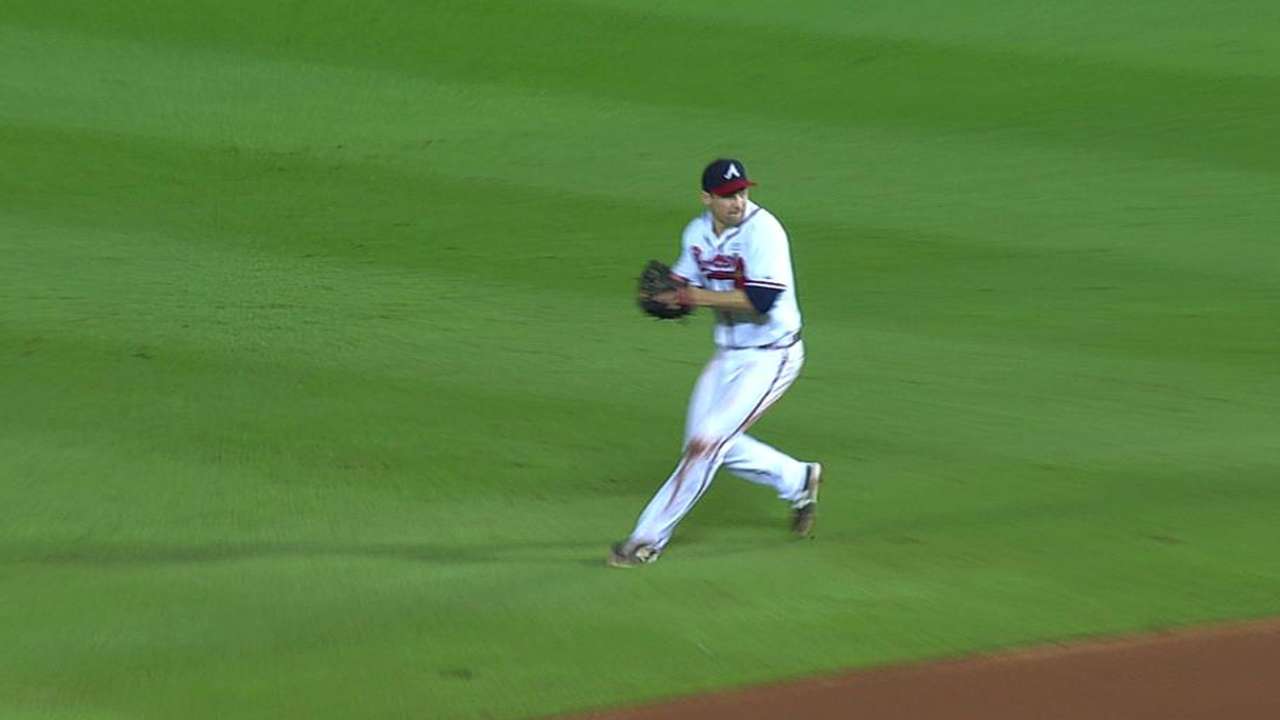 ATLANTA -- As their offense spent most of the past few weeks appearing to be lifeless, the Braves bid adieu to their hope of defending their division crown. But that did not necessarily make things any easier as they were forced to watch the Nationals celebrate the clinching of the National League East after claiming a 3-0 win on Tuesday night at Turner Field.
"It's a tough one with them slamming the door on the division tonight," Braves starting pitcher Aaron Harang said. "Obviously I was out there pitching for them to hopefully not win. But it is what it is. We've got to come back out tomorrow and just keep fighting for that Wild Card spot."
Harang did all he could to prevent the Braves from having to deal with watching a division rival celebrate on their home turf. But the two-run home run he surrendered to Ian Desmond in the sixth inning proved to be too much to overcome for the Atlanta offense that has been shut out in five of the last 16 games and a total of 14 times this season.
Desmond's rocket into the left-field seats proved to be the crushing blow for the Nationals, who never lost sole possession of first place in the NL East standings after July 21. The Braves held a season-high 3 1/2-game lead after the games played on April 27. But since then, they have gone 58-69 and the Nationals have produced a 73-51 record.
As the Nationals celebrated in a controlled manner on the field, the Braves gathered their gear in the clubhouse and dealt with the reality that their record has dipped below .500 during the month of September for the first time since 2008.
"You've got to congratulate them on winning the division," Braves manager Fredi Gonzalez said. "You've got to tip your hat, they've had a solid year. Good for [Washington manager] Matt Williams and his coaching staff and the Washington Nationals. Yeah, you never want anybody celebrating on your field. But they did it professionally, and I didn't expect anything less from that organization."
Now that the Braves have been officially eliminated in the division race, they can only hope for an incredible turnaround during this season's final 11 games. They sit 5 1/2 games behind the Pirates, who are currently positioned to claim the NL's second Wild Card spot.
Though the Braves can hold out hope because of the fact that they will welcome the Pirates to Turner Field for a four-game set next week, they can't ignore the fact that they have not played like a playoff-worthy club while losing eight of their past nine games and 15 of their past 22 going back to Aug. 23. They have averaged 2.4 runs per game during that 22-game span.
"It's tough, it's a grind," Braves third baseman Chris Johnson said. "We just all can't get on the same page together. That's been the story of the year. There are still games left. But we'll just keep grinding."
After allowing Stephen Strasburg to notch a rare win in Atlanta on Monday night, the Braves squandered far too many opportunities against Tanner Roark, who scattered five hits over seven scoreless innings.
Roark got through unscathed despite allowing a single to begin the first, third and sixth innings.
Having allowed just two earned runs in the 20 innings completed during his three previous starts against the Nationals, Harang entered this contest with a sense of confidence that grew as he navigated his way through the first five innings without allowing a run. The veteran stranded a pair of runners to end both of the first two innings and then found a groove that allowed him to enter the sixth having retired nine of his previous 10 batters.
After Jayson Werth drew a walk to begin the sixth, Desmond jumped on a 2-2 slider and then watched it soar over the left-field wall. The resulting two runs accounted for the only blemish for Harang, who allowed five hits in seven innings.
"I felt like I was executing pitches," Harang said. "That's what it comes down to in pitchers' duels, whoever makes the first mistake. I threw a slider up there that didn't have much break on it, and Desmond jumped all over it."
As they look ahead, the Braves can only hope to avoid what has become an all-too-familiar script that forced them to deal with painful conclusions far too often this year.
"The bottom line is you need to win," Braves right fielder Jason Heyward said. "That's the only thing that never changes every night."
Mark Bowman is a reporter for MLB.com. This story was not subject to the approval of Major League Baseball or its clubs.