MLB.com Columnist
Bill Ladson
Roark's effort clinches NL East crown for Nats
Righty tosses seven shutout innings; second division title in 3 years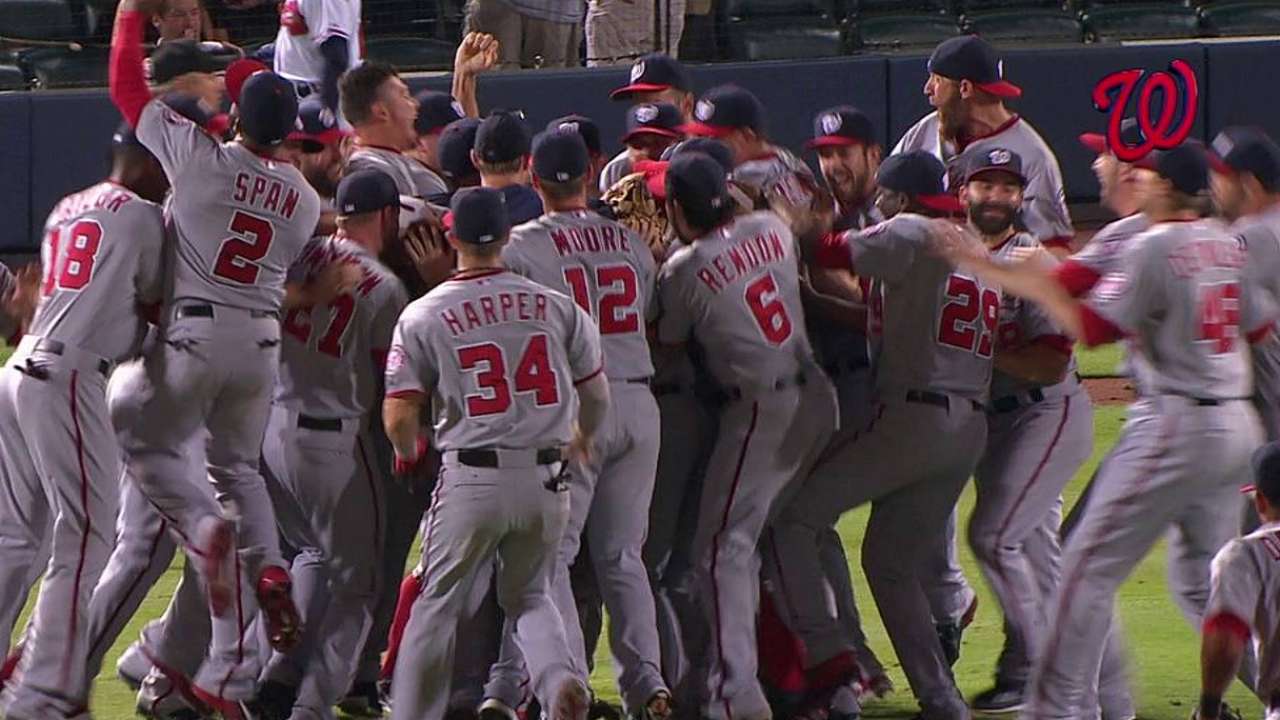 ATLANTA -- The Nationals will be playing baseball in October. They won their second National League East title in three seasons by blanking the Braves, 3-0, at Turner Field on Tuesday night.
"We are so proud of this organization," said Ted Lerner, managing principal owner of the Nationals. "Watching them clinch their second NL East division championship in three years means so much to our fans, our city and our family. [General manager] Mike Rizzo and [manager] Matt Williams should be commended for building and leading a championship club.
"Tonight, we celebrate this milestone but realize that there is still work to do and goals to accomplish. We are looking forward to the possibilities that lie ahead."
There was champagne and beer all over the locker room. There was Rizzo crediting his scouts and player-development people for the team's success. There was Bryce Harper wearing a fireman's helmet, spraying champagne and beer all over the locker room. What can one say about Williams? Even during the celebration, he was calm and refused to look ahead to the postseason. He would like to get home-field advantage before the regular season comes to an end.
"It's important," Williams said about home-field advantage."We'll give everybody a breather. We have some guys that are limping around a little bit, so we'll try to give them some breaks here and there. But we still want to compete. We want to stay as sharp as possible. That's a challenge. So we'll work it out starting tomorrow. We'll see where we can go."
In his first year as manager, Williams saw major players such as Harper, Ryan Zimmerman and Wilson Ramos miss significant time because of injuries. But the Nationals are now 12 1/2 games ahead of the Braves entering Wednesday's action.
"I'm not surprised [that we won big], because they played well and they worked hard," Williams said. "They do the things right on the field that allowed us a chance to win every day. For everybody that was lost and everybody that continues to miss time, like Zim, we'll work hard to get him back, we try to compensate for him and everybody that has been out for us this year.
"They have that mindset going in. But they try to win every night. They don't get beyond that. It's about tonight and tonight's game. Tomorrow will be about tomorrow. I'm proud that they have gone about it that way and persevered."
To win the NL East, the Nationals finally showed they can beat the Braves. After losing seven of the first eight games, Washington won seven out of the next 10 games. Clutch hitting was the reason for the turnaround for Washington, and it happened in the sixth inning Tuesday.
Shortstop Ian Desmond, a player drafted by the franchise when it was still the Expos in 2004, helped put the champagne on ice in the sixth. Braves right-hander Aaron Harang was on the mound when Jayson Werth started the inning with a walk. After Adam LaRoche struck out looking, Desmond came to the plate and hit a 2-2 slider over the left-field wall to give Washington a two-run lead.
In his previous two at-bats, Desmond struck out twice.
"I tried to keep my mind focused on the next AB, continue to work hard. I know good things are going to come," Desmond said.
In the eighth inning, it was Desmond who scored the third run on a wild pitch by reliever David Carpenter.
Right-hander Tanner Roark (14-10) knew what was at stake and he said that he was extra nervous. He was outstanding, though. He pitched seven shutout innings, allowed five hits and struck out four batters. The Braves did not have a runner in scoring position against him.
Roark couldn't help but think where he was 15 months ago. He was in the Minor Leagues, pitching for Triple-A Syracuse, trying to make a name for himself as a reliever.
"It's has been amazing road, and now we are the NL East champs," Roark said. "It's nothing I have ever fathomed. We played hard and we won. That's the type of team that we have."
The last two innings proved to be easy for Nationals relievers Tyler Clippard and Drew Storen, who blanked the Braves the rest of the way, with Storen picking up his seventh save of the season.
"You've got to congratulate them on winning the division," Braves manager Fredi Gonzalez said. "You've got to tip your hat, they've had a solid year. Good for Matt Williams and his coaching staff and the Washington Nationals. Yeah, you never want anybody celebrating on your field. But they did it professionally, and I didn't expect anything less from that organization."
According to ESPN, Tuesday marked the third time since 1969 that two MLB teams from the same metro area clinched a division title -- the Orioles wrapped up the American League East in Baltimore -- on the same day. The last time it happened was in 2004, when the Angels and Dodgers clinched.
Werth said it was great to bounce back from last season, but he wants that World Series ring.
"This is just one step. We have a long way to go. We still have something to play for during the regular season. We can enjoy the moment and celebrate, set up our rotation for the postseason," Werth said. "Home-field [advantage] is important, but it's not the end-all, be-all. We have a long way to go, whether we have home field or not."
Bill Ladson is a reporter for MLB.com and writes an MLBlog, All Nats All the time. He also could be found on Twitter @WashingNats. This story was not subject to the approval of Major League Baseball or its clubs.