Springer shut down for rest of season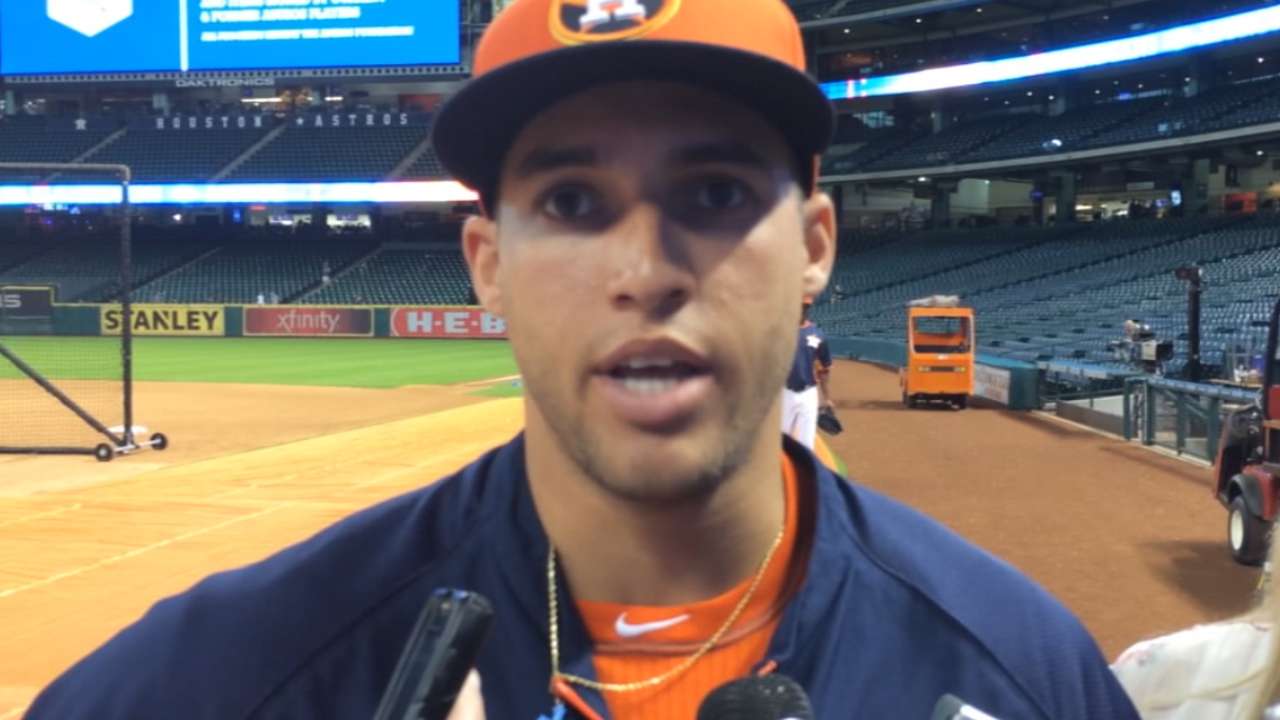 HOUSTON -- With less than two weeks remaining in the regular season and his strained left quad not 100 percent healthy, the Astros announced on Tuesday that rookie outfielder George Springer would sit out the remainder of the regular season.
The decision certainly comes as no surprise, considering Springer hasn't played for the Astros since July 19 against the White Sox in Chicago. He went on a Minor League rehab assignment in August, but he suffered a setback and hasn't been able to completely heal the injury.
"It's tough, but at this point the goal is to just get through the year healthy and get to 2015 and just be as healthy as I can," said Springer, who would have pushed for American League Rookie of the Year honors if he had stayed healthy.
Astros interim manager Tom Lawless said general manager Jeff Luhnow and the team trainers sat down with Springer on Monday to map out his future, and the decision was made with Springer's blessing.
"We felt the best thing for the organization is that George doesn't play anymore the rest of the year," Lawless said. "In reality, it would have to be a rehab stint when you play him and get an at-bat here and at-bat there. Will eight, nine at-bats make a difference as opposed to the other alternative when he goes out there and tweaks it again, and now we're set back again?
"We're going to shut him down and he's going to take batting practice and rehab when the season's over, and he's going to leave here healthy. And when he comes to Spring Training, he's going to be ready to go."
Springer's competitive nature made it that much more difficult for him to miss so much time.
"It's brutal," Springer said. "The goal is to play, and it's tough for me to sit here every day and to know that I can't play."
Springer, the Astros' Minor League Most Valuable Player a year ago, made his much-anticipated Major League debut in April and appeared in 78 games, hitting .231 with 20 homers and 51 RBIs and showing the flash and potential that has the Astros believing he'll be a cornerstone player for years to come.
The 24-year-old was named the American League Rookie of the Month for May, hitting .294 (30-for-102) with four doubles, one triple, 10 homers, 25 RBIs, 22 runs scored and 13 walks in 26 games to claim his first monthly award. He was the first Astros player to win Rookie of the Month honors since Hunter Pence in May 2007, when the club was still competing in the National League.
"It's been a great experience so far, and [I] obviously have a lot more to learn and obviously think I could have done better overall," he said. "In my 300 at-bats, I've learned and I've grown and I go off of that into 2015."
Springer has been working out with the club for the past month in an effort to get healthy, but the team wasn't going to take any chances if he wasn't 100 percent.
"He wanted to play, and really we left the decision a lot up to him and what is the best for George Springer," Lawless said. "We're looking at it as an organization in the long run, and the importance of eight or 10 at-bats in the big picture doesn't make any sense taking that chance. That's what he decided, and everyone was on board with that."
Springer said the bigger picture is more important.
"The goal is for me to play 162 games, and for me it's tough," he said. "Being a player and a competitor, I want to play, but at the same time you have to protect yourself and sometimes you have to do things you don't want to do."
Taken by the Astros with the No. 11 overall pick in the 2011 First-Year Player Draft out of the University of Connecticut, Springer shot quickly through the Minor Leagues and last year combined to hit 37 homers and steal 45 bases combined between Double-A Corpus Christi and Triple-A Oklahoma City.
Brian McTaggart is a reporter for MLB.com and writes an MLBlog, Tag's Lines. Follow @brianmctaggart on Twitter. This story was not subject to the approval of Major League Baseball or its clubs.