Canadian amateur stars set for Tournament 12
Second annual Rogers Centre event a showcase for teams, schools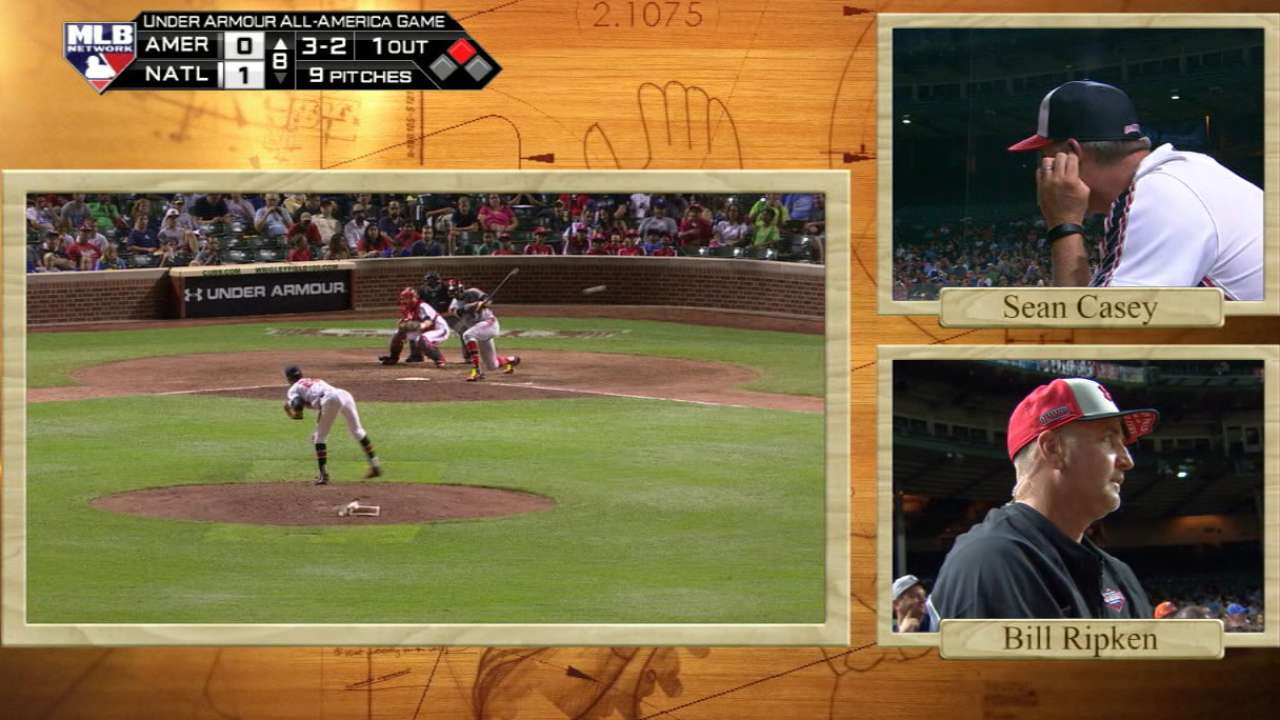 TORONTO -- The top youth baseball talent from Canada will call Rogers Centre home for the next week. Tournament 12, an amateur baseball showcase featuring 160 of the best First-Year Player Draft-eligible players nationwide, began Tuesday at the Blue Jays' home stadium.
The second installment of the five-day event began with an all-day workout, where players were evaluated on their hitting, fielding and running abilities in front of a large contingent of Major League scouts and college recruiters from the United States.
After a successful inaugural event in 2013, Tournament 12 commissioner and Hall of Fame second baseman Roberto Alomar is excited for the encore.
"I'm really happy. I'm devoted to the youth here in Canada," Alomar said. "But this is not all about me. It's a group of people who have put this together.
"I'm really glad that we've continued to grow, and hopefully we can have the same tournament for many years to come."
Alomar was instrumental in making this tournament come to fruition, and for lowering the costs attached to the players involved.
This past January, Alomar approached the Jays Care Foundation -- the charitable wing of the Blue Jays -- and pitched an idea to get involved in fundraising events. The board of the Jays Care Foundation signed off, and Alomar did a number of events throughout Canada, raising $100,000 for the tournament.
It has made a monumental difference for some families. Last year, a player traveling from British Columbia paid an average of $1,400 for the event, including hotel, meal and flight expenditures. This year, the price is $330 for an out-of-province player and $200 for Ontario residents.
"All the money that was raised was used to help subsidize and make that opportunity a lot better, so kids weren't turning it down for financial reasons," said Rob Jack, the tournament operations manager. "We wanted to make sure all the best players were here, regardless of economic circumstances."
The showcase will continue with an eight-team tournament starting Wednesday, and it lasts until Saturday's championship.
Each roster, which is determined by geographical region, is guaranteed to play a minimum of five games and will receive instruction from former Blue Jays players Duane Ward, Lloyd Moseby and Devon White, in addition to some of the most respected amateur coaches from around the country.
The eight teams will be divided into two groups of four to play squads from their own bracket in a round-robin style format. Once the tournament play portion is completed, the top two teams from each group will advance to the playoff round and duel it out until a winner is produced.
There are eight teams instead of the 10 that were represented a year ago, and the crop of players has been trimmed from 240 to 160.
"The thought pattern was, 'Let's make this really the elite of the elite, and let's get them more at-bats,'" Jack said. "It's more, 'Let's take the group and make it smaller. Let's take the really elite group and get them the most amount of exposure we can possibly get.'"
If history repeats itself, every team will have a chance to win, despite how loaded some teams appear to be on paper.
Last year, it was an underdog Maritimes squad that pulled off an upset, defeating one of the two highly regarded teams representing Quebec to win the first Tournament 12 championship.
The star attractions of the 2013 showcase were Gareth Morgan, Josh Naylor and Demi Orimoloye -- a trio of Ontario natives who recently helped Canada's Junior National Team place third at the Under 18 Pan American championship in Mexico.
Morgan, a second-round pick by the Seattle Mariners in the 2013 First-Year Player Draft, is not at this year's event after graduating to the professional circuit. Both Naylor and Orimoloye return to headline the 2014 class.
"A lot of the kids are really excited," Alomar said. "It's about getting an opportunity in life, and this is a big opportunity, which is why I say to them, 'Embrace this opportunity, because it could be your only chance.'"
Many of the players haven't participated in a showcase like this before. Tournament 12 is a one-stop shop for scouts and recruiters to receive a firsthand look at the top talent residing in Canada. For some, it's a chance to further promote their stock, while for others, it's a chance to put themselves on the map.
"The real intention is just to bring more exposure to Canadian players," Jack said. "We thought that if we can centralize it, to make it easier on the scouts just to come to one location, and they can see the best players in the country over the course of five days, we could kind of bring some profile to it."
Jack estimated that over 60 schools from the United States would be represented, in addition to scouts from every MLB team.
It will afford the group of players a chance to play in front of interested eyes, and if last year's event is any indication, it can have a profound impact.
New Brunswick native Andrew Case made a strong impression in the showcase with his 90-plus mph fastball, and by twirling a seven-inning no-hit masterpiece. Case's dominance throughout the tournament ultimately parlayed itself into a contract with the Blue Jays. The 21-year-old spent this past season with the Vancouver Canadians, a Blue Jays Class A short-season affiliate, where he pitched to a 2.45 ERA over 24 appearances.
"He's a huge success story," Jack said. "The goal of the tournament is to get the most amount of exposure for Canadian-born players. Andrew Case is just the feather in the cap because he signed professionally."
The Tournament 12 players were selected by the Blue Jays Baseball Academy, with assistance from the Blue Jays' scouting department, Baseball Canada and the Major League Baseball Scouting Bureau. All tournament games will be umpired by members of the Baseball Canada High Performance Program for Canadian Umpires.
Chris Toman is a contributor to MLB.com. This story was not subject to the approval of Major League Baseball or its clubs.