Dominican Prospect League a 2015 showcase
Son of Major Leaguer Tatis one of many eligible to sign next July 2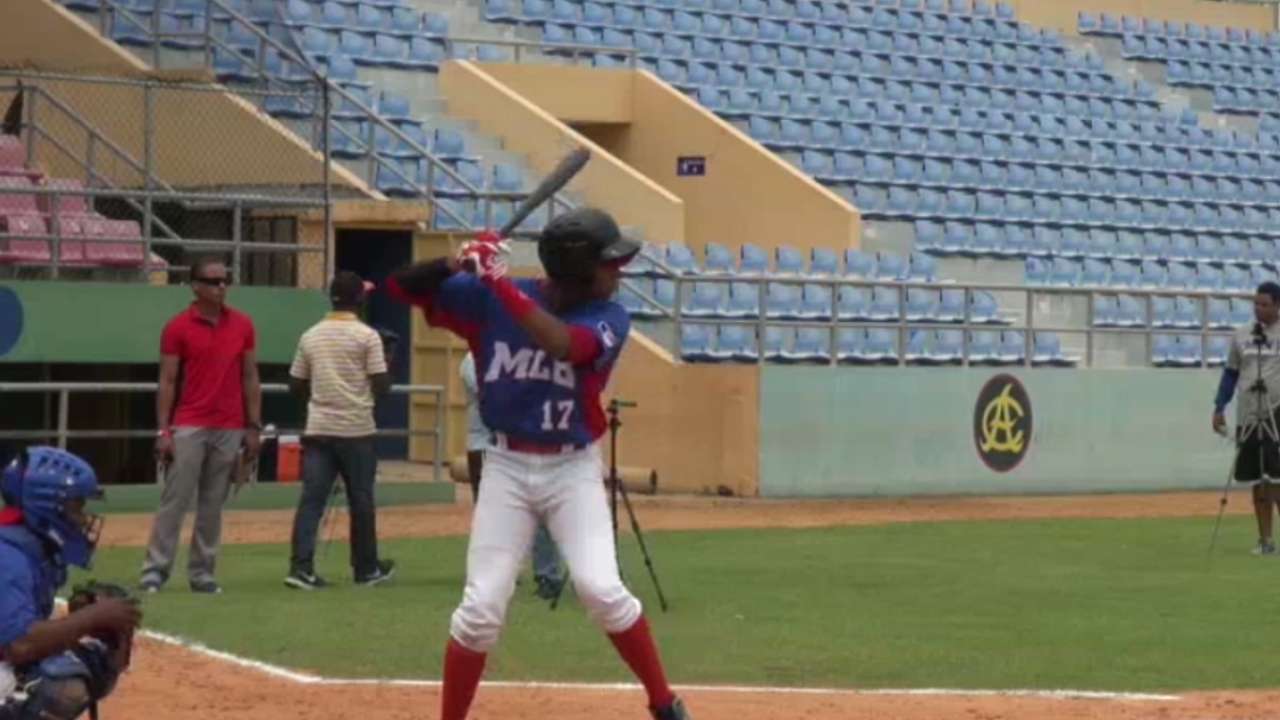 SAN CRISTOBAL, Dominican Republic -- Former Major League player Fernando Tatis sat down in one of the aqua seats behind home plate at Estadio Temistocles Metz, the famous stadium in the heart of the city. He took off his sunglasses and took a hard look at ... Fernando Tatis.
He liked what he saw. It was a better version of himself.
"My son is so much more advanced at this age than I was, and he's going to be a way better player than I was," Tatis, 39, said. "He's smart, and he has a lot more instruction than I did, too. He picks things up quick, a lot faster than I did. He's coming fast."
Fernando Tatis Jr., 15, is one of 200 teenaged international prospects participating in the Dominican Prospect League tournament and showcase, which started Monday and continues through Friday. The prospects, including Tatis Jr., are expected to be eligible to sign when next year's international signing period begins on July 2.
"It's kind of difficult to watch your son, because I'm excited, but I'm also kind of nervous because I want him to do well," the elder Tatis said. "He decided that he wants to be a professional baseball player like his father, and that's what he is doing right now, working on that goal. We practice every day, and I try to teach him what I learned about the game, but he has a lot more natural talent."
The senior Tatis was generously listed at 5-foot-11 and 185 pounds during his 11-year career as an infielder with the Rangers, Cardinals, Expos, Orioles and Mets. The younger Tatis, nicknamed "Bebo," is already 6-foot-1 and weighs 175 pounds.
"He has really good baseball acumen and you can tell he has grown up around the game," said Ulises Cabrera, co-founder of the DPL. "He already carries himself like a professional, even though he is an amateur. He has some ability to play shortstop, and some people think he will grow and end up being an outfielder because he has size and he can really hit, show some power. He has the ability to make some loud contact, and that's always a good thing."
There were more than 150 scouts representing almost every club in attendance to watch Tatis and other prospects work out on Monday. The Indians were the only team that did not have a presence at the event, and they are not expected this week, according to DPL officials.
"This represents their signing year, just like in the United States, where it's a big year for high school seniors or college juniors," Cabrera said. "These kids have been waking up every morning and going to bed every night thinking about one goal, and that's having the opportunity to sign a professional contract. This is the start of that process."
Monday's workout for 50 prospects included a timed 60-yard run, batting practice and infield and outfield practice. The second group of 50 prospects followed the same format, but they had their afternoon workout cut short because of rain. The showcase will follow a similar schedule the remainder of the week, with games scheduled for Wednesday, Thursday and Friday.
"The amount of scouts and teams in attendance is clearly a sign that there is a lot of talent here," Cabrera said. "From outfielders, pitchers, catchers, shortstops and third baseman, there is a lot of interest in this group of players. In my estimation, it's the best group of July 2 kids that we've ever seen."
Fernando Tatis Sr. was almost 18 when he signed with the Rangers as an amateur free agent in the summer of 1992. The times and rules have changed.
A 16-year-old international player is eligible to sign with a Major League team from July 2, 2015, through June 15, 2016, provided the prospect turns 17 before Sept. 1, 2015, or by the completion of his first Minor League season. Additionally, any prospect that is already 17 or older and has not previously signed a Major or Minor League contract; resides outside the United States, Canada and Puerto Rico; and has not been enrolled in a high school or college in the U.S., Canada or Puerto Rico within the previous year is eligible to sign during the period.
In 2014, each team was allotted a $700,000 base and a bonus pool made up of four slot values based on the team's '13 record. That figure ranged from $5,015,400 for the Astros, who had the Majors' lowest winning percentage last year, to $1,866,300 for the Cardinals, who had the highest winning percentage. The clubs were also allowed to trade pool money.
More than 350 players have signed since the international signing period began on July 2. The Yankees have signed the most prospects with 26, a list that includes several top prospects and outfielder Dermis Garcia, ranked no. 1 on MLB.com's list of the Top 30 International Prospects.
Recently added guidelines state an international player must either be 16 years old, or within six months of the date he is eligible to agree to terms -- whichever is earlier -- to enter a club's academy. Additionally, both overnight stays and one-day visits to team facilities will count towards a player's total days with a club, and a total of 30 days are allowed within a six-month time period. Events sanctioned by Major League Baseball -- such as RBI, educational and orientation programs or a Major League Baseball Amateur Prospect League event -- are exceptions that do not count toward a player's 30 days.
The new rules also prohibit a team from hosting a player overnight at a hotel, a property owned or rented by club personnel or any other facility not recognized by Major League Baseball as a "club" facility, such as an academy.
"I want my son to enjoy this experience, because time goes by quick," Tatis said. "It feels like yesterday that I was in the big leagues and he was born. I was in St. Louis in 1999, and he was just a baby. Look at him now; he's about to sign."
Jesse Sanchez is a national reporter for MLB.com. Follow him on Twitter @JesseSanchezMLB. This story was not subject to the approval of Major League Baseball or its clubs.