Braves, SunTrust anticipate fruitful partnership
Naming-rights deal between team and Atlanta-based bank revealed at groundbreaking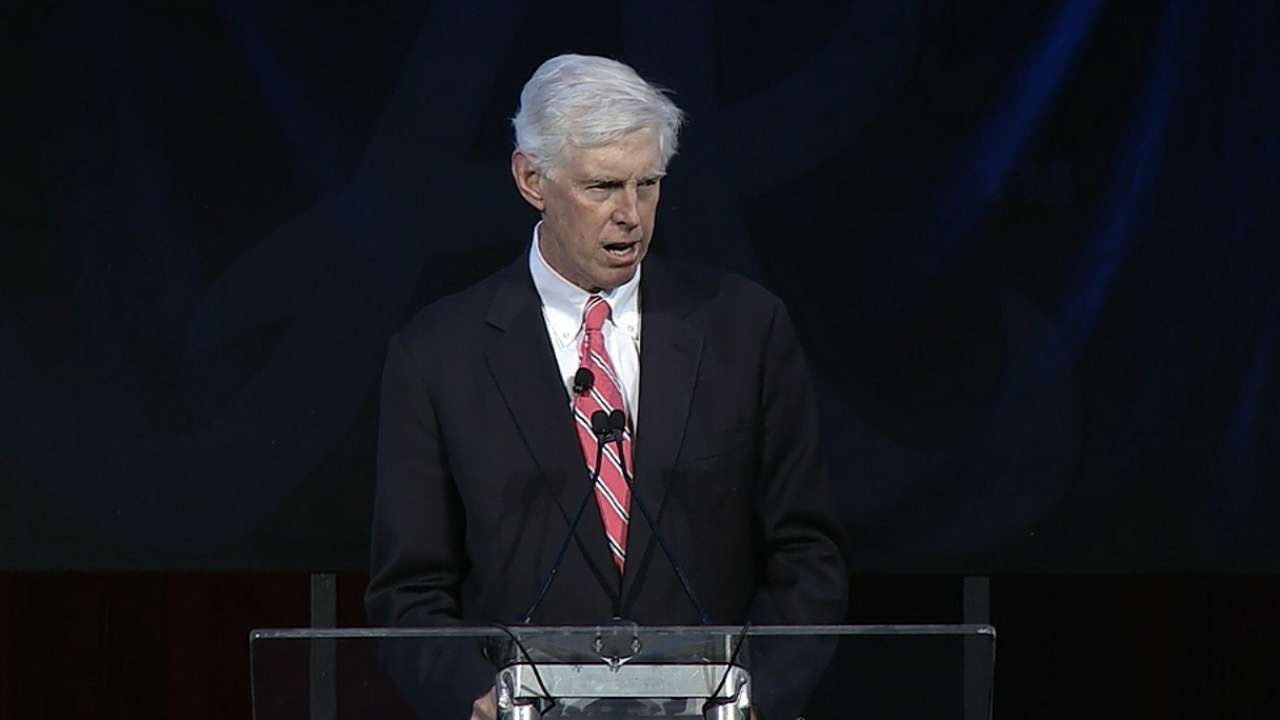 ATLANTA -- When the Braves announced that they would stage the groundbreaking for their new stadium on Tuesday morning, they said there would be a significant announcement. True to their promise, they revealed the surprise by announcing that their new home, scheduled to open in 2017, will be named SunTrust Park.
"The new ballpark constitutes a new chapter in Atlanta Braves baseball, and we are excited that SunTrust has decided to build upon our decades-long relationship and embark on this journey with us," Braves chairman and CEO Terry McGuirk said. "Both of our organizations have deep roots in Atlanta and loyal fans throughout the Southeast and across the nation. We couldn't imagine a more perfect partner and look forward to seeing the first pitch at SunTrust Park in 2017."
SunTrust Bank chairman and CEO William Rogers was in attendance for Tuesday's groundbreaking ceremonies, which were staged on the Cobb County plot of land that will serve as the foundation for the 41,500-seat stadium and the surrounding mixed-use development that will include restaurants, hotels, office space and residential opportunities that could provide a steady revenue stream year-round.
"This is a special day for SunTrust and the Atlanta Braves," Rogers said. "It's just an incredible day. Atlanta is our headquarters. This is our hometown. SunTrust Park will be the heart and soul of what we stand for as an organization and what the Braves stand for as an organization."
After proudly addressing the new partnership, Rogers announced that SunTrust was donating $100,000 to Hank Aaron's Chasing the Dream Foundation, which provides scholarships and financial assistance to children who are pursuing their dreams through education or the arts.
"This donation will go a long ways in helping young people," Aaron said as he expressed his gratitude to Rogers and SunTrust Bank.
While the Braves will gain significant revenues via the 25-year naming-rights partnership, SunTrust will receive marquee signage as well as additional signage and promotional opportunities throughout the ballpark and the adjacent mixed-use complex.
"The partnership between SunTrust and the Atlanta Braves really fits like a glove," Rogers said. "We both share an incredible competitive spirit, we both have long-standing roots in Atlanta and we both believe in building and investing in our communities."
Mark Bowman is a reporter for MLB.com. This story was not subject to the approval of Major League Baseball or its clubs.