Rizzo's work on and off field earns Clemente nomination
Cubs slugger and cancer survivor one of 30 finalists announced by MLB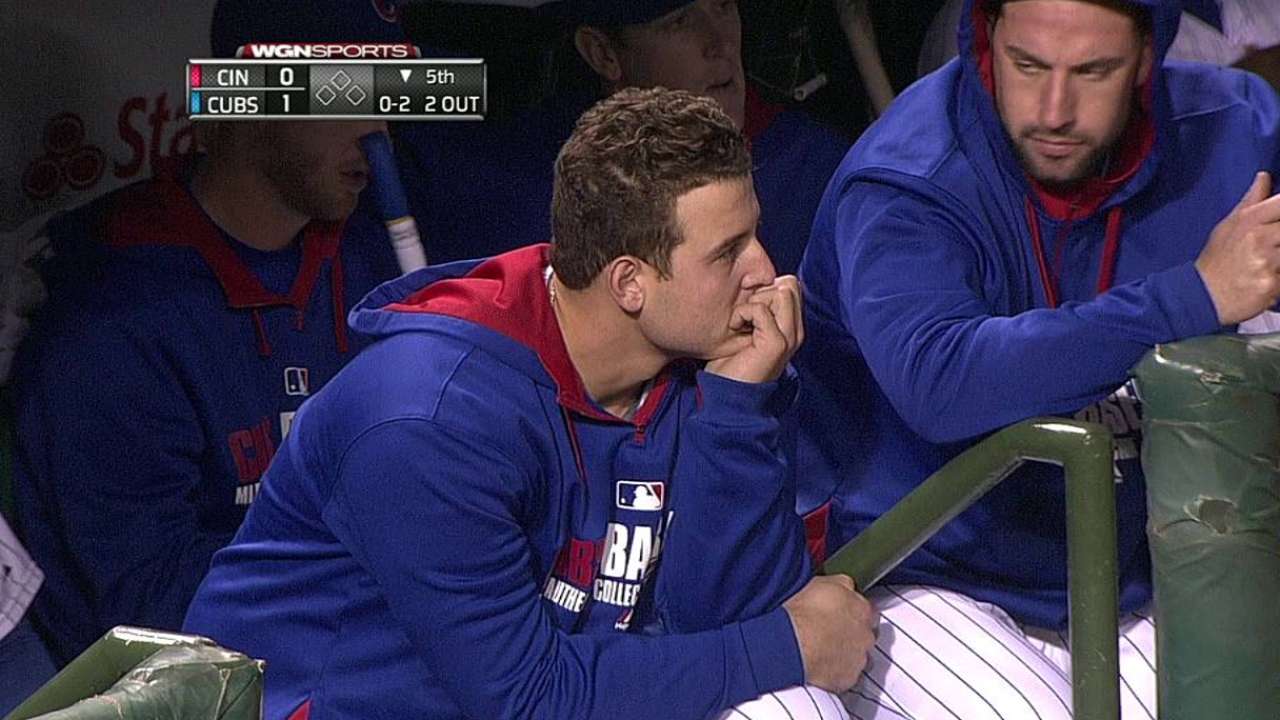 CHICAGO -- Anthony Rizzo, a cancer survivor who has made it his foundation's mission to help other families battling the disease, was named the Cubs' nominee for the Roberto Clemente Award, presented by Chevrolet. Major League Baseball announced the 30 finalists on Tuesday.
The award recognizes a MLB player who best represents the game of baseball through positive contributions on and off the field, including sportsmanship and community involvement. Rizzo will be honored prior to Wednesday's game against the Reds.
The nomination is an effort to pay tribute to Clemente's achievements and character by recognizing current players who truly understand the value of helping others. Wednesday will be the 13th annual Roberto Clemente Day, which was established by MLB to honor his legacy and officially recognize local team nominees.
Clemente, a 15-time All-Star and Hall of Famer, died in a plane crash on New Year's Eve 1972 while attempting to deliver supplies to earthquake victims in Nicaragua.
In 2012, Rizzo began the nonprofit Anthony Rizzo Family Foundation to raise money for cancer research and provide support to children and their families battling the disease. He knows firsthand the impact it can have after being diagnosed in 2008 with Hodgkin's Lymphoma. Through fundraising for research and providing support for pediatric cancer patients and their families, Rizzo's foundation aims to give every family a fighting chance against cancer.
Since its inception, the Anthony Rizzo Family Foundation has raised more than $500,000 through its "Walk-Off for Cancer" in Florida and the "Cook-Off for Cancer" held in Chicago. The third annual 5K "Walk-Off for Cancer" will be Nov. 16 at Pine Trails Park in Parkland, Fla.
The organizations currently selected as beneficiaries of Rizzo's fundraising include Ann & Robert H. Lurie Children's Hospital of Chicago, Bear Necessities Pediatric Cancer Foundation, Family Reach Foundation, Joe DiMaggio Children's Hospital and The Lymphoma Program at the Sylvester Comprehensive Cancer Center at the University of Miami Health System.
In addition, Rizzo makes monthly visits to Lurie Children's Hospital, and he has become a familiar face to those in the pediatric oncology floor, where he spends much of his time talking with patients and their families, signing autographs, taking photos and handing out Cubs memorabilia.
Rizzo talks to the children about his own experience, and he has often given patients his phone number to keep in touch. And he's kept his promises. On July 22, Rizzo met Mike Kasallis, 22, who was recently diagnosed with cancer, and he promised that he would hit a home run for him. Rizzo hit two blasts that day against the Padres, and he made sure to touch his lips and point to the sky as a signal.
"I was absolutely stunned," Kasallis said about seeing Rizzo deliver his request. "All I said was, 'If you hit a home run, blow a kiss to the sky for me,' and he did."
Rizzo and Kasallis have exchanged text messages since that day. Rizzo said that particular visit brought back memories of his own experience.
"This one hit more at home for me," Rizzo said. "I usually don't get flashbacks, but I did this time."
When Rizzo visited Kasallis in the hospital, Kasallis' mother, Donna, said her son perked up for the first time since the diagnosis.
""It was the first time I'd seen him with any spark," Donna said of Rizzo's visit. "It was like I saw my kid again that day."
It's been quite a year for Rizzo, who hit a walk-off home run in the ninth to give the Cubs a 1-0 win over the Reds on Monday night. He was the winner of the 2014 All-Star Final Vote campaign, and he made his first trip to the All-Star Game.
"His commitment to the community and his teammates the last three seasons with the Cubs has made a tremendous impact within our organization," general manager Jed Hoyer said in a statement.
On Wednesday, a representative from Chevrolet will present Rizzo with a $7,500 grant to the charity of his choice, Cubs Charities, as a result of his nomination for this award.
Carrie Muskat is a reporter for MLB.com. She writes a blog, Muskat Ramblings, and you can follow her on Twitter @CarrieMuskat. This story was not subject to the approval of Major League Baseball or its clubs.