MLB.com Columnist
Mike Bauman
With SunTrust Park, a new day for Braves
Ballpark development includes more than just a stadium for franchise, city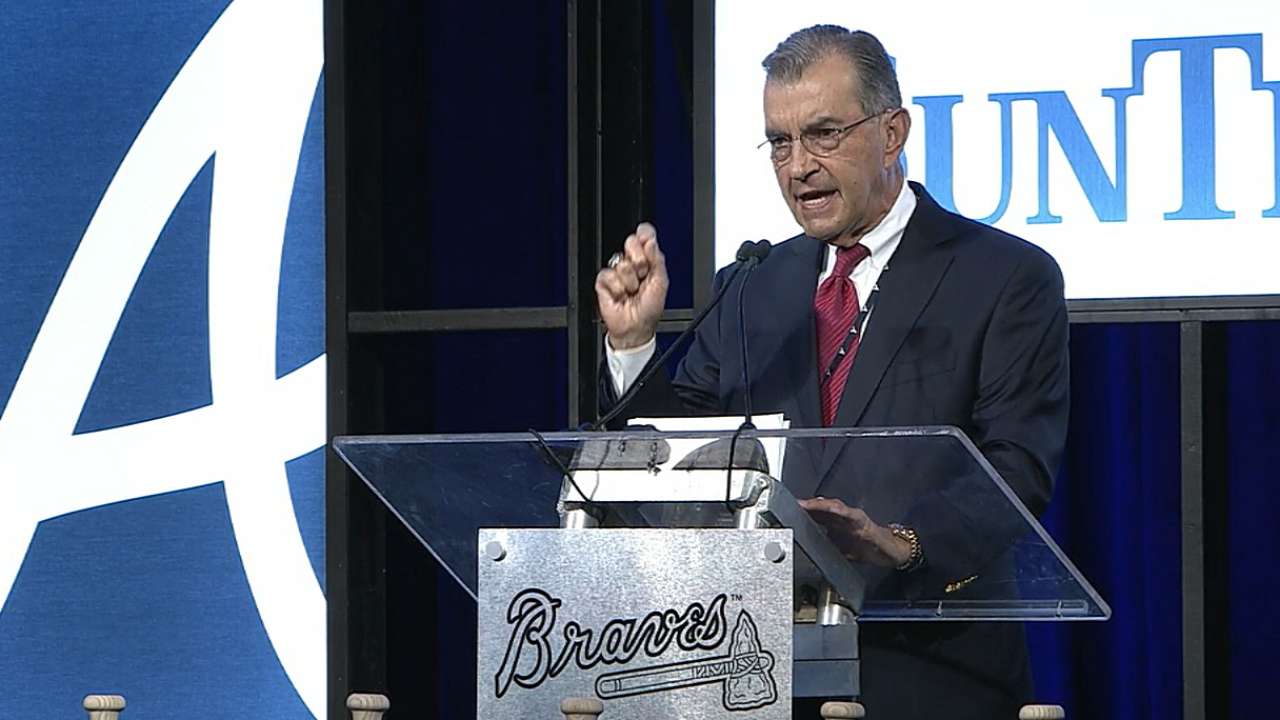 ATLANTA -- A new ballpark can energize a franchise on several levels, from economics to competitiveness to fan-friendliness.
The Atlanta Braves are going bigger than just a new stadium with SunTrust Park. They are undertaking a "ballpark village" concept, with their new park the centerpiece of a development that will include restaurants, hotels, retail outlets, office space, entertainment venues and residential areas.
Tuesday's groundbreaking ceremonies for the new park were suitably star-studded. Henry Aaron was there. That would have been enough right there for many of us.
The ceremonies were held at the Cobb County site of the new park, inside a nicely air-conditioned tent. There were many notables from the business world, the Georgia political scene and baseball. Georgia Gov. Nathan Deal was in attendance. Major League Baseball Commissioner-elect Rob Manfred was on hand. From the Braves, chairman and CEO Terry McGuirk, chairman emeritus Bill Bartholomay, team president John Schuerholz and general manager Frank Wren took part in the ceremonies.
There were numerous Cobb County officials, with this suburban area soon to become the new home of the Braves. And there were numerous officials of SunTrust Banks, Inc., because that organization will have the stadium naming rights. SunTrust, suitably enough, is an Atlanta-based operation. So, welcome to SunTrust Park, which is scheduled to open in 2017.
There were many compliments paid to the Braves, dating back to the "Miracle Braves" of 1914. That happened two cities ago in franchise history, but more recently, there were the record 14 consecutive division titles. And less than two months ago, as Manfred reminded the crowd at the groundbreaking ceremony, four former Braves -- Bobby Cox, Greg Maddux, Tom Glavine and Joe Torre -- were inducted in one class to the National Baseball Hall of Fame.
"As some of you know, the Braves are the longest continuing operating professional sports franchise in North America," Manfred said. "As long as I've been in baseball, they've also been held up as the gold standard for the operation of a great club."
Manfred also extolled the Braves' performance off the field.
"The Braves truly have been blessed with business acumen and vision," Manfred said. "Today, here in Cobb County, there is a new chapter in the history of the Braves being launched. The state-of-the-art facility that will be built here will be essential to the Braves continuing their great winning tradition. And this project is an example of the type of vision the Braves have always had. ... I personally can't wait for Opening Day 2017."
In an interview after the ceremony, Schuerholz explained why the Braves had chosen the larger, more comprehensive project as opposed to simply building a new ballpark.
"It is our belief that our investing in and being part-owner in the mixed-use development is a very, very viable decision for us to make," Schuerholz said. "We believe in this project. We believe that with this beautiful new ballpark, hosting the Atlanta Braves -- as Rob Manfred said, 'the gold standard' organization in the view of Major League Baseball -- in this community -- Cobb County, which is robust, growing and dynamic in its economic outlook -- we believe that this is the place to be. And so we're invested in this, as well."
Schuerholz also responded to the criticism that the Braves were leaving the city of Atlanta proper with this move.
"When we told [Atlanta mayor Kasim Reed] that we would be leaving Turner Field after our lease expired, and moving to Cobb County, we said, with respect, 'We're still going to represent the Atlanta Braves,'" Schuerholz said. "We are Atlanta's Braves. We represent the community of Atlanta.
"We have been the Atlanta Braves since we moved here in 1965. We're not going to change that. We're simply moving 12 miles up into Cobb County, which had a vision and a forward-thinking plan to bring us here. We're still going to wear 'Atlanta' across our chest and the 'A' on our cap, and represent the great City of Atlanta. And proudly so.
"I don't think there's been a lot of opposition. I think there's been some. But there's been an awful lot of people who are supporting this and are glad that it's happening. And we are, too. And so is SunTrust. And so is Cobb County. I think the vast majority of people feel that way. And I think they'll love this place when they see it. I think when it opens, they will embrace it and have ownership in it, as citizens of Atlanta."
Aaron was presented with a $100,000 donation to his Chasing the Dream Foundation by SunTrust. In brief remarks, he explained the origins of his foundation and thanked SunTrust. He did not speak of the new ballpark development.
Perhaps the best question of the day was asked by Gov. Deal: "Have you ever noticed that the hot dogs taste just a little bit better when you are at a baseball game?"
The correct answer there is yes, definitely. The Braves are hoping that their new ballpark/development generates every bit of that better-tasting hot dog feeling.
Mike Bauman is a national columnist for MLB.com. This story was not subject to the approval of Major League Baseball or its clubs.