Jon Lester ha cumplido como abridor en los Atléticos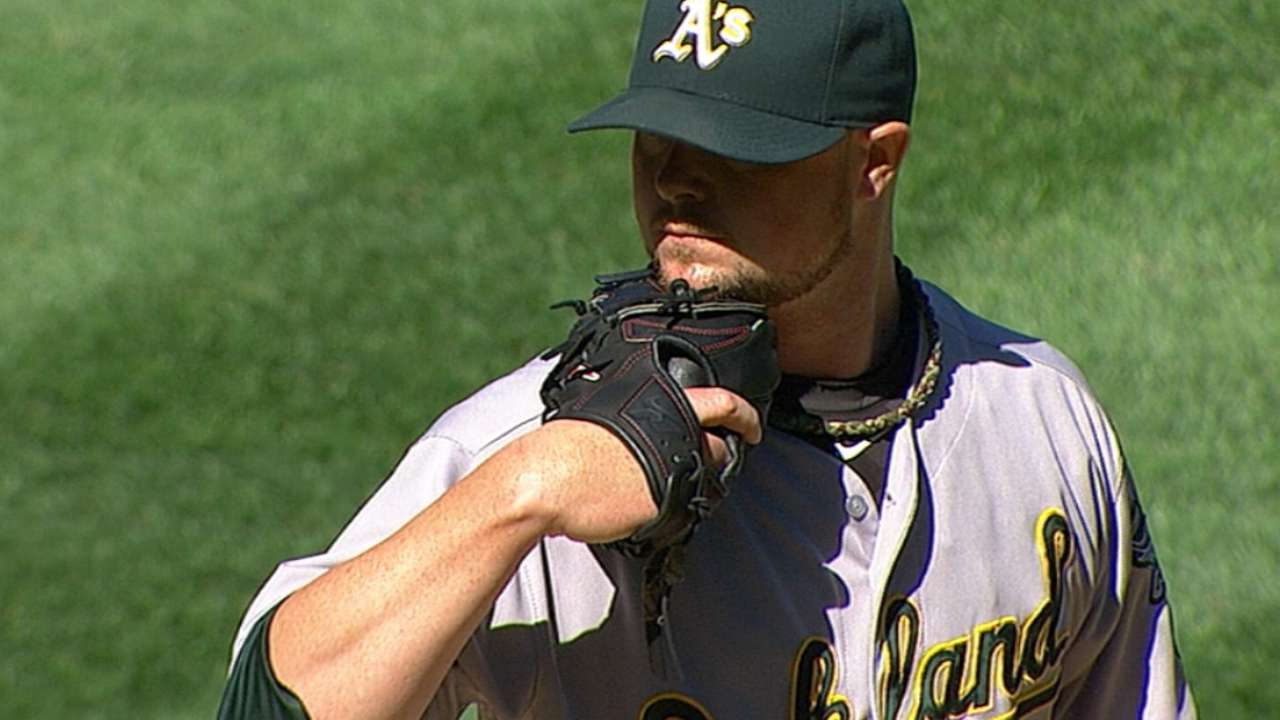 ¿Saben por qué los Atléticos estuvieron dispuestos a pagar un alto precio para agregar al abridor Jon Lester en la fecha límite de cambios del 31 de julio? La respuesta es sencilla. El zurdo se ha establecido como un lanzador para juegos claves, algo que Oakland -- pese a una sólida rotación -- no tenía.
El beneficio de la presencia de Lester fue evidente el domingo contra los Marineros. Oakland encaraba lo que muchos señalaban como su juego más importante de su temporada, y aunque Lester tuvo que batallar en seis entradas, el veterano pudo fijar la base para una victoria 4-0 sobre Seattle en el Safeco Field. El triunfo logró que los Atléticos controlaran su propio destino hacia la postemporada con dos semanas restantes en la campaña regular.
Aunque Lester no lució dominante, obtuvo el resultado deseado. Oakland perdió el primer juego de la serie contra Seattle, que junto a los Reales luchan por uno de los comodines de la Liga Americana, pero los Atléticos se recuperaron para conseguir dos victorias consecutivas por primera vez desde el 22 y el 23 de agosto.
Antes de la acción del martes, la ventaja de Oakland en el Comodín era de 1.0 juego sobre Kansas City y de 3.0 sobre Seattle. El martes los Atléticos inician una serie de nueve juegos en el Coliseo, antes de concluir la temporada con cuatro encuentros en Arlington del 25 al 28 de septiembre.
Pueden agradecerle a Lester, quien ha visto a los Atléticos ganar seis de sus nueve aperturas desde que fue adquirido desde Boston.
"Así te das cuenta de cuáles son los buenos", señaló el piloto de Oakland, Bob Melvin. "No tienen su mejor material, pero de todas maneras sacan buenos resultados".
El domingo, Seattle embasó a ocho corredores en los primeros cinco capítulos. Ninguno de ellos anotó. Los Marineros tuvieron ocho turnos con corredores en posición de anotar -- cinco de ellos con menos de dos outs -- y no pegaron de hit.
Lester otorgó cuatro bases por bolas. Concedió cuatro imparables. Vio a Seattle aprovecharse de desgastado Derek Norris detrás del plato para robarse cuatro almohadillas. Sin embargo, Lester no cedió y retiró a los últimos seis bateadores que enfrentó en una presentación de 110 lanzamientos que incluyó 39 con corredores en posición de anotar.
"Mi repertorio estuvo bien, pero simplemente no tuve el comando", reconoció Lester. "Tienes salidas en las que no te sientes bien pero haces los pitcheos cuando necesitas hacerlos. Tratas de hallar la manera de mantener a tu equipo en una buena posición".
El domingo fue una de aquellas presentaciones. Lester encontró la manera de guiar a su equipo.
Aunque no deslumbró, trajo una enorme recompensa.
"Estos juegos significan más que cuando otorgas pasaportes por toda la alineación", indicó Lester. "Es importante cuando tienes la oportunidad de mantener a tu equipo en una buena posición y le ofreces a la ofensiva la oportunidad de volver a la cueva con una ventaja".
Y eso es lo que Lester ha demostrado que ha podido hacer, motivo por el que los Atléticos estuvieron dispuestos a enviar al cubano Yoenis Céspedes y su producción a Boston para adquirirlo. Hubo bastante especulación de que la caída de los Atléticos de la cima del Oeste de la Liga Americana fue porque la ofensiva perdió fuerza ante la ausencia de Céspedes.
La falta del toletero definitivamente tuvo un impacto, pero al no llegar a una Serie Mundial desde 1990 y al no ganar un título del Clásico de Otoño desde 1989, Oakland también sabe que lo más importante para el éxito en la recta final es un pitcheo abridor dominante.
Por eso la llegada de Lester fue un movimiento de tanta pasión para el gerente general Billy Beane. El as registró 2.11 de efectividad en 13 presentaciones de postemporada por los Medias Rojas, 11 de ellas como abridor. Lleva marca de 3-0 en tres aperturas de Serie Mundial, permitiendo apenas una carrera en 21 innings.
Y Lester ha demostrado que puede lanzar bien durante la recta final de la temporada regular. No solamente tiene foja de 24-10 en su carrera en septiembre, sino que en los cuatro septiembres anteriores con Boston que resultaron en pases a la postemporada, tuvo récord de 14-2 con un promedio de carreras limpias de 2.62.
Como un escucha señaló el domingo, "Algunos muchachos saben alcanzar otro nivel cuando hay mucho en juego".
Lester es uno de ellos.
Tracy Ringolsby is a columnist for MLB.com. Read his blog, Write 'em Cowboy. This story was not subject to the approval of Major League Baseball or its clubs.