Fantasy Q&A: Who to target for 2015?
Ozuna, Lagares stand out as potential value picks in next season's draft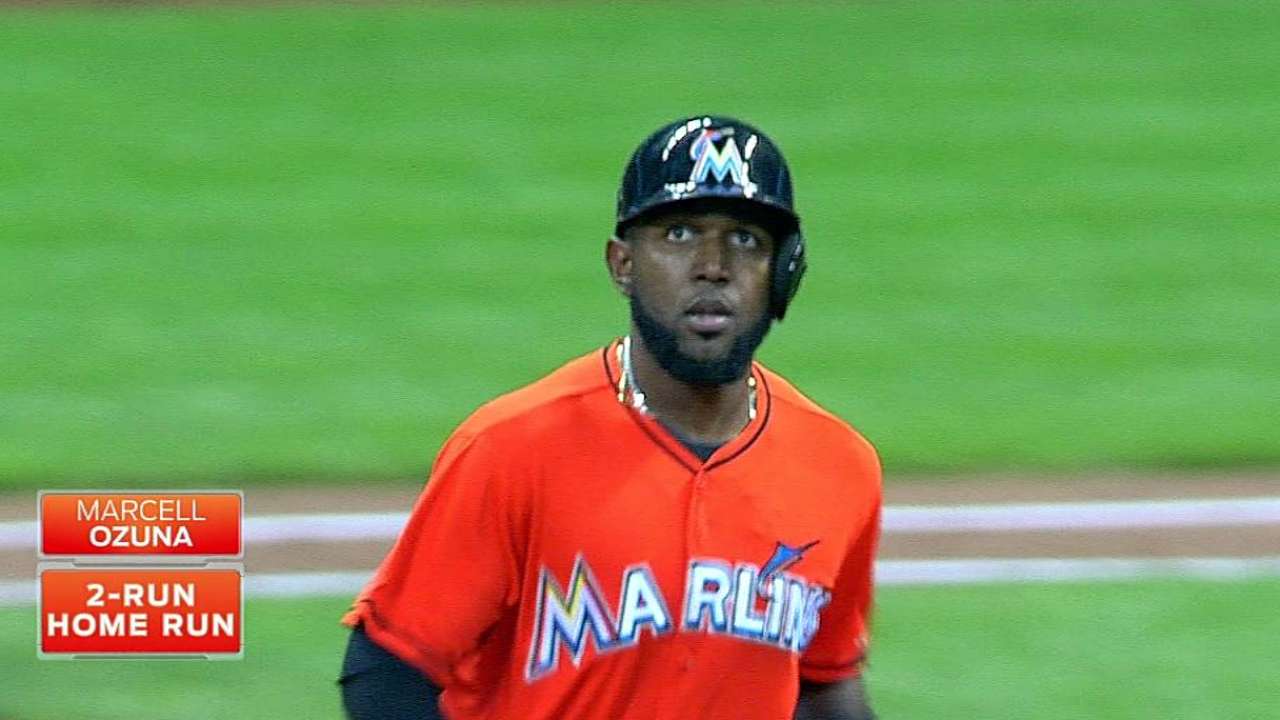 Look for tweets from the @Fantasy411 Twitter account and you can have your questions answered in our weekly mailbag. Here are the top questions from yesterday's tweets:
Any early good-value picks for 2015 fantasy baseball drafts?
-- @Fink_Thinks1
While offseason movement will determine many of the best value picks for 2015, it is also valuable to look ahead at players who were underrated performers this season, and finished on a high note.
Marcell Ozuna has been overshadowed by Giancarlo Stanton and Christian Yelich this season, but he is showing all the signs that fantasy owners should be looking for in a 2015 breakout player. He has been a consistent power hitter throughout the season, and he is improving down the stretch. It would not be surprising to see Ozuna finish 2015 as a 30-homer, 100-RBI asset.
Juan Lagares will not garner much attention in 2015 drafts, as he has picked up just four homers and 13 steals so far this season. But smart owners will notice that he that has made a decided effort to be more aggressive on the basepaths this month, and he has swiped seven bases in 58 at-bats. The rangy center fielder has been a solid source of batting average all season, so there is a chance that Lagares could be a .285 hitter with 25-30 steals in 2015.
Danny Santana is similar to Ozuna, in that he has been an effective player for most of the season, and he is taking his game to another level down the stretch. The 23-year-old has pushed his batting average to .318 by hitting .357 so far in September. Santana will likely fall short of 10 homers and 20 steals, which will keep him undervalued on 2015 draft lists. But smart owners will notice that he registered just 40 at-bats prior to June 1. With a full season out of the leadoff spot in 2015, Santana could hit over .300 with 15 homers, 25 steals and 90 runs.
Any advice as I try to make a late-season push in my league?
-- @dalton_mack
There are several small observations that can make a big difference in late-season standings:
1. Take a close look at the schedule each week. For example, the Rockies are home for seven games this week. Adding lesser-known Colorado players from waivers such as Drew Stubbs could pay big dividends if they get involved in a few high-scoring contests this week. Also, the D-backs will play four games in Coors Field later in the week. David Peralta (assuming he returns for a minor injury) is an example of an Arizona hitter who is sitting on waivers in most leagues and could help fantasy owners over the weekend.
2. Plan ahead with pitching staffs. Many rotations are in constant flux in September. Managers will offer spot starts to Minor Leaguers, and they will push back starters who are wearing down. It is important to stay on top of all these changes, because they will add and delete future two-start pitchers. It is also a good idea to look ahead on the schedule and try to add future two-start hurlers as early as possible.
3. Focus on specific categories. In roto leagues, at this point in the season, it is possible that only a few categories will matter to the owners who are competing for the league crown. An owner with a buffer in ratios could afford to stream as many two-start pitchers as possible and collect K's and wins without worrying about a couple poor outings. And for owners who seek speed, players such as Jordan Schafer could be more valuable than top power hitters for the final weeks of the season. It feels odd to bench a hitter such as Ozuna or Schafer, but if steals are the only thing separating an owner from a title, it is a move that has to be made.
Fred Zinkie is a fantasy baseball writer for MLB.com. This story was not subject to the approval of Major League Baseball or its clubs.