Halos excited to punch ticket, but focused on bigger goals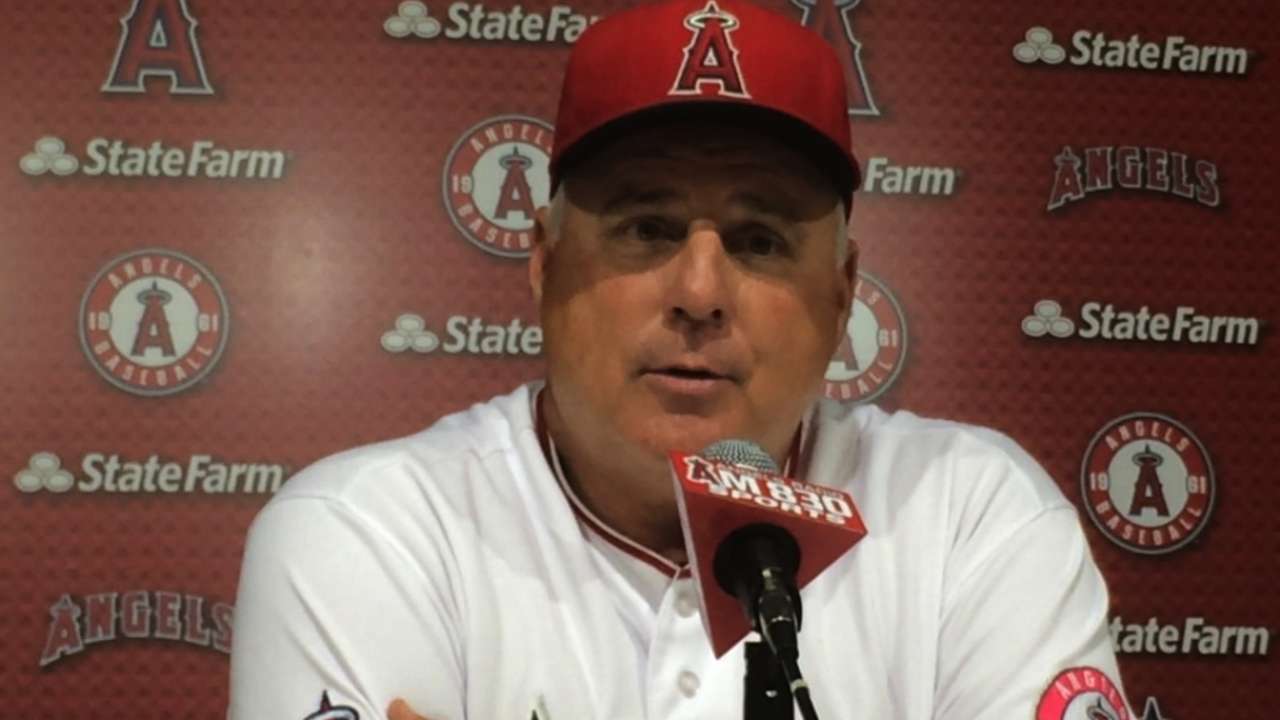 ANAHEIM -- Minutes after the Angels became the first team to clinch a playoff spot with a win over Seattle, three Angels hats with "2014 Postseason" patches stitched on them sat on a table before Mike Scioscia's postgame press conference. He walked in, pushed them aside and sat down. Such is the Angels' attitude toward Monday night's win.
Scioscia and the Angels are not satisfied with simply making the playoffs -- they want to win the American League West for the first time since 2009.
"Not to belittle any accomplishment that this team has accomplished because it's really been an incredible run but we know where we are, we know what we need to do," Scioscia said. "These guys are focused on getting there and still keeping our eye on winning the division."
The Angels, who lead the AL West by 10 1/2 games, shrunk their magic number to three and can clinch the division as soon as Wednesday. They play three more games against second-place Oakland and six more against contending Seattle.
With the recently revamped playoff format, only the division winners are guaranteed a best-of-five series, with the two Wild Card winners playing "a 163rd game," as Scioscia called it.
If, in their final 12 games, the Angels collapsed and fell into a Wild Card slot, they would likely play one of their division rivals (Oakland or Seattle) or the AL Central's runner-up (Detroit or Kansas City).
"I don't think we feel anything about qualifying for the postseason because we really haven't," Scioscia said. "We have to get out there and get after it if we want to win the division. And that gets you into the playoffs. That's been our goal since day one."
The Angels are also aiming to lock up home-field advantage throughout the playoffs by posting the AL's best record. They lead Baltimore by four games.
But even with baseball's best record and a ticket to the postseason under their belts, the Angels' on-field celebration was pedestrian and their clubhouse was muted.
"I think these guys know the bigger prize that we need to keep our eyes on," Scioscia said.
That prize is certainly larger than Monday's accomplishment.
Matthew DeFranks is an associate reporter for MLB.com. This story was not subject to the approval of Major League Baseball or its clubs.