Prospect Ruiz leads Lancaster to California League title
Third baseman has three hits after injured righty Correa throws out first pitch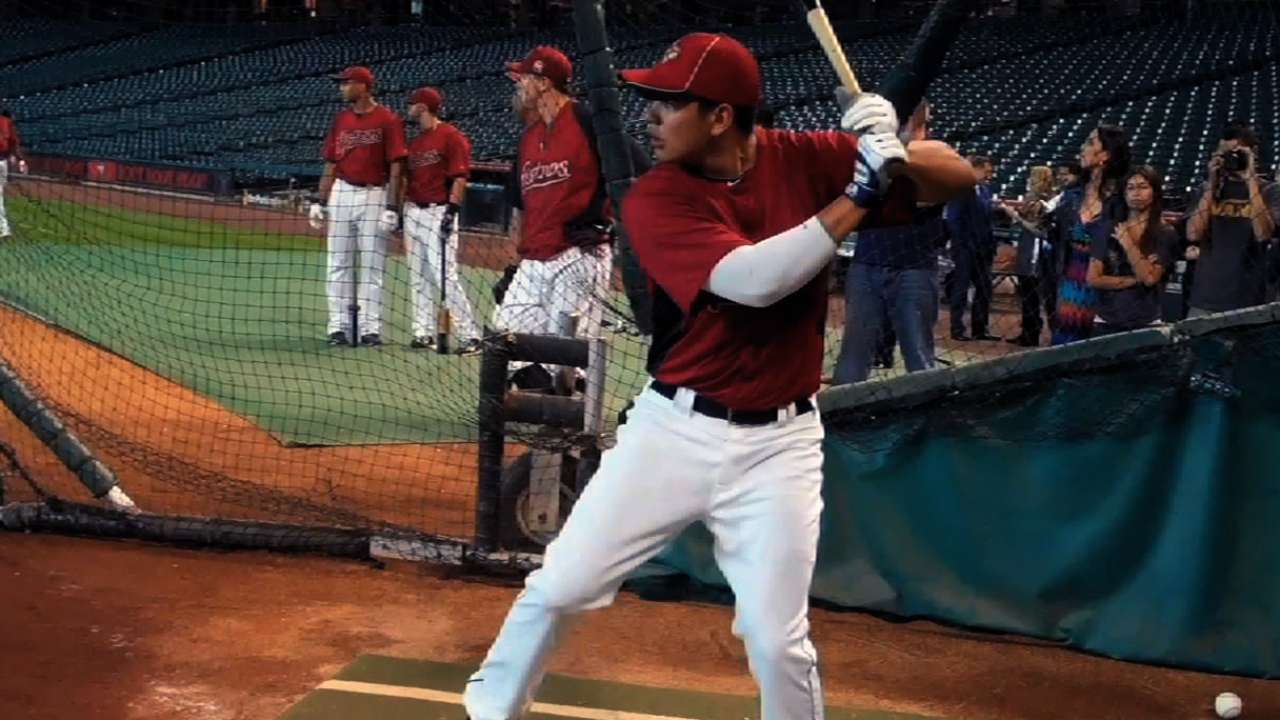 The decisive fifth game of the California League championship series Monday began with a surprise appearance from Astros' No. 1 prospect Carlos Correa, who returned to Lancaster for the first time since breaking his right fibula in June to throw out the first pitch. It ended with a dogpile, as Class A Advanced Lancaster defeated Visalia, 10-2, to win its second title in three years.
Correa, ranked No. 2 on MLB.com's Top 100 prospects list, has been rehabbing his injury at the Astros complex in Florida. He flew across the country Monday to support his teammates and saw the JetHawks at their best. They never trailed after scoring a run in the first and steadily adding to their advantage until breaking the game open with five runs in the sixth. In all, they pounded out 14 hits and drew five walks.
Third baseman Rio Ruiz, the Astros' No. 9 prospect, went 3-for-4 with a double, a walk, a run and an RBI. Center fielder Brett Phillips also went 3-for-4 with a double and a walk. He scored three times and drove in two runs.
Ruiz hit a walk-off home run in Game 3 to give Lancaster the edge in the series. The 20-year-old finished the playoffs hitting .333/.486/.519 in eight games.
Right-hander Tyler Brunnemann earned the victory Monday with three perfect innings of relief of starter Kyle Westwood. Brunnemann struck out six batters and gave the JetHawks time to expand their lead. Right-hander Daniel Minor finished the game with two scoreless innings of his own to close out the title.
For many of the JetHawks, this is their second consecutive championship. Some, including Ruiz and Minor, were a part of the Class A Quad Cities team that won the 2013 Midwest League. Others, such as Brunnemann, won the 2013 New York-Penn League title with Tri-City.
Lancaster began the season with both Correa and right-hander Mark Appel, the top overall picks in the 2012 and '13 First-Year Player Drafts. But neither was a part of the postseason run, as Correa spent the second half of the year on the disabled list and Appel was promoted to Double-A Corpus Christi in July. In addition to Appel, left-hander Josh Hader and outfielder Teoscar Hernandez, the Astros' Nos. 10 and 11 prospects, were also promoted to Corpus Christi late in the season.
Even without several of the Astros' big name prospects, Lancaster kept winning. The JetHawks finished the regular season 78-62 and earned a first-round bye in the playoffs. Lancaster then swept Inland Empire in the semifinals to set up the championship series against Visalia.
Teddy Cahill is a reporter for MLB.com. Follow him on Twitter at @tedcahill. This story was not subject to the approval of Major League Baseball or its clubs.