Aoki on top of his game to spark Royals' win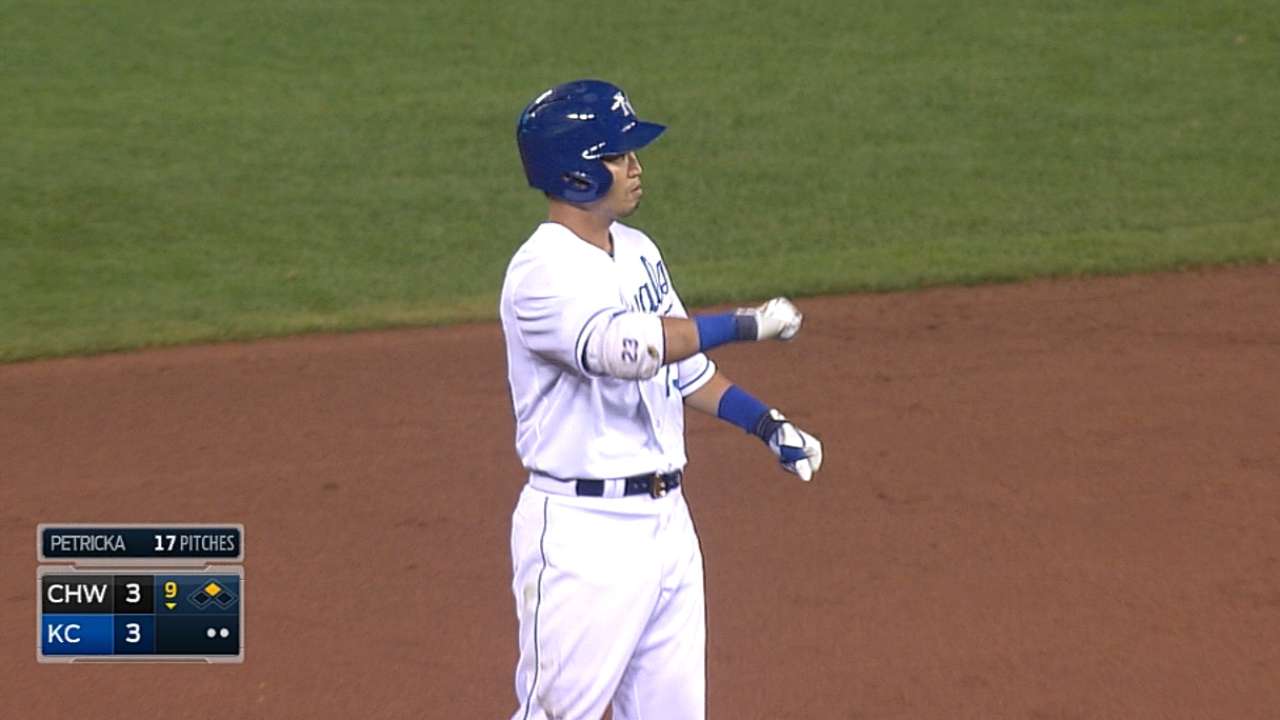 KANSAS CITY -- After nights like Monday, it's easy to understand why the Royals thought highly enough of Nori Aoki to part ways with a talented left-handed pitcher to acquire the outfielder last winter.
Aoki, who was brought to Kansas City to infuse his speed and on-base abilities at the top of the order, discovered his full potential at the most opportune time. The slap-hitting lefty reached base five times, sparking the Royals' thrilling 4-3 walk-off win over the White Sox at Kauffman Stadium.
"I was able to get on base five times today, so this is the type of game I envisioned and hopefully I can keep it up from here," Aoki said through translator Kosuke Inaji.
Aoki's ninth-inning double led to the winning run and a victory Kansas City so desperately needed after dropping six of its previous nine games. Aoki finished 4-for-4 with a walk in his first four-hit game with the Royals, who remained 1 1/2 games back of the Tigers in the American League Central and two games ahead of the Mariners for a Wild Card spot.
"Nori's been swinging the bat extremely well for us of late," manager Ned Yost said. "We need guys to step up and swing the bat well for us and Nori's doing a good job of it."
Aoki collected his hits in an unorthodox fashion. Two of them did not escape the infield. They also came on some dubious check swings by Aoki, where he hardly looked interested in making contact with the ball.
"It might be a new kind of bunt," Aoki said.
Aoki's final hit was more traditional: a low, slicing, opposite-field double down the left-field line for his 20th two-bagger of the season. It came two pitches after Jarrod Dyson tied the game when he swiped third base, then scored on a wild pitch.
Aoki did his damage from the two-hole, a spot that Yost inserted him into for the first time this season on Saturday and has kept him since. Aoki collected a pair of hits in that game, a 7-1 win over Boston.
"That's why skip made a change," said outfielder Lorenzo Cain, who delivered the infield walk-off hit that scored pinch-runner Terrance Gore. "Just trying to switch things get our speed guys up at the top.
"It worked out well tonight."
Jackson Alexander is an associate reporter for MLB.com. This story was not subject to the approval of Major League Baseball or its clubs.