MLB.com Columnist
Richard Justice
Royals showing grit, determination down the stretch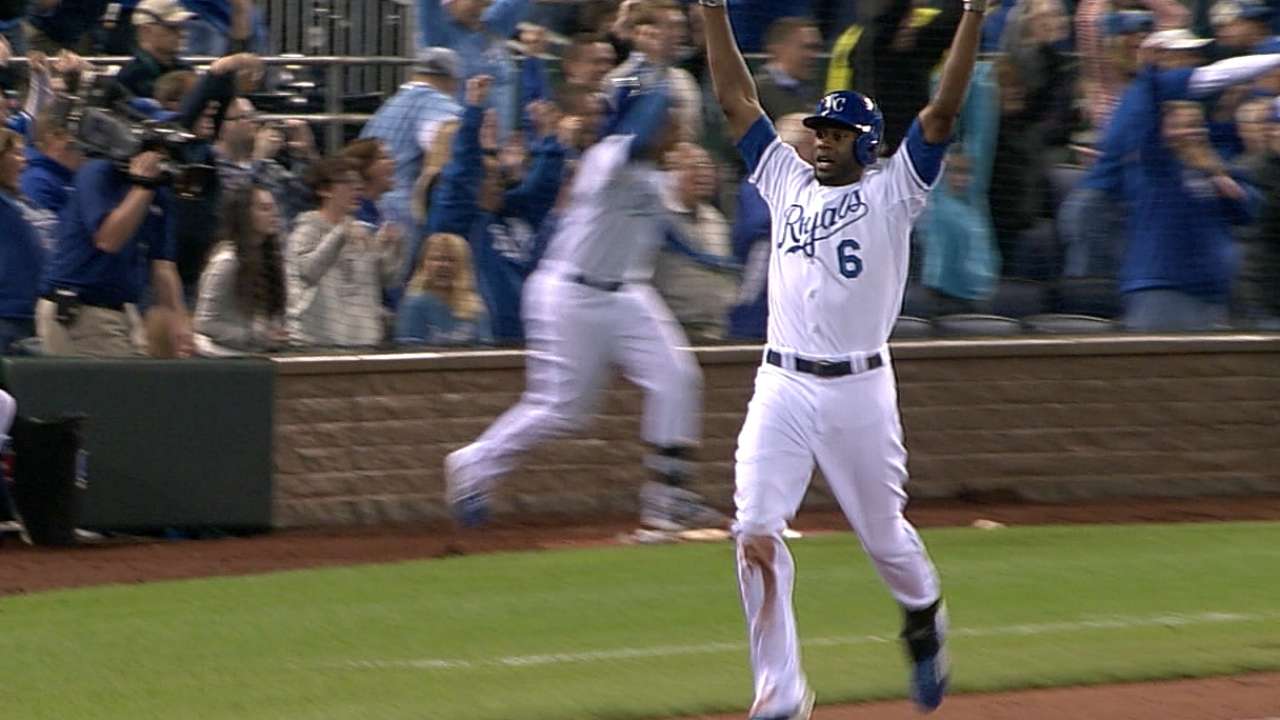 This is why we love September. There's a season riding on every inning. At least it feels that way. Go ask the Kansas City Royals.
Here's hoping they remind themselves that these might be the most fun days they ever have in baseball. This is what Royals owner David Glass had in mind when he hired Dayton Moore to be his general manager eight years ago.
Glass stuck with his guy and believed in him when it wasn't the most popular position in Kansas City. That's because he understood that Moore was doing exactly what he'd been instructed to do. That is, he was constructing, not just a team, but an entire baseball operation.
These Royals weren't an overnight success -- eight years is about two lifetimes in the life of a baseball executive -- but here the Royals are, positioned nicely to make their first playoff appearances in 29 years.
There's torture in September baseball. There's plenty of pleasure, too. Those players experiencing it for the first time will remember it forever.
"I love September," James Shields has said about a dozen times the last couple of weeks.
Shields is one of the ones who has been there, during his days with the Rays. He gets it.
It's completely consuming. Players and coaches count down the hours until they get back to the ballpark, and then they watch the scoreboard and grind out the game and play with the kind of intensity they probably never knew existed.
When it's over -- whenever that is -- they'll be absolutely exhausted. That's the thing every player who has been through one of these things said. Jeff Kent was the first I heard say it. He didn't even realize how tired he was until it was over, and then he felt like sleeping for three days.
Others have talked about the same thing. They remember it as being a wonderful experience, because it's a group of players and coaches completely united to achieve one goal. Doesn't matter what happened in June or July. All that matters is now.
But it's more than that. It's the people in the ticket office and in public relations. It's fans, too, caring more than they thought they could care again. They're living and dying with every inning, every pitch.
And so on Monday night, the Royals played one of those games in which an entire season of hope flashed before their eyes. They began the day having lost five of seven to slip to 1 1/2 games behind the Tigers in the American League Central. With Detroit having won six of seven at the beginning of the day, Kansas City understood what's at stake.
At the moment, it appears that four teams -- A's, Mariners, Royals and Tigers -- are fighting for three spots in the AL playoffs. Oakland appears to have a slightly easier schedule, but that stuff means absolutely nothing in September when a team's will and resolve is tested.
And so the Royals played one of those games Monday night that could end up being a springboard back to the postseason. The Royals trailed the White Sox, 3-0, after six innings and 3-1 after seven. It was 3-2 when Kansas City came to bat in the ninth inning.
Winning time? The Tigers had rallied to win. That was flashed on the scoreboard. The Mariners were losing to the Angels.
Mike Moustakas doubled with one out to put the tying run in scoring position. There's some symmetry here, because he was one of the first heralded Draft picks by Moore, a first-rounder in 2007.
If you went back and charted all the ups and downs of the last three years for the Royals, Moustakas would be a primetime figure in plenty of the discussions.
Royals manager Ned Yost then made the first of two important decisions he would make in the ninth inning when he sent Jarrod Dyson out to run for Moustakas.
Magic ensued after Alcides Escobar grounded out for the second out of the inning. With Nori Aoki batting, Dyson broke for third and sprinted right on home with the tying run when White Sox reliever Jake Petricka's throw bounced in the dirt and past catcher Tyler Flowers.
It ended quickly after that. Aoki doubled, and Yost went to his bench for another pinch-runner, this one Terrance Gore. Lorenzo Cain got him home with an infield roller for a 4-3 victory.
The Royals poured from the dugout and celebrated as if they'd just won the pennant. Yost used 17 players in all, including the two pinch-runners.
Meanwhile, the Mariners lost, and the Athletics had the day off. The Royals are still 1 1/2 games behind the Tigers in the AL Central, but they have a two-game lead over the Mariners with 13 to play for an AL Wild Card berth.
If you're thinking that the pressure is now on the Mariners, you're wrong. The pressure is on all of 'em. Teams don't get in this position very often, and when they're close enough to see it and touch and dream it, they've got to finish it. Anything less would be crushing.
For the Angels and Orioles, it may be about beginning to make postseason plans. For the Tigers, Royals, A's and Mariners, it's about survival.
So that's what the Royals did. They proved again that they're a tough, resilient team, a team of guys made of the right stuff. And they get to do it all over again on Tuesday.
Here's to two more weeks of tension, drama and thrills. There are few things better.
Richard Justice is a columnist for MLB.com. Read his blog, Justice4U. This story was not subject to the approval of Major League Baseball or its clubs.