Miley cruises, backed by Trumbo's grand slam
Starter allows one run in seven innings to beat Giants in rematch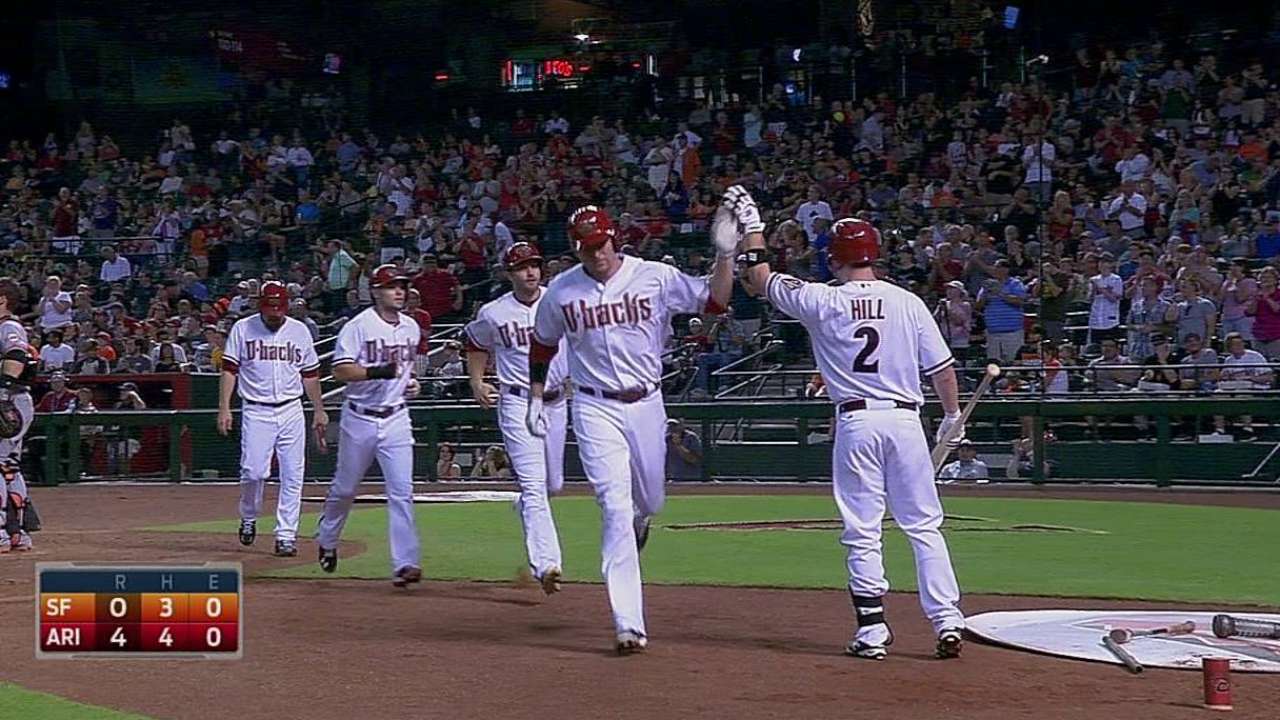 PHOENIX -- Whether it was lingering effects from a fractured left foot that caused him to miss more than two months in the middle of the season or just a prolonged slump that sapped his power, Mark Trumbo entered Monday's game against the Giants with only eight home runs -- 21 fewer than his career low for a season in which he played more than eight games.
He snapped out of it in a big way Monday, belting his second career grand slam in the third inning and providing the D-backs with all the runs they needed in an eventual 6-2 win over the Giants at Chase Field.
"Lately, I've been trying to hit the ball in the air more," Trumbo said. "There's not a ton of money for me on the ground, figuratively. I don't have the speed to beat those balls out.
"I'm a guy that needs to set my sights a little higher."
The D-backs traded for Trumbo this past offseason so they could add more power in the middle of their order alongside 2013 Most Valuable Player runner-up Paul Goldschmidt.
But with two weeks left in the season, Goldschmidt is on the disabled list with a fractured left hand and Trumbo was in the midst of the biggest power outage of his career.
Trumbo nearly didn't get a chance to break out of his slump Monday. A.J. Pollock checked his swing at a 3-2 offering from Ryan Vogelsong with two outs in the third, but it was ruled a ball. Pollock made his way to first, bringing up Trumbo.
"It's obvious that we would have loved to have that call," Giants manager Bruce Bochy said.
Instead, Trumbo came to the plate and feasted on the hanging slider Vogelsong (8-11) fed him. The pitch was up and out over the plate, and Trumbo mashed it into the right-center-field stands.
"Just the way we like them," Trumbo said.
Trumbo's blast, his first since Aug. 9, sent the D-backs on their way for much of the game. Their 4-0 lead stayed the same until the seventh inning, as starter Wade Miley cruised through the Giants' lineup.
Miley had his shortest outing of the season against the Giants at AT&T Park last Tuesday, pitching only two innings before manager Kirk Gibson pulled him. He gave up three runs on five hits, and his command left him -- he walked four of the 15 batters he faced.
Monday's start could not have been more different.
The 27-year-old southpaw pitched seven innings, the first six of which were scoreless, before giving up his only run on a groundout by Brandon Crawford. The biggest difference from his disastrous start in San Francisco: no walks.
"He got frustrated, throwing hard, he was yanking balls. He was unable to make an adjustment," Gibson said of Miley's last start. "Today he got out there and got settled in real nice."
Said Miley: "I just tried to forget about that and just slow down a little bit. I got a little quick the other day."
The Giants did slowly begin to chip away at what was at that point a four-run deficit, scoring a run off Miley in the seventh inning.
But, after the D-backs added a fifth run on a Pollock triple, Trumbo struck again, putting the cherry on top with his fifth RBI of the night on a single up the middle.
"He's kind of hitting his stride a little bit, definitely," Gibson said. "He's swinging the bat much better, more comfortable."
Adam Lichtenstein is an associate reporter for MLB.com. This story was not subject to the approval of Major League Baseball or its clubs.