Grand slam costly to Giants' playoff chase
SF falls four back in West race, loses half-game off Wild Card lead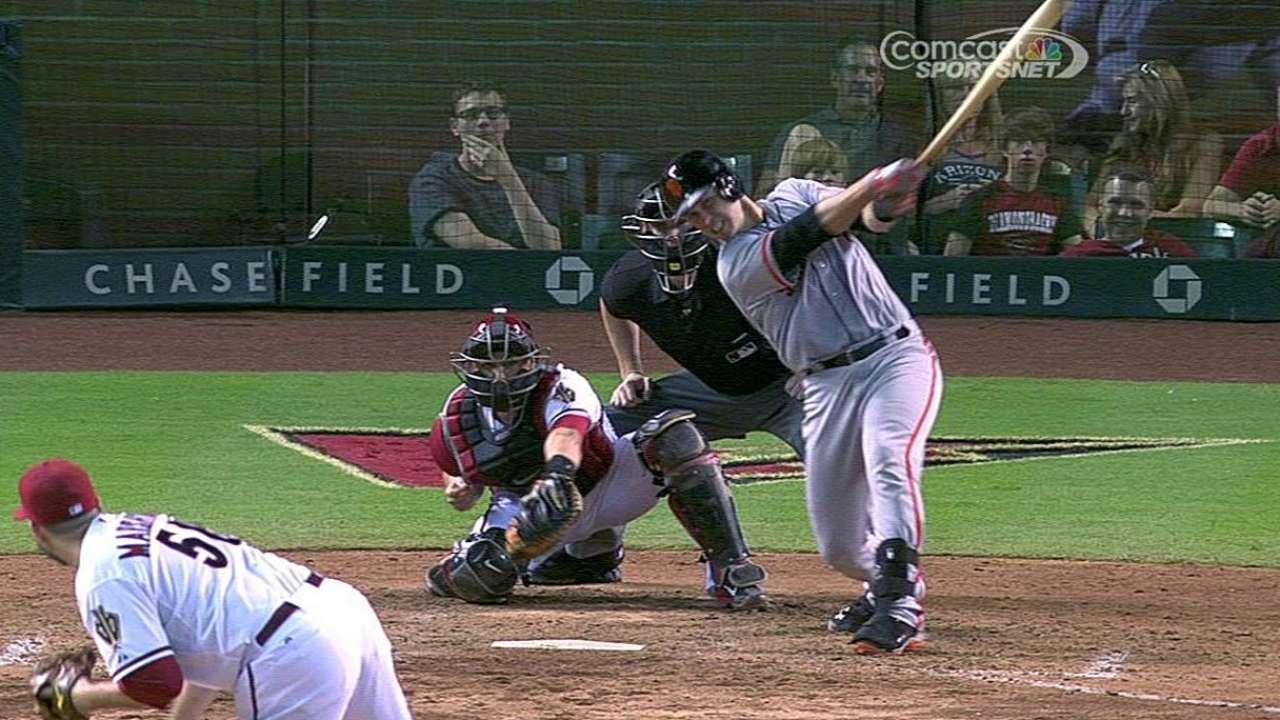 PHOENIX -- Suddenly, margin for error is something the Giants possess in shrinking supply, particularly after their 6-2 loss Monday to the Arizona Diamondbacks. Mark Trumbo's third-inning grand slam off Giants starter Ryan Vogelsong essentially shaped the evening for the Giants, who have not lost a series at Chase Field since April 6-8, 2012.
The Giants have dropped three consecutive games, a streak that has slowed their momentum in both the National League West and Wild Card races. They not only fell four games behind Los Angeles in the division standings, but also lost some of their Wild Card bulge. San Francisco owns a 2 1/2-game lead over Pittsburgh, which the Giants would meet in a one-game showdown to advance to the Division Series if the season ended now, and a four-game edge over Milwaukee.
The standings still indicate that the Giants will return to the postseason. Yet now is not the time for a prolonged slump, particulary when the schedule has pitted the Giants against below-.500 teams in three of its final four series.
Offense, or lack of it, suddenly has become an issue for the Giants. The league's top scoring and hitting team since the All-Star break has mustered four runs in its last three games. This can be attributed at least partially to an outbreak of injuries. Center fielder Angel Pagan (back) was scratched Monday, first baseman-left fielder Michael Morse (left oblique) might not return until this weekend's series at San Diego and third baseman Pablo Sandoval (right hip) is doggedly playing through soreness.
Sandoval was fit enough to line a single off the top of the right-field fence in the eighth inning. Had the ball cleared the barrier for a home run, as its trajectory suggested before topspin took over, the Giants would have trailed 6-4 and posed more of a threat to Arizona.
"That might have changed the game a little bit," manager Bruce Bochy said.
Granted, the Giants have faced some formidable starting pitching in this stretch, most notably Zack Greinke and Clayton Kershaw of Los Angeles. In this opener of a three-city, nine-game trip, they confronted Arizona's Wade Miley, runner-up in the 2012 NL Rookie of the Year balloting. Miley also entered the game with an ERA that ballooned to 4.28 when he survived only two innings and yielded three runs last Tuesday to the Giants at AT&T Park.
This time Miley (8-11) blanked the Giants until the seventh, which Joaquin Arias christened with his third single of the game. Arias advanced to third base on Gregor Blanco's ground-rule double and scored on Brandon Crawford's groundout. The potential for a more productive inning fizzled, mirrored in the Giants' 2-for-10 hitting with runners in scoring position.
"You always want to end the damage, no matter what the score is or when the situation is. But yeah, it was good that we were able to limit them to one right there," Miley said.
Vogelsong (8-11) pitched capably, but his lone lapse also reflected the Giants' dwindling room for error. With no score in the third inning, Vogelsong surrendered a one-out single to Miley, a .137 hitter. Chris Owings' two-out single prolonged the inning before A.J. Pollock walked on a full-count pitch. Umpires ruled that Pollock checked his swing. The Giants didn't necessarily agree.
"It's obvious that we would have loved to have that call," Bochy said.
Said Vogelsong, "From my vantage point, I thought it was a swing. But it was quick."
Trumbo then cleared the right-center-field fence with Vogelsong's 0-1 cutter.
"It didn't do anything," Vogelsong said. "It just sat there."
Until then, Vogelsong never had yielded a grand slam in 230 Major League appearances, a nugget of trivia that had eluded him.
Vogelsong, who allowed four runs and six hits in 5 2/3 innings, fell to 0-3 with a 7.65 ERA in his last four road appearances.
"You take away that pitch," said Bochy, referring to the one Trumbo belted, "and it's a pretty good outing."
Chris Haft is a reporter for MLB.com. Read his blog, Haft-Baked Ideas, and follow him on Twitter at @sfgiantsbeat. This story was not subject to the approval of Major League Baseball or its clubs.