Zimmer shining in relief role with Triple-A Omaha
Royals' No. 2 prospect helps Storm Chasers reach National Championship Game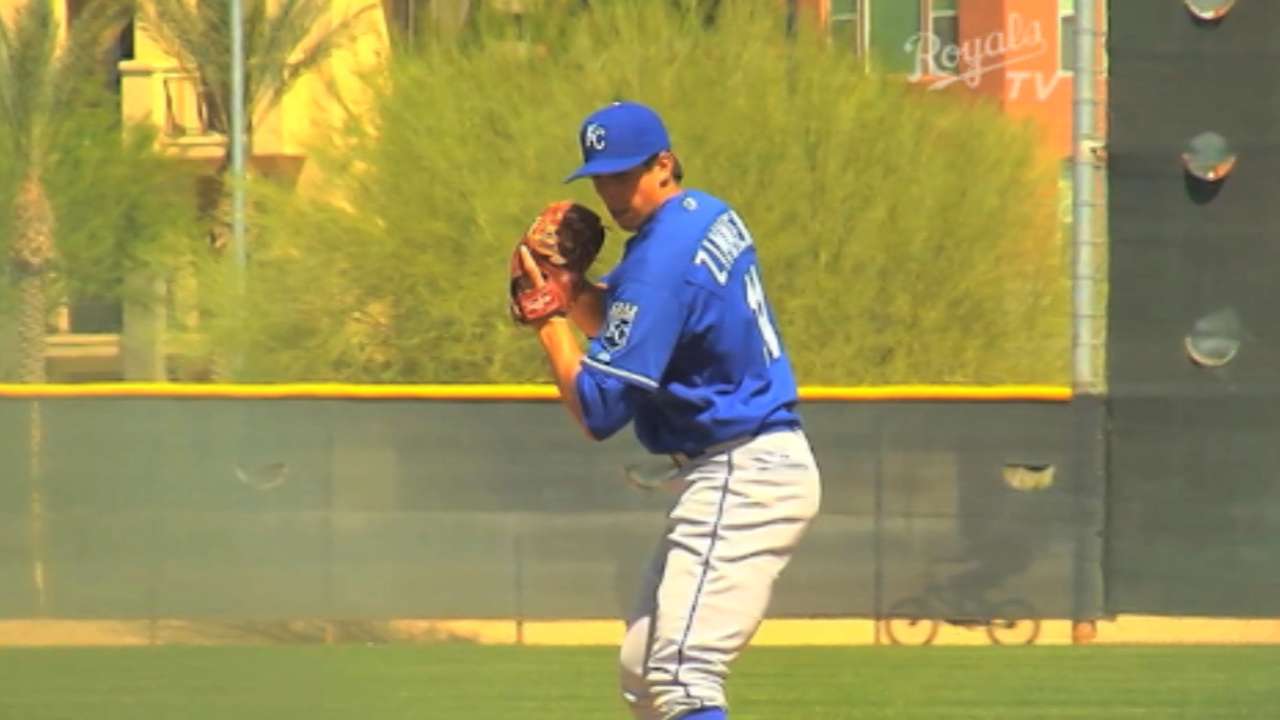 CHARLOTTE, N.C. -- Right-hander Kyle Zimmer, the Royals' No. 2 prospect, spent almost all of the 2014 season at the club's Spring Training complex. For much of the year, he couldn't throw a baseball.
It wasn't supposed to be that way. After an impressive first full professional season in 2013, Zimmer, ranked No. 48 on MLBPipeline.com's Top 100 Prospects list, was supposed to have a chance to reach the Major Leagues and maybe help during the pennant race.
Instead, Zimmer spent much of the year rehabbing, first from bicep tendinitis and then a lat injury. The injuries limited him to just 4 2/3 innings at the end of the season with Rookie-level Idaho Falls. Zimmer then joined Triple-A Omaha's bullpen for the playoffs.
Zimmer has thrown four scoreless innings for the Storm Chasers, helping them win the Pacific Coast League and reach Tuesday's Triple-A National Championship Game against Pawtucket, the International League champions.
Zimmer said he is enjoying his new role and being a part of Omaha's playoff run.
"It was a long year in Arizona throughout the whole rehab process," he said. "But everything happens for a reason, and I feel like I came out stronger. I'm excited to be back playing and in this environment."
This is Zimmer's first experience as a reliever, but he has excelled in the role. He has struck out four batters and held opponents to one hit and one walk in the playoffs. Manager Brian Poldberg said Zimmer could appear in Tuesday's game.
Poldberg was the manager at Double-A Northwest Arkansas last year, and he got to see Zimmer at his most dominant. The veteran Minor League manager said Zimmer threw one of the best games he'd ever seen in Double-A when he struck out 12 batters in six scoreless innings last July at Springfield.
Now, Poldberg is starting to see Zimmer return to that level.
"Each time, it's gotten a little bit better -- his rhythm, quality of fastball," Poldberg said. "I'm glad to see that he's getting that. But the good thing is the next day, when we ask him how he feels, there's nothing there. That's the thing I'm concerned about."
Zimmer will soon go back to starting. After Tuesday's game, he said he will head back to Arizona to continue building up innings. Then Zimmer could make a few starts in the Arizona Fall League before heading to the Dominican Republic for winter ball.
Zimmer said he is looking forward to the opportunity to pitch in the Dominican Republic, and he's excited to experience a strong competitive environment after spending most of this year away from games.
"I've heard everybody down there is there to win," Zimmer said. "People have told me it's pretty similar compared to the Major Leagues in terms of competitive environment and talent and atmosphere."
First, however, Zimmer is hoping for the chance to pitch one more time for Omaha and help his new teammates win the National Championship Game.
"I'll be ready to go, and hopefully [I can] get in there and get some outs," he said.
Teddy Cahill is a reporter for MLB.com. Follow him on Twitter at @tedcahill. This story was not subject to the approval of Major League Baseball or its clubs.