Benches warned after Stroman nearly hits Joseph
Toronto starter throws near head of O's catcher in apparent retaliation for blocking plate earlier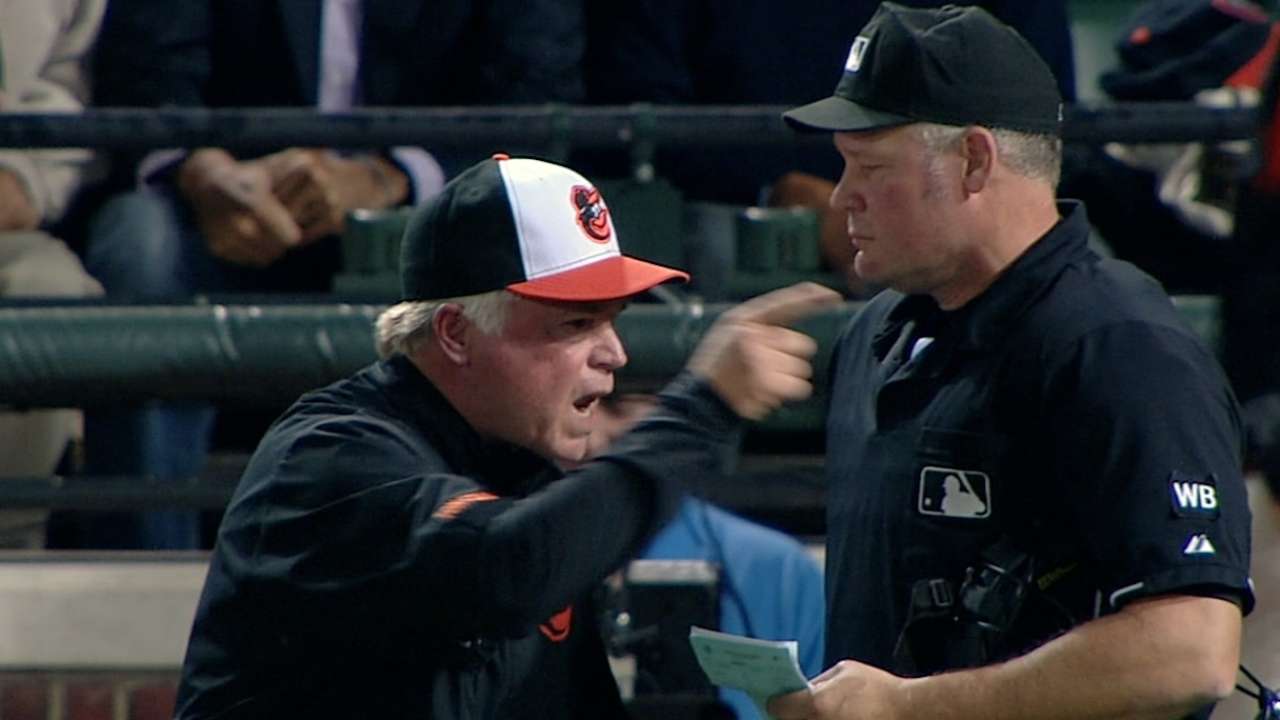 BALTIMORE -- Marcus Stroman smirked toward the Orioles' dugout after striking out the side in the sixth inning with a warning blow mixed in.
O's manager Buck Showalter shook his head. "That's bad," he appeared to say. Stroman threw behind Caleb Joseph to start the final at-bat of the sixth as apparent retaliation for a play in the fifth.
"Borderline professionally embarrassing," is how Showalter described the series of events by the Blue Jays.
Joseph blocked the plate as Jose Reyes came home to score in the fifth inning. The shortstop slid in headfirst and felt Joseph step on his hand. Reyes pointed to the plate and made a complaint to home-plate umpire Ted Barrett.
"I felt like he stepped on my hand for no reason," Reyes said. "I thought he stepped on my hand. But that's in the past."
"I was just trying to make a play there," Joseph said.
At the end of the sixth inning, Joseph came to bat for the first time since the incident. Stroman threw the first pitch over Joseph's head, and the catcher ducked out of the way.
Barrett immediately warned both benches.
"There's life outside of baseball, you know?" Joseph said. "I have a wife and a baby on the way. Those are the type of things that go through your head when that kind of stuff happens."
Stroman struck out Joseph six pitches later before leaving the game. The rookie used 15 pitches to strike out the side and wasn't called for any other balls on inside pitches during the inning. He did, however, throw a pair of balls well outside the zone, including one in the dirt.
"It kind of just slipped out of my hand," Stroman said. "It was late in the game, I got two big strikeouts, I'm a little excited, trying to get out of the inning."
Toronto manager John Gibbons declined to comment on the pitch.
Throws at the head have become a scary reality during the past week. Giancarlo Stanton took an 88-mph fastball to the head on Thursday and suffered multiple lacerations and facial fractures. His season could be over. On that same night, Yankees third baseman Chase Headley was hit in the face with a pitch and needed stitches.
Joseph nearly became the latest victim.
"If you look at the history of what's going on, it should never happen, especially at the head," Showalter said. "It's a hot button, especially for what reason?
"I'll let Toronto take care of that, and I'm sure the league office will do what needs to be done. ... I'm still trying to figure out what they're mad about."
David Wilson is an associate reporter for MLB.com. This story was not subject to the approval of Major League Baseball or its clubs.