MLB.com Columnist
Mike Bauman
Nats on verge of what could be many celebrations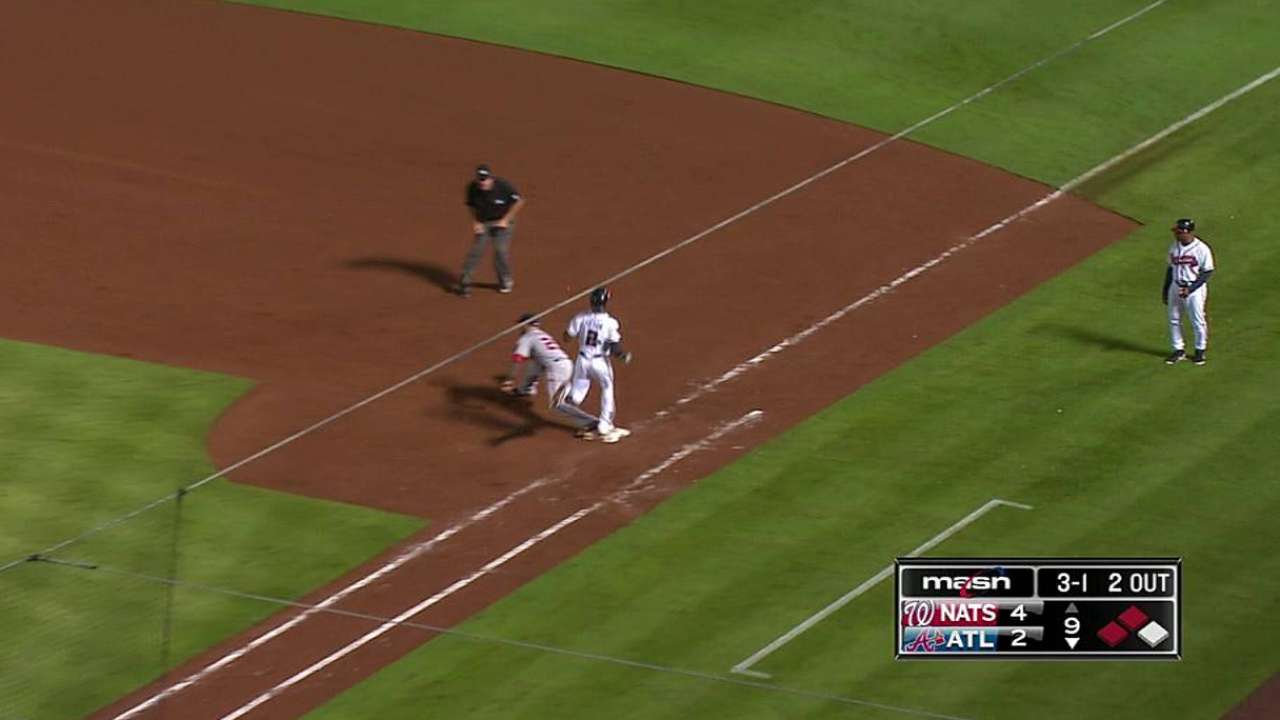 ATLANTA -- The Washington Nationals are within one well-placed victory of a division title. Their triumph in this matter is, by all that is logical, a question of when, not if.
The real question about the Nats' short-term future would seem to be whether they can finish with the National League's best record, thus qualifying for home-field advantage in two rounds of the postseason.
You won't get anywhere, of course, suggesting that to Nationals manager Matt Williams. It is true that the Nats are 11 1/2 games ahead of the Atlanta Braves in the NL East, with 13 games remaining on their schedule and 12 left for the Braves.
The Nationals defeated the Braves, 4-2, on Monday night, meaning that they could clinch the East title with another victory on Tuesday night.
The Braves are in the midst of a serious offensive slump and are 3-10 in September. The Nats are 9-5 this month and appear to be clicking in all facets of the game.
The Nationals opened this series with a one-half-game lead over the Dodgers for the league's overall best record. The Cardinals can still be considered to be in contention in this category, and the Giants can as well.
Achieving the best record in the league would be an obvious benefit. But when Williams was asked about it, he indicated that there were more immediate matters of concern to him.
"We've got to play good today," Williams said. "And then, of course, we've got to keep in mind that we've got a lot of guys who have played a lot of games, guys who have thrown a lot of innings.
"But it's important for us to win. It's important for us to be competitive every day and do the things we can to win that game. That's as far as we look. It's been our philosophy all year. Today's most important, good, bad or indifferent. When today's over with, we'll look forward to tomorrow. You've got to take care of what's in front of you first."
When Williams was reminded after the victory that the Nats' magic number was two to clinch the division, he still was not budging. After a time, you have to admire this kind of single-minded devotion to an ideal. How did he feel, being this close?
"Well, we just feel that we really battled to win that game," Williams said.
Monday night, the challenge was an Atlanta club that had a surprising amount of success against Washington starter Stephen Strasburg. He entered with a 3-7 record and a 4.61 ERA against the Braves in 16 starts.
"If he makes his pitches and throws them where he wants to, he's got a chance to beat them," Williams said before the game. "If he doesn't, they've got a chance to beat him. He hasn't had great success against these guys, but it could start tonight."
It started, all right. Strasburg threw seven shutout innings. And as a bonus, at the plate, he provided a sacrifice bunt, a walk and an RBI single.
Strasburg wasn't giving up anything on the topic of being on the edge of the division title, either.
"That's not our ultimate goal, so we've got to keep playing good baseball," Strasburg said.
Higher aspirations are completely within reason for this group. On the edge of clinching a division title, the Nationals are an exceptionally well-balanced team. They are second in the league in runs scored. But since the Rockies are first, it would be reasonable to state that the Nats are the league's highest-scoring team that does not play its home games at high altitude.
And the Nationals lead the NL in team ERA. Where else are you going to find that combination of offense and pitching? By the numbers, nowhere else but with the 2014 Washington Nationals.
There was a note of concern for the Nats on this night. The plan to get Rafael Soriano back into his best form by using him in non-closing situations hit a few bumps on the road to recovery. Soriano, entering the game with a 4-0 lead in the ninth, faced five men, giving up two well-struck doubles and a walk. With the tying run at the plate, Drew Storen entered in what had become a save situation. Aided by Ian Desmond's nifty recovery on a shot to short, Storen emerged with the save.
But again, having a pitcher of Storen's quality available to take over from Soriano -- temporarily or not -- is another measure of the Nationals' depth of talent. They'll be celebrating a division title soon. And then the question will be: How many more celebrations will this club earn?
Mike Bauman is a national columnist for MLB.com. This story was not subject to the approval of Major League Baseball or its clubs.