MLB.com Columnist
Marty Noble
In smaller Citi outfield, would grass be greener?
Mets, reportedly considering moving in fences, must consider pluses and minuses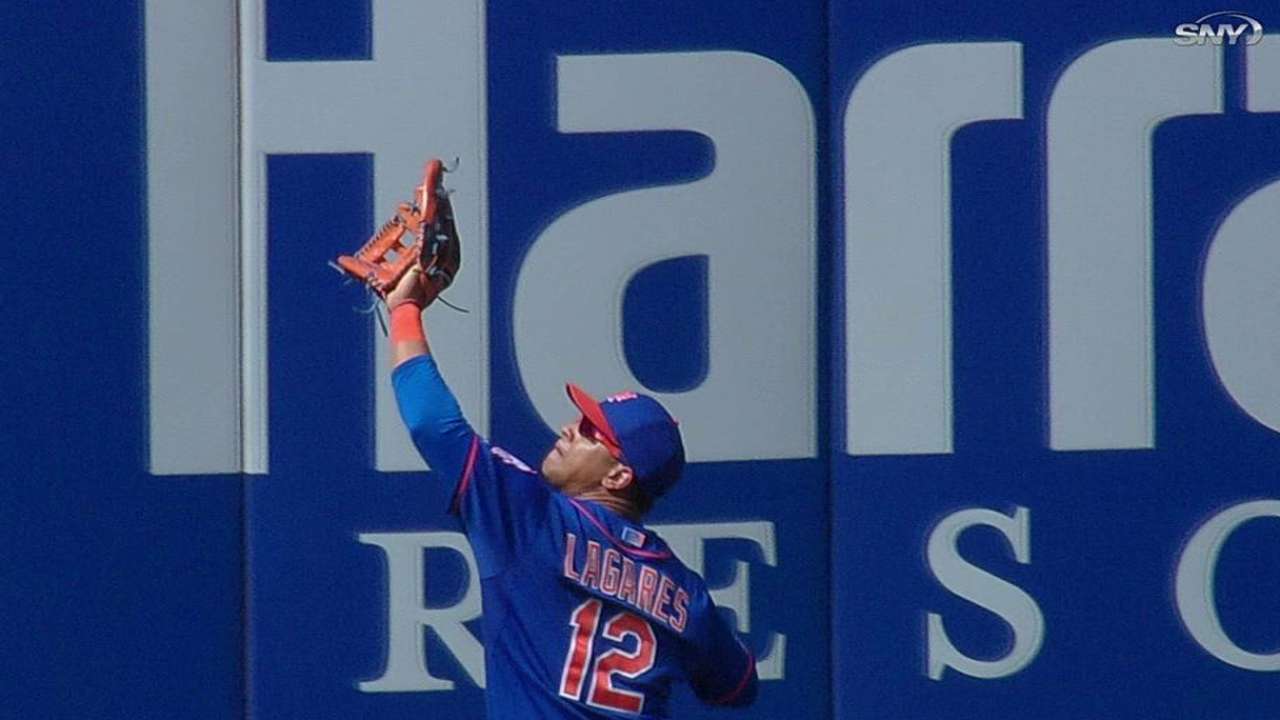 NEW YORK -- So now, for the sake of argument, let's say the Mets are considering another renovation of their outfield. No, no, not their outfielders, the outfield of Citi Field, the vast area that lies between David Wright and a season of 30 home runs, the expanse of manicured lawn and warning track dirt that clearly has had a less adverse effect on visiting teams than on Wright and his colleagues.
Is there wisdom in such modification? Would moving parts of Citi's outfield wall closer to the plate -- it would a simpler task than moving the plate closer to the walls -- create a net benefit for the Mets? Would Wright, who hit 30 and 33 home runs in the final two summers of Shea Stadium, necessarily become a "dangerous" hitter again if the erstwhile Mo Zone no longer were a personal no zone for him?
The answer comes from out of left field so to speak, which is to say it comes indirectly.
And it begins in center field, where Juan Lagares performs brilliantly on a routine basis. On given days, watching him run down fly balls that other center fielders would pursue unsuccessfully is worth the price of admission.
Whether by chance or design, whatever improvement the Mets have achieved this season has been mostly up the middle in nature, beginning with Lagares' defensive genius. The team is improving in the most critical, general area. So these days, when manager Terry Collins looks at his team through the prism of 2015, he comes away encouraged.
Travis d'Arnaud has eliminated many of the doubts that accompanied him to the big leagues. Collins said as much Monday night: "Any questions we've had behind the plate have been answered. d'Arnaud has really risen up." And to punctuate his manager's compliment, d'Arnaud later delivered a go-ahead run in the Mets' 6-5 loss to the Marlins.
Pitching -- starting and relief -- unquestionably is the Mets' greatest strength at this point. And more appears to be on the way. Greater up-the-middle prowess.
A serious up-the-middle deficiency does exist, though. Daniel Murphy has made himself a darn good hitter. But his defense, though improved, remains his secondary skill. Teams that rely mostly in pitching and defense can't be compromised at second base. It is the position that requires flexibility and the ability to ad-lib.
If a maneuver can be practiced, Murphy will practice it and make himself at least borderline proficient. But ad-libbing cannot be practiced any more than range can be taught. Despite his admirable work ethic, Murphy will remain a challenged defender at second base.
If his double-play partner were Andrelton Simmons, Luis Aparicio, Rey Ordonez, Mark Belanger, Bud Harrelson or the wonderful Mr. Wizard, the Mets could have their shortstop cheat and live with compromised defense even at second. But with Wilmer Flores, seemingly a favorite of Sandy Alderson, now the likely shortstop for next season, there will be no cheating. And not that many double plays, either.
Instead, a wide expanse between the two most critical defenders, a three-lane autobahn for ground-ball base hits through the middle will be the Mets' soft spot and significant deficiency.
Now, if Mets starting pitchers were to perform regularly as Jacob deGrom did Monday night -- he struck out the first eight batters, tying a big league record, and struck out 13 in his seven innings -- Dick Stuart could play shortstop with Albert Belle on his left flank, and it wouldn't matter much. But even the Mets teams of the '80s, with all their strikeout pitchers, needed better up-the-middle defense than Murphy and Flores are likely to provide.
So, the objective then for the Mets of 2015 ought to be to accumulate outs via a mixture of strikeouts and fly balls. But that, folks, is the fly in the pine tar. Fly balls may reduce the reliance on the middle-infield defense. Recall how Davey Johnson used third baseman Howard Johnson and even burly Kevin Mitchell as his shortstop when fly ball/strikeout pitchers Dwight Gooden and Sid Fernandez started because up-the-middle defense wasn't quite so critical. (Moreover, Johnson and Mitchell were productive hitters who might provide offense before a legit shortstop was inserted.)
But fly balls sometimes carry farther than pitchers want. And if the walls at the Big Citi are moved in again, then what? As it is this season, visiting teams have hit 71 home runs in Mets' 76 home games; the Mets have hit 53. And since Citi Field opened in 2009, Mets opponents have hit 435 home runs in 481 games in Queens. The Mets have hit 341. That is what is commonly known as a powerful difference.
So pick your potential poison: closer walls and more home runs -- for both sides -- or no architectural alternations and fewer home runs, at least for the Mets.
A solution would be to import a shortstop with range, a reliable glove and an accurate arm and do whatever with the walls. Easier said than executed. And/or decide to play Dilson Herrera -- they can't yet be certain of his big league readiness -- at second and use Murphy and some of the young pitching as a medium of exchange that imports a productive right-handed bat.
Otherwise eight strikeouts in the first three innings and 16 (for the team) each game will be needed. But even that didn't work Monday night.
Marty Noble is a columnist for MLB.com. This story was not subject to the approval of Major League Baseball or its clubs.