Padres delaying Ross' next start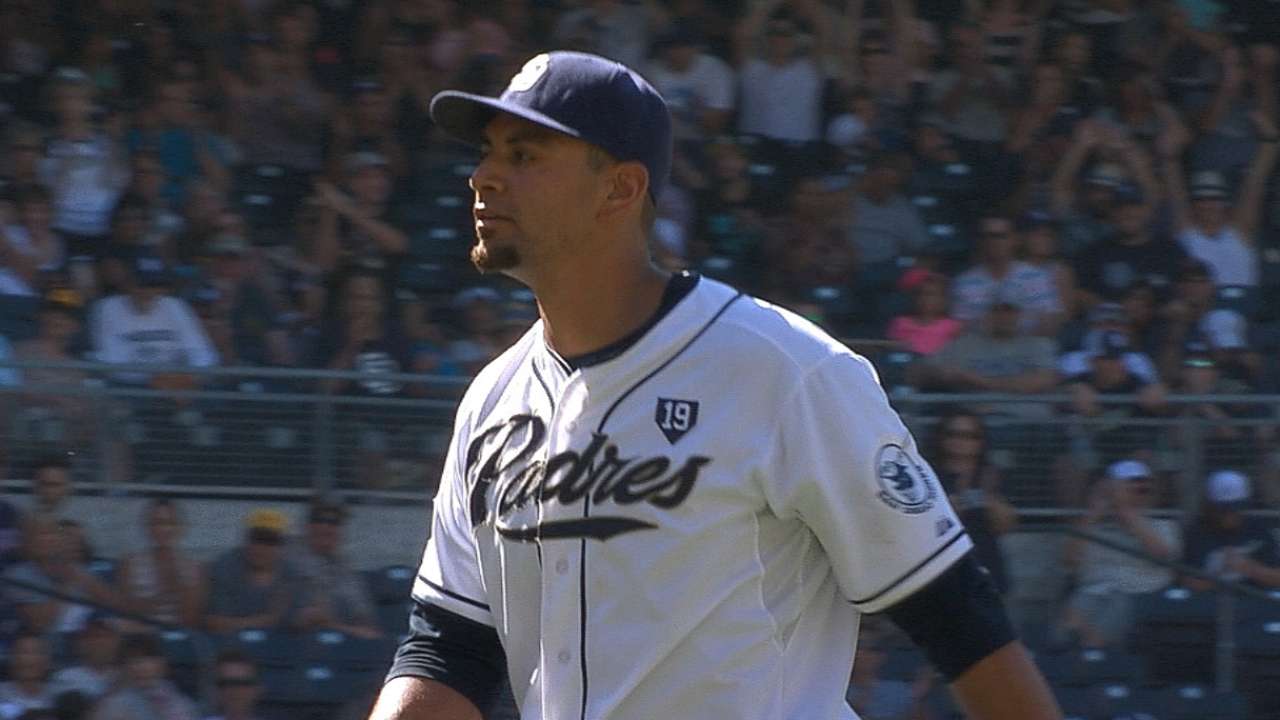 SAN DIEGO -- Innings stacking up and season running out, the Padres said Monday they will delay ace Tyson Ross' next start. Comeback left-hander Robbie Erlin instead will face the Phillies in Thursday night's series finale here.
"He was a little sore coming out of his last start," manager Bud Black said. "General soreness in his arm."
Black was not specific as to shoulder, elbow or what. Pressed, the manager said Ross is "just tired. He's tired from pitching a lot. He's made every start. His bullpen sessions have been quality. The feeling is let's not pitch him right now."
Ross is up to a career-high 195 2/3 innings pitched this summer, 44 1/3 beyond his career high from 2012 (73 1/3 innings pitched with Oakland that summer, 78 1/3 innings pitched for Triple-A Sacramento). His 31 starts were tied for the NL lead on Monday.
Were the Padres to keep him in line Thursday and beyond, Ross had a chance to reach 34 starts, which would tie the club's high since Kevin Brown reached 35 in 1998.
"It's been a great season for me," Ross said. "Obviously, one of my best.
"I've logged a lot of innings. I'm looking forward to getting a little rest and watching Robbie pitch Thursday. He's definitely earned it. He made the team out of Spring Training. He's worked his butt off."
Erlin opened the season in the bullpen, but after one appearance made eight consecutive starts for the Padres until landing on the disabled list on May 22 with elbow soreness. He was out until August and is 3-4 with a 4.53 ERA this season.
In his past two starts, Ross has surrendered seven earned runs, 12 hits, six walks and has struck out 11 over 8 2/3 innings.
"I don't think Tyson looked tired," Black said of Ross' weekend start in Arizona. "Even though his stuff played out velocity-wise, he just wasn't crisp. His ball/strike ratio was not where it usually is with Tyson."
In three innings, Ross threw 58 pitches, only 33 for strikes.
Ross said that reaching 200 innings is not necessarily a goal for him.
"It's just a number," he said. "I've worked hard all season. I wanted to go out there every five days and put my best foot forward. I've done it all season. Whenever my season ends, that's it.
"I've worked hard, and I'm going to come out and do the same thing next year."
Black was non-committal as to when Ross' next start will be, just saying he expected Ross to start again before the season ends.
Said Ross: "I'm planning on it."