Papelbon suspended seven games for gesture
Phillies issue statement supporting MLB's decision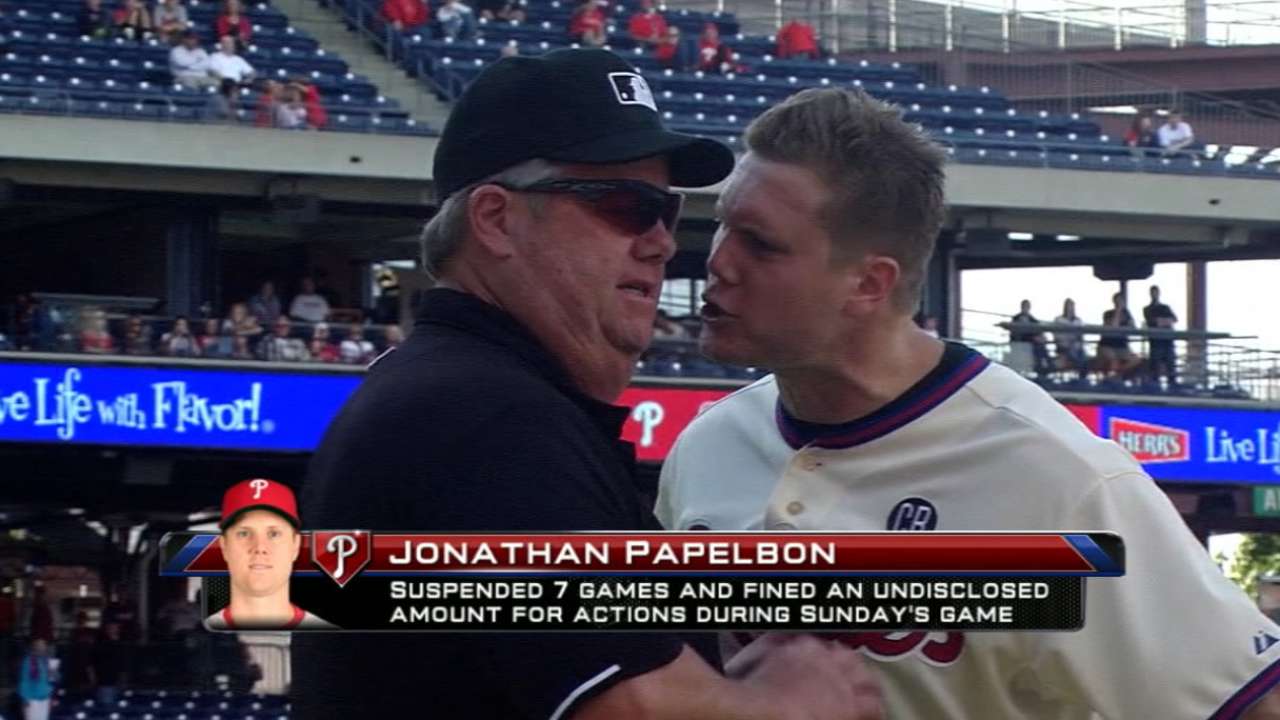 SAN DIEGO -- Phillies closer Jonathan Papelbon was suspended for seven games and fined an undisclosed amount for his actions in the top of the ninth inning Sunday at Citizens Bank Park.
Umpire Joe West ejected Papelbon after he made an obscene gesture toward the crowd. Papelbon, who also made contact with West, will not appeal the suspension and will begin serving it immediately.
The Phillies issued a statement saying they completely supported the suspension.
"We apologize to our fans for the actions of our player yesterday," the team said.
Papelbon has had his moments since he joined the Phillies before the 2012 season, criticizing the organization's operations from the top down in July 2013 and saying this July how he hoped to be traded because he no longer cared to play for a losing team. But asked before Monday's game against at Petco Park about Sunday's incident, he said nothing.
His agents later issued a statement from the closer, which read, "I am accepting my suspension and regret making any contact with the umpires. While I completely understand how the fans would perceive my gesture while being booed, it was not my intent whatsoever to insult the fans of Philadelphia. If it was perceived in that manner, I sincerely apologize. … I look forward to returning this season and closing it out strong. For those reasons, I will not delay this process with an appeal."
Papelbon blew a three-run lead in Sunday's 5-4 loss to the Marlins. Fans booed him as he left the mound. Just before he reached the dugout he grabbed his crotch in an exaggerated manner. West noticed it and ejected him. Papelbon and West then got into a heated confrontation. Papelbon made contact with West, who grabbed Papelbon's jersey.
The Phillies made it clear Monday they had no jurisdiction in the matter. They said in their statement they "have no authority to make official judgments about activity which occurs on the field or to determine the appropriate penalty for misconduct."
Phillies manager Ryne Sandberg held an 18-minute meeting with Papelbon in his office Monday afternoon. He said it was the first time he had spoken to Papelbon about the incident. He said Papelbon stuck to his story that he wasn't disrespecting fans.
"That's not my job or position to believe him," Sandberg said. "As we are right now, he's our closer. … All I can base it on is what he told me and he had no intentions of that being toward the fans. It's not my position or my spot to make any judgment on that, but just to listen to him."
Does he at least understand why fans are upset?
"Well, I could understand the perception and he indicated to me that he understood the perception also and he thought that was unfortunate," Sandberg said. "But yes, I do understand the perception. From him it was poor timing. He'd have much rather waited to get in the dugout. He indicated that to me. That was basically our conversation."
Is he at least satisfied with his explanation?
"I just listen," Sandberg repeated. "There was nothing for me to judge. It's not for me to judge. I just listened to hear what he had to say."
Sandberg also declined to say if West overacted.
"That's not my area, either," he said.
The seven-game suspension is one of the longer non-PED suspensions for a player in recent memory. MLB suspended John Rocker 28 games (reduced to 14) in 2000 for his controversial comments in a Sports Illustrated story. Ian Kennedy was suspended 10 games last season for his role in a brawl between the D-backs and Dodgers.
Sammy Sosa was suspended eight games (reduced to seven) for using a corked bat in 2003. Carlos Carrasco was suspended eight games (reduced to seven) last season for hitting Kevin Youkilis with a pitch after he had just finished a six-game suspension (reduced to five) for a similar incident in 2011.
"He's been great this year," Sandberg said about Papelbon. "He's been a leader with the young pitchers. He's been on a tremendous roll all year for us. He's been a big part of the team, which he still is. He's been outstanding. He's been one of the leaders. The last three or four weeks with the team playing well, he's been a part of that, doing his part."
Ken Giles is likely to close in Papelbon's absence, although Sandberg said that is to be determined.
Todd Zolecki is a reporter for MLB.com. This story was not subject to the approval of Major League Baseball or its clubs.