Cashner sizzles, fires two-hit shutout at Phillies
On humid night in San Diego, righty punches out seven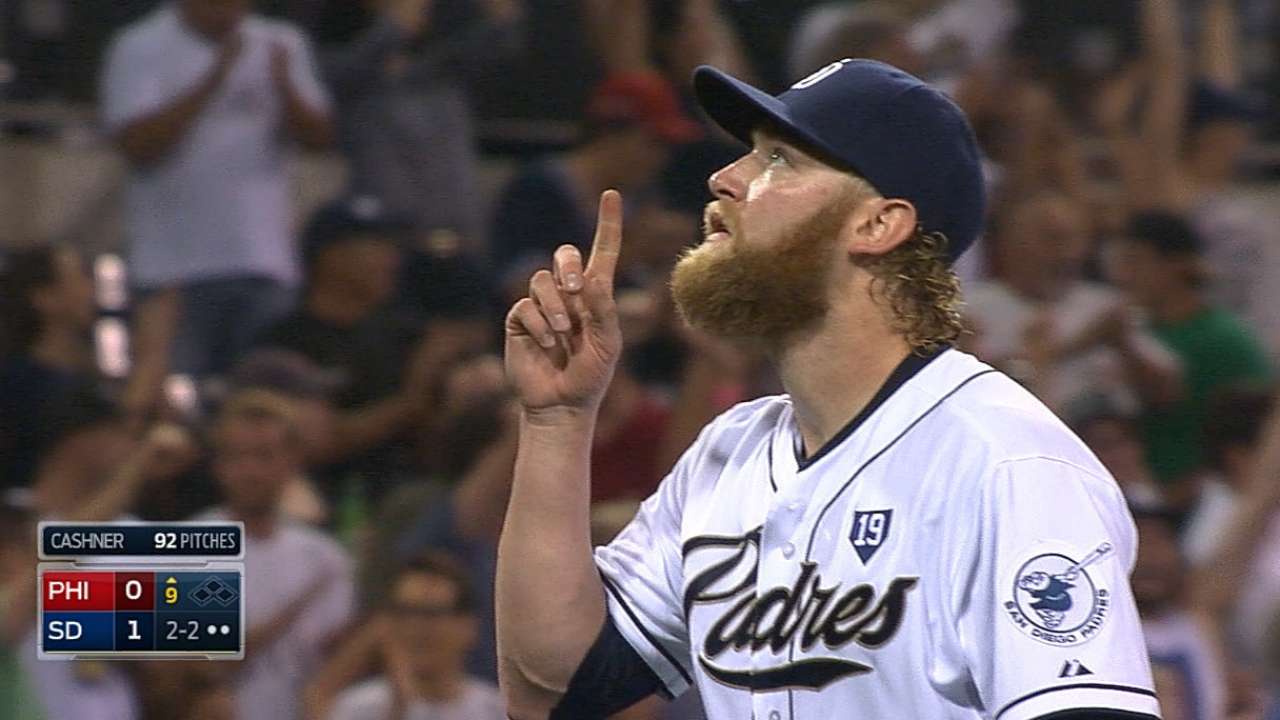 SAN DIEGO -- The weather here the past few days? Absolutely searing, several days' worth of record-breaking heat.
Andrew Cashner on Monday night? Hotter yet.
Heater at 95 mph, swings, misses, changeup at 86, ground balls, zip, zip, zip, hitting one spot after another. In just his fifth start after missing two months with a sore arm, he cut through the Phillies like an Olympic high-diver through the surface of a pool.
In a 1-0 win on an 81-degree night (hey, high humidity, too), Cashner surrendered only two hits, and three total baserunners.
Watching him, you bet Padres manager Bud Black saw no-hit stuff.
"Yeah, once you get into the middle part of the game with any pitcher, especially a guy like Cash, you're thinking that," Black said. "To be quite honest, as a Padre, you're always thinking that."
That last bit was a nod to one of the strangest ongoing phenomenons in the Majors today: The Padres remain the only organization in baseball never to have had a pitcher fire a no-hitter.
"Through the fourth, I thought I had a chance," Cashner said. "I felt I had enough to carry it all the way through."
He zipped through eight innings on just 77 pitches, 59 strikes. In fact, he needed only five pitches to whiz through the eighth. The deeper he went, the easier his degree of difficulty appeared to become.
For a guy who opened the season looking like an ace, closing it like one will go a long way toward camouflaging a season's midsection lost to elbow soreness. Overall, he thought he had better stuff last Sept. 16 when he fired a one-hitter in a 1-0 win in Pittsburgh. Thought he had even better stuff than that in a 6-0 win over Detroit this April.
But Monday against Philadelphia, he judged his offspeed stuff better than in either of those two games.
He had no-hit stuff, yes. But, alas, he lost any shot at history in the fifth when Phillies outfielder Domonic Brown pulled the lowdown, dirty, rotten trick of daring to push a one-out bunt down the third-base line.
Of course, it was hard to blame Brown: The Phillies trailed 1-0 at the time. And the Padres went into a heavy shift to defense Brown, putting three infielders between first and second base.
Faced with an enormous, wide-open swatch of real estate toward the left side, what was Brown supposed to do? So he did what a hungry guy does when he opens the fridge late at night and sees a huge hunk of cake. He took it.
Cashner, fully aware that he hadn't allowed a hit, was hot.
"You can ask him what I thought of it," he said.
What did he say?
"We can't talk about that," Brown said in a smooth decision that would make any editor proud.
Though Brown said he probably would not have bunted had it been the ninth inning ("I'm swinging it"), who's to say it's not the right move in a 1-0 game whether it's the fifth or the ninth? It's difficult to fault him. Play the game, they regularly say in clubhouses. And so Brown was.
"This is baseball," Rene Rivera, Cashner's catcher, said. "If you're going to give a guy that side of the infield, why not take your hit? That's the only bad thing about the shift."
Black agreed -- not that the shift is bad, but that it was hard to argue with Brown's strategy.
"He was an All-Star last year with a bunch of home runs and power [27 homers, 83 RBIs]," Black said of Brown, who has only nine homers and 59 RBIs this year. "Our defensive metrics show we're going to shift on this fellow."
Not knowing all of the specifics, Black surmised that Brown probably had decided that he simply didn't have a good feel in the box against Cashner. Which would have put Brown with the majority, not the minority, of Phillies on this night.
"There was more grumbling in the stands than in our dugout," Black said, brushing away any trace of controversy in Brown's decision.
Whatever your feeling, and Cashner admitted he was angry, the key thing for the right-hander was even that couldn't knock him off of his game. Cashner got the next batter, Freddy Galvis, to sky a popup to second base. Perhaps still exuberant from his bit of daredevilry just moments earlier, Brown got such a great jump while attempting to steal on the pitch that he was already around second base and, thus, was easily doubled off.
The only other baserunner Cashner allowed came when Marlon Byrd cracked a leadoff single in the eighth, the one solid hit obtained by the Phillies all night. That, though, was erased almost instantaneously when Byrd attempted to tag and advance when Brown followed with a fly ball to right. Seth Smith fired a strike to nail Byrd at second.
That was the final baserunner Cashner allowed. He blew 96 mph cheese past a completely overmatched Galvis for strike three to start the ninth, then watched shortstop Alexi Amarista short-hop a scorching one-hopper from Grady Sizemore to start a beautiful play for the second out of the inning.
"It doesn't get any better than that," an appreciative Cashner said.
He zipped through eight innings on just 77 pitches, 59 strikes. In fact, he needed only five pitches to whiz through the eighth. The deeper he went, the easier his degree of difficulty appeared to become.
"Fastball, slider, changeup," Black said. "You saw 92 to 97, movement with his fastball. You saw his slider, a couple of curveballs to [Cody] Asche.
"He pitched. With Cash and Rene and Darrin [Balsley, Padres' pitching coach], what they talk about at 5 o'clock, that's pretty good stuff."
How good was Cashner on this night? Bottom of the second inning, Rivera on third with two out following a leadoff double, the pitcher ripped a ground ball toward third that ate up Asche for an E5. That's how Rivera scored the only run.
"If I'm pitching, I don't know, that could have gone either way," Cashner said. "If I'm pitching, I'd like it to be an error. But if I'm hitting, I'd like it to be a hit. I squared it up pretty well."
It was the only moment all night that Cashner couldn't have it every way he wanted it.
Overall, it also was the 17th consecutive start in which Cashner has allowed two or fewer runs at Petco Park, his own personal playpen, dating back to last June 11. It is a franchise record, surpassing Randy Jones' 14 consecutive games from Sept. 2, 1977 through June 24, 1978.
Cashner finished with 92 pitches, 68 for strikes. Sizzling.
Scott Miller is a contributor to MLB.com. This story was not subject to the approval of Major League Baseball or its clubs.