Williams' brilliant start foiled by silent bats
Philies manage two hits in shutout, make two key outs on bases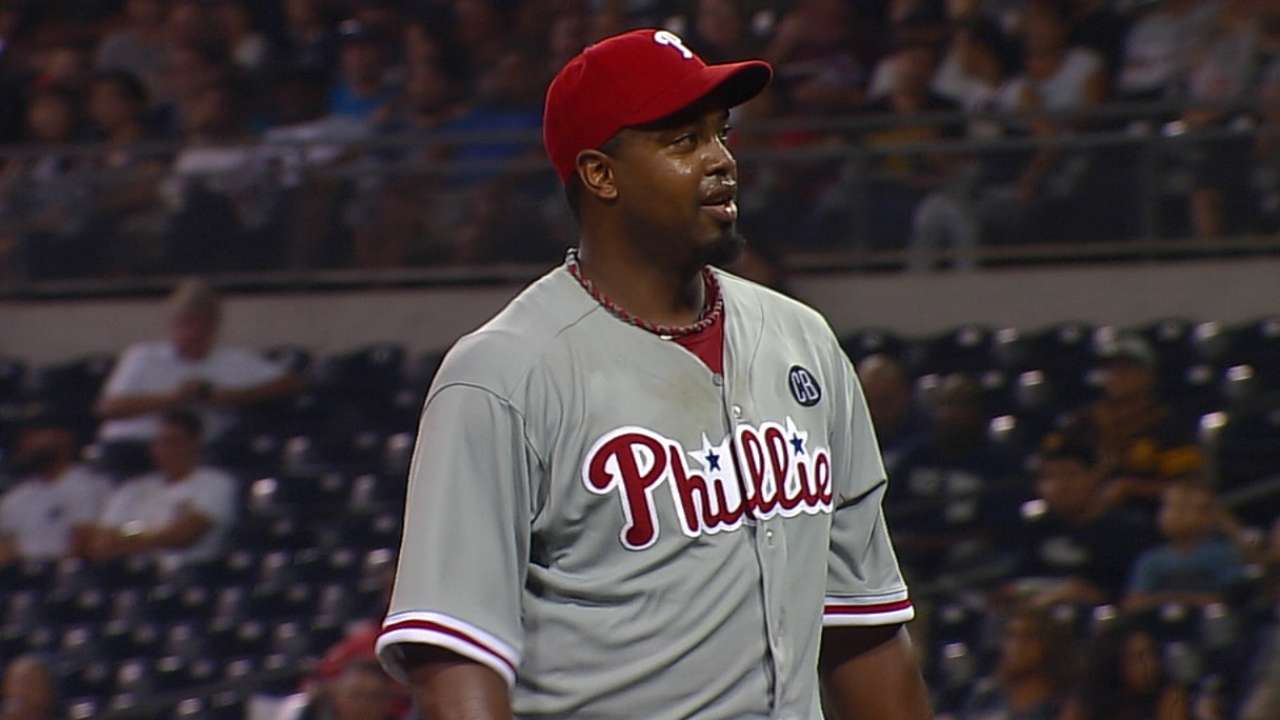 SAN DIEGO -- Petco Park lived up to its reputation as a pitcher's park Monday night.
Or were the Phillies living up to their reputation in a 1-0 loss to the Padres? Or maybe was it Padres right-hander Andrew Cashner, who has a 2.20 ERA in 17 starts this season?
The Phillies have had trouble scoring runs throughout 2014, although they entered the series opener in the middle of the pack in the National League with 3.91 runs per game. Still, they have been shut out 14 times, which is tied for fifth in Major League Baseball. That follows 15 shutout losses in 2013, which ranked fourth.
"We just couldn't get anything going off Cashner," Phillies manager Ryne Sandberg said. "He was ahead of the hitters all the way through the game, for the most part."
Cashner, who allowed two hits in nine innings, carried a no-hitter into the fifth, but lost it with one out because Domonic Brown beat the shift.
The Padres shifted their infielders to the right side of the field in Brown's first at-bat, so he told Sandberg he might try to bunt in his second plate appearance if the Padres shifted again.
They did, so Brown bunted a first-pitch curveball up the third-base line. Fans booed and Cashner was upset, but in a one-run game, the Phillies needed baserunners. And it was early enough in the game not to enrage most of the enforcers who love to cite the unwritten rules of the baseball.
"I thought it was the best thing to go with right there," Brown said. "He's a tough pitcher, man. I was trying to get some baserunners."
"Excellent," Sandberg said of the play. "I'd like to see more of it. That's how you stop the shift."
Cashner looked plenty steamed.
"Yeah, he was [upset] for sure," Brown said.
What did he say?
"We can't talk about that," Brown said.
Any help here, Cashner?
"You can ask him what I thought of it," he said.
"There was more grumbling in the stands than in the dugout," Padres manager Bud Black said, acknowledging Brown's bunt didn't break any baseball code. "As of last year, he had a bunch of home runs and power. Our defensive metrics show we're going to shift on this fellow. He's playing the game. He might not have had that great a feeling that he could get Cashner [by swinging away]."
Brown said he would have swung away if Cashner had carried his no-hitter into the ninth.
But Brown's good fortunes ended when he tried to steal second before Wil Nieves popped up a ball in the infield. Brown made his way past second base when he had to circle back toward first. He actually got back to first safely because Padres second baseman Jedd Gyorko fumbled the flip to first. Of course, Brown also got back to first safely because he never retouched second.
He was called out and the inning was over.
Marlon Byrd picked up the team's only other hit with one out in the eighth inning. But he was thrown out at second when he tried to tag up on a flyout to right.
"I thought it was a heads-up right there," Sandberg said. "Guy's against the wall. It's a big outfield. The guy threw the ball right on the bag. It's a heads-up hustling attempt."
That was all for the Phillies.
The Padres scored their first and only run in the second inning against Phillies right-hander Jerome Williams. Rene Rivera doubled, advanced to third on a fielder's choice and scored on a two-out error from Phillies third baseman Cody Asche.
"Just missed it," Asche said.
Williams is 3-2 with a 2.84 ERA (14 earned runs in 44 1/3 innings) in seven starts with the Phillies. He is making a good impression. If not for the Phillies, then the other 29 teams in baseball.
Todd Zolecki is a reporter for MLB.com. This story was not subject to the approval of Major League Baseball or its clubs.