Ryu to miss start, but MRI is 'good news' for LA
Lefty, who won't throw for four days, has no structural damage in sore shoulder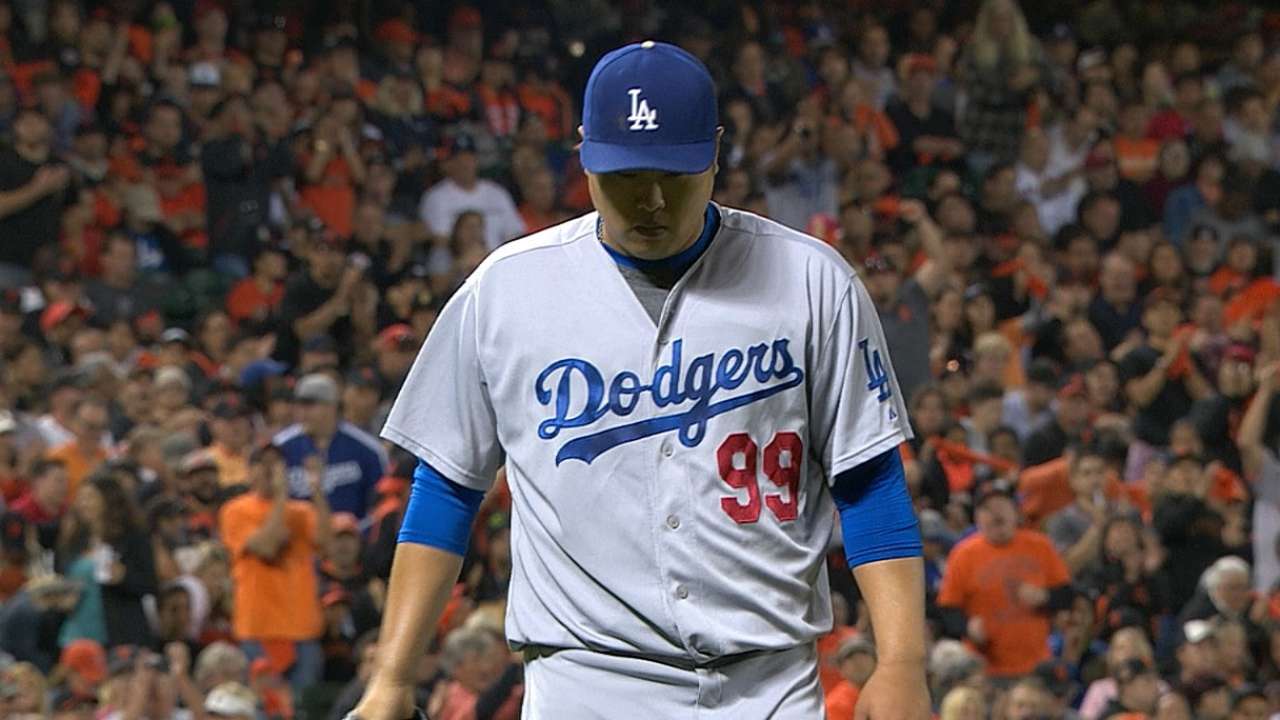 DENVER -- Dodgers left-hander Hyun-Jin Ryu will not make his next scheduled start despite Monday's MRI revealing no structural damage in his sore left shoulder.
Ryu, who left Friday night's start against the Giants after allowing four runs in the first inning, won't throw for at least the next four days after also receiving a cortisone injection during the exam that took place with Dr. Neal ElAttrache in Los Angeles.
Manager Don Mattingly wouldn't rule him out for the remainder of the regular season, though, and Ryu is expected to rejoin the team for its upcoming four-game series Thursday-Sunday against the Cubs.
"It's good news as far as we're concerned," Mattingly said of Ryu's MRI. "There's nothing new from any of his original MRIs. … He'll be off for the next couple days and then meet up in Chicago with us and start throwing. Then we'll see where we're at."
The Dodgers haven't officially announced the starter for Wednesday's series finale against the Rockies, but Mattingly said Sunday that rookie Carlos Frias is "working toward" the start following Sunday's bullpen session.
Ryu previously underwent an MRI on his same shoulder back in May that confirmed the initial diagnosis of shoulder inflammation. He ended up missing three weeks but did not require a rehab assignment, instead throwing a 75-pitch extended spring session before his return.
Although Mattingly wouldn't say Ryu would be available for his next turn on Sept. 22 against the Giants, he chose not to officially rule him out either.
"I don't want to speculate," Mattingly said. "I just want to see where this goes."
Still, it appears the clock is against Ryu with just two weeks left in the regular season. And if the Dodgers manage to clinch the National League West over the Giants -- which at the earliest could be Saturday -- Mattingly doesn't see the point of rushing Ryu.
"If we already clinched the division, I'm sure we'd look at things differently," Mattingly said. "But were not in that situation and I don't expect [the Giants] to lose. We're going to play well. I really expect it to come down to the last series of the year, honestly, so I think we'll plan accordingly. If we can get, we'll get him back."
Cody Ulm is an associate reporter for MLB.com. This story was not subject to the approval of Major League Baseball or its clubs.