deGrom opens game with eight K's to tie MLB record
NL Rookie of the Year Award candidate finishes with 13 strikeouts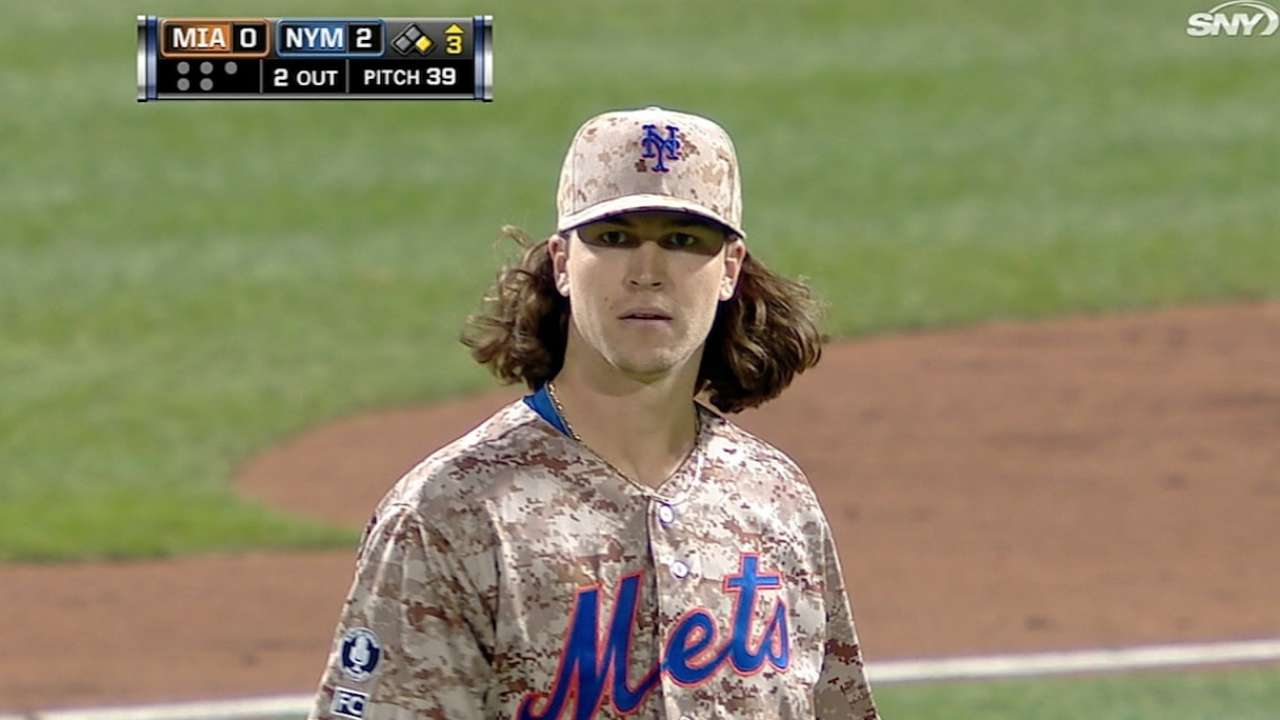 NEW YORK -- Some of the swings were not even close. Christian Yelich's bat drifted under a fastball. Justin Bour waved haphazardly at a pitch well out of the zone. Casey McGehee simply walked back to the dugout, knowing instantly that he had taken strike three.
Those and other Marlins had plenty of company thanks to Jacob deGrom, whose improbable rookie season continued Monday when he tied Major League baseball's modern-day record by striking out each of the first eight batters he faced at Citi Field.
"That's about as dominating a start of a game as I've probably ever seen, and I've seen some pretty good pitching," Mets manager Terry Collins said. "The location was just outstanding. You look some of those called strikes and they were right -- I mean, right -- on the corners. Unbelievable. He threw any pitch he wanted to, whenever he wanted to."
Coming into the night averaging a shade less than a strikeout per inning, deGrom opened the game with whiffs of Yelich and second baseman Donovan Solano. He froze McGehee on a 94-mph fastball to end the first inning, then caught Marcell Ozuna looking to open the second. Two more strikeouts followed, boosting deGrom even with Pete Falcone's 34-year-old franchise record to open a game.
Next up was the modern-day MLB record, which deGrom tied when he caught Jordany Valdespin looking and whiffed Jeff Mathis to open the third inning. Astros pitcher Jim Deshaies had held that mark by himself since 1986.
Congratulations to Jacob Degrom for tying one of the most hallowed records in all of sport

- Jim Deshaies (@JimDeshaies) September 16, 2014
The Marlins finally snapped the rookie's record-tying streak when deGrom, believing he could sneak a 1-0 fastball past Jarred Cosart, watched the Marlins pitcher redirect it into right field with two outs in the third.
"I kind of threw it right down the middle," deGrom said. "I was trying to go outside corner and I left it over the middle."
DeGrom retired Yelich on a groundout to finish off that inning, extending his consecutive innings streak without an earned run to 25. He would further increase it to 28 before allowing three runs in the seventh inning, ultimately coming away with a no-decision.
"The way he started out was pretty incredible," Cosart said. "His numbers speak for themselves. He's got a chance to win [National League] Rookie of the Year."
With Monday's performance now stamped on the back of his baseball card, deGrom's NL Rookie of the Year Award chances indeed appear to be at an all-time high. While deGrom has been surging since mid-July, posting a 1.81 ERA over his last 11 starts, Reds outfielder Billy Hamilton -- his primary rival for the award -- has been slumping. Since Sept. 3, Hamilton is batting .128 with a single stolen base.
"I really try not to think about it," deGrom said. "I just try to go out there and do my best every time."
Anthony DiComo is a reporter for MLB.com. Follow him on Twitter @AnthonyDicomo. This story was not subject to the approval of Major League Baseball or its clubs.