MLB.com Columnist
Tracy Ringolsby
For Dodgers, patience with Ryu will pay off in playoffs
LA needs left-hander healthy to round out rotation for possible postseason run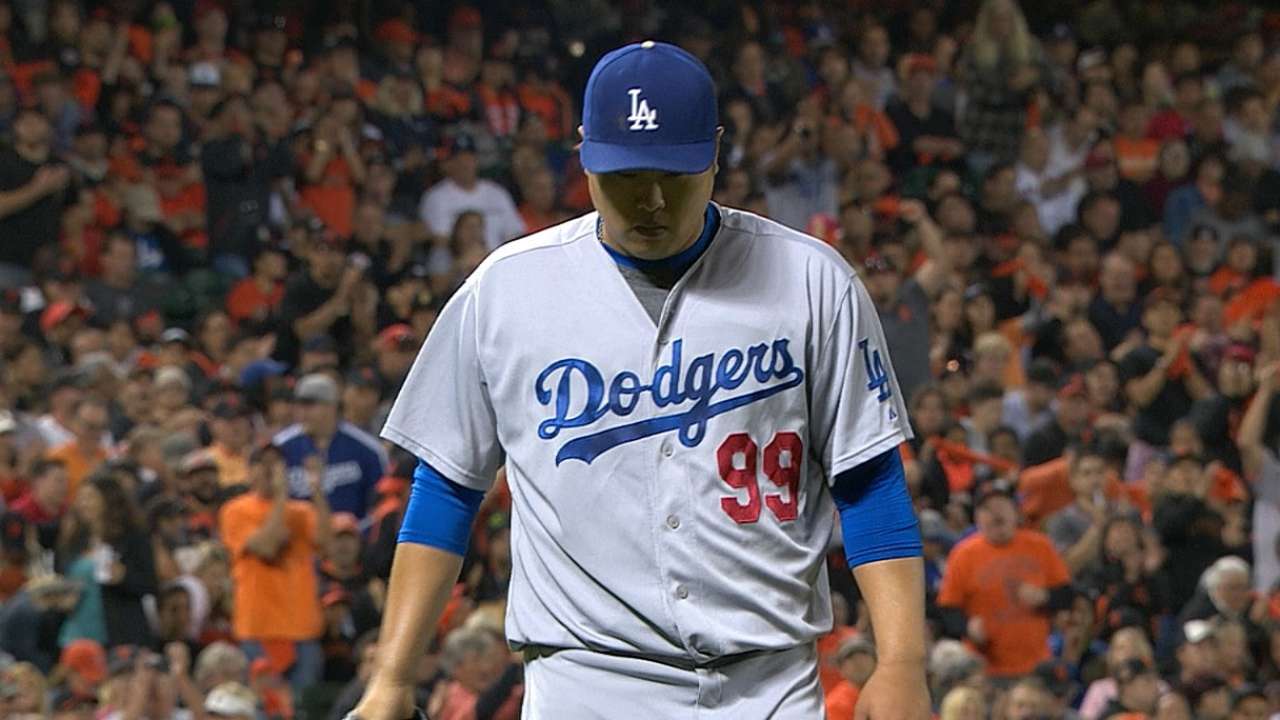 DENVER -- Hyun-Jin Ryu has become the wild card in the Dodgers' postseason bid. They do not know when he is going to pitch again, but they know they need him for the postseason.
The immediate desire is not to just clinch a playoff berth but to claim the National League West title so they can avoid that one-game NL Wild Card Game most likely against the Pirates, who won five of seven from the Dodgers this season, or Milwaukee, which won five of six from Los Angeles.
Most of all, though, the Dodgers know they can't let clinching a postseason spot interfere with the patience necessary for the rehabilitation of Ryu, who is sidelined for the second time this year because of inflammation in his left shoulder.
The good news Monday was there is no structural damage, according to an MRI exam that Ryu underwent in Los Angeles, where he also received a cortisone injection. The cortisone should help alleviate the inflammation, but Ryu won't throw for four days.
That means Ryu, who came out of his start on Friday in San Francisco after giving up four runs in one inning, won't make his next start, against the Rockies on Wednesday, and it's doubtful that he will even be ready to start when his turn comes up again Sept. 22 against the Giants at Dodger Stadium.
Ryu may not make any starts, in fact, during the final two weeks of the regular season.
"We want him healthy," manager Don Mattingly said. "This is where the medical staff is going to take over and tell us what he can and can't do. We're not rushing anybody back. We're not forcing anyone to do something. That's something we've not done here.
"That being said, the report we received [Monday from doctors] was good news."
What matters most is making sure they have a healthy Ryu for the postseason.
With Ryu to drop into the No. 3 slot in the rotation -- behind Clayton Kershaw and Zack Greinke, and ahead of Dan Haren -- the Dodgers have as formidable a 1-2-3-4 postseason punch as any team in baseball. Without Ryu, however, Haren gets jumped into the No. 3 slot, and heaven only knows who the Dodgers would call on to be the fourth starter.
There is not a viable candidate on the roster, and it's too late to find help from outside.
The Dodgers already have lost Josh Beckett, who has talked about the possibility of retirement in light of his hip injury. And filling his spot in the rotation has been far from acceptable.
The quintet of Kershaw (19-3), Greinke (15-8), Ryu (14-7), Haren (13-10) and Beckett (6-6) is a combined 67-34 with a 2.88 ERA in 129 starts. The Dodgers have mixed and matched with six others to try to fill the rotation voids.
Roberto Hernandez, acquired from Philadelphia, has been given the latest opportunity, and he survived only 3 2/3 innings against Colorado on Monday night in a game that Los Angeles rallied to win, 11-3. He is 2-3 with a 4.76 ERA in seven starts since joining the Dodgers, and he has failed to get past the fifth inning in four of his last five starts.
The anticipated starter in place of Ryu on Wednesday is rookie Carlos Frias, who has 11 games and 25 1/3 big league innings of experience but did work six shutout innings against Washington in his lone start Sept. 3.
The blessing for Los Angeles is Ryu's track record shows he will be ready to step on the mound and compete as soon as he is given a clean bill of health. He missed 23 days with the inflammation back in late April and early May, had one extended bullpen session, returned to the rotation and won his first four starts.
"He rested more than three weeks that time and probably could have pitched before we used him, and this time when they put the dye in [his shoulder for the MRI], there was cortisone," Mattingly said. "The good thing about him is he can be out two, three weeks, throw a bullpen [session] and be lights-out in a game.
"Back in May, he had one bullpen [session] and was ready. His delivery is so simple."
That is a blessing for the Dodgers. With a magic number of five to clinch a playoff spot and nine to clinch a division title, they have time to firm up their postseason status. They can try to mix and match behind Kershaw, Greinke and Haren, and then hope to catch a break with one of the other two starters each time through the rotation.
The Dodgers cannot, however, afford to take too many chances in a postseason series that is either a best-of-five series in the NL Division Series or a best-of-seven series in the NL Championship Series and the World Series.
Tracy Ringolsby is a columnist for MLB.com. Read his blog, Write 'em Cowboy. This story was not subject to the approval of Major League Baseball or its clubs.