Simon strong, but Villarreal yields walk-off homer
Righty settles down after 26-pitch first inning, receives no-decision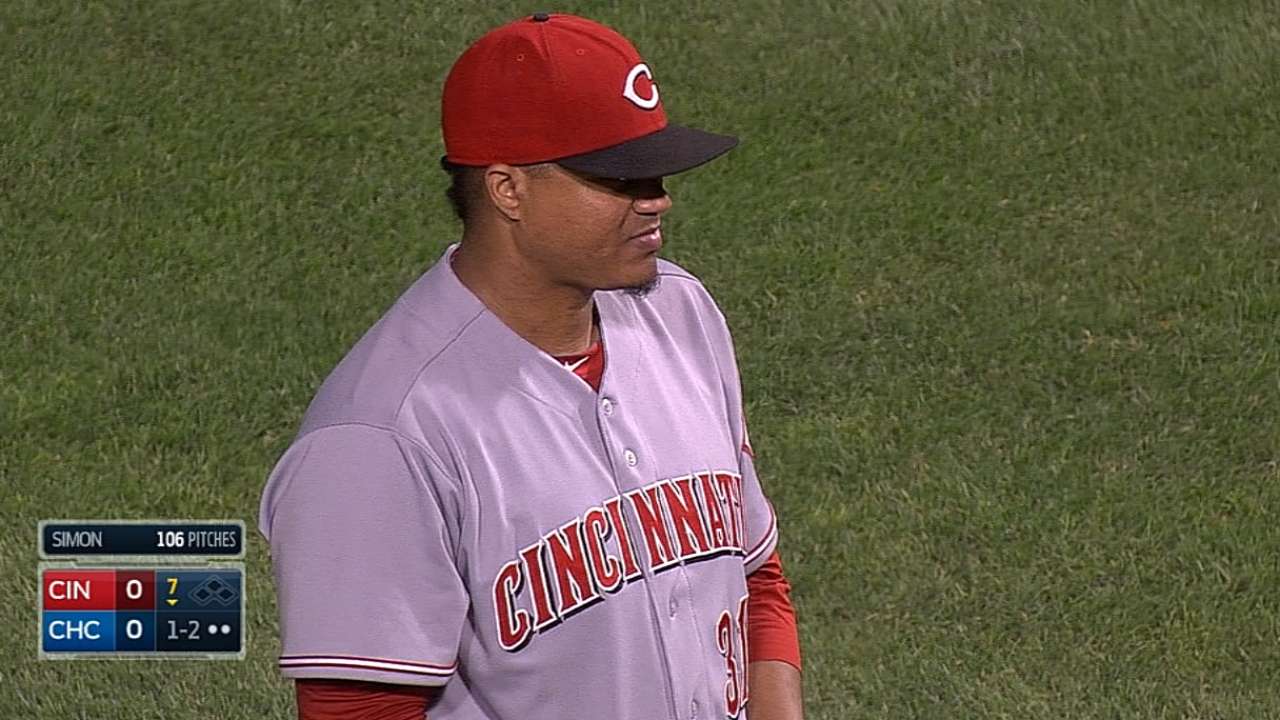 CHICAGO -- Anthony Rizzo's tie-breaking, walk-off homer that opened the ninth inning gave the Cubs a 1-0 win over the Reds and spoiled a strong start from Alfredo Simon on Monday night at Wrigley Field.
Rizzo, who had struck out twice against Simon in his first two at-bats, sent a 92-mph fastball to center field off Pedro Villarreal in his return from an 18-game hiatus due to lower back stiffness.
"It was a mistake that Rizzo took advantage of," Cincinnati manager Bryan Price said. "[Rizzo] looked a little rusty the first couple of at-bats, then he had the infield hit, and certainly is always a dangerous hitter. But it's typically going to be a simple mistake or someone taking advantage of something in a [tie] game like that's going to be the deciding factor."
The Cubs' slugger homered in his second straight game against the Reds, dating back to Aug. 26 when he belted his 30th before leaving due to the back problems that had sidelined him since until Monday.
Simon turned in his first shutout performance of the second half, hoping for a fruitful finish to his first full season in the Reds' rotation -- one that included his first All-Star Game appearance.
"I want to show them that I can be a starter for a long time here," said Simon, who threw seven scoreless innings with five hits, a walk and three strikeouts. "I try to finish strong."
Simon went seven innings for the third time in four starts, including Wednesday's 4-2 win over the Cardinals, just his second in 12 starts since the All-Star break.
Before that, he was 1-7 with a 5.27 ERA and .297 average against in the second half, prompting questions about his durability -- his 178 1/3 innings tally entering Monday far surpassed his previous high of 115 2/3 set in 2011 with Baltimore.
"My arm feels great and nothing is bothering me right now," Simon said. "I'm glad they gave me the opportunity this year to be a starter, and I'm happy with what I've done this year."
The Reds were held to just three singles by Cubs starter Travis Wood and then managed none a trio of relievers.
Both offenses were limited by the mid-50 degrees temperatures and 12-mph winds blowing in from the north.
Cubs shortstop Javier Baez belted a 2-2 fastball up-and-in to deep center in the first that Price said could've been a homer; same for a flyball hit by Kristopher Negron that gusted into the glove of sprinting Arismendy Alcantara on the warning track -- robbing an extra-base hit with a runner on in the eighth.
Rizzo's homer was the exception.
"Not to take anything away from the pitchers, I didn't think this was a completely conditioned-induced, 1-0 game," Price said. "I think the pitching was exceptional from both sides. We had the wind blowing straight in. You just flip the ball out there and let them drive it into the wind. Just [there] weren't a lot of opportunities."
The Reds left runners stranded in scoring position in the third after leading off with a single and walk. Simon's well-placed sacrifice bunt advanced Ramon Santiago and Jake Elmore, but Billy Hamilton whiffed and Negron flied out to center to end the inning.
Cincinnati put another pair on base in the second with two outs, but Santiago lined out to second baseman Logan Watkins.
Then came Negron's two-out flyball to center that likely would've gone for extra bases -- maybe even a score with Billy Hamilton on first.
Simon got out of a bases-loaded jam in the first by inducing a flyout in foul territory to Welington Castillo. Simon walked Luis Valbuena and allowed singles by Chris Coghlan and Jorge Soler to load the bases. Cincinnati's starter gave up only three hits over his next six innings.
In five games against the Cubs this year, Simon is 3-0 with a 1.10 ERA, .195 average against and 26 strikeouts.
"I thought he was a lot cleaner just with his command with his stuff down in the zone," Price said. "He had a good sinker and split combination working, threw some better curveballs, battled his way through the first inning. His pitch count was a little high in the first, but he found a way to lock it in and gave us seven real nice innings."
Daniel Kramer is an associate reporter for MLB.com. This story was not subject to the approval of Major League Baseball or its clubs.