Back at it: Rizzo returns with walk-off homer
Slugger had missed previous 18 game with lower back tightness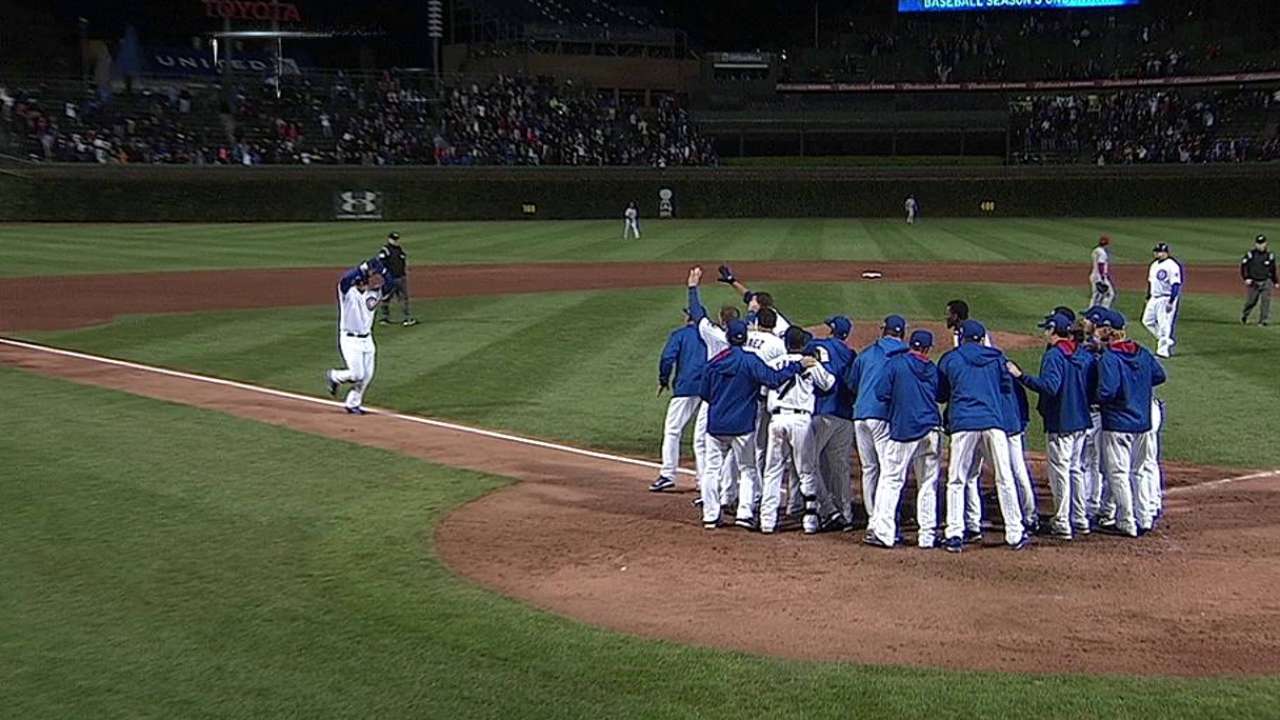 CHICAGO -- Anthony Rizzo showed why the Cubs missed him for the past 18 games.
Playing his first game since Aug. 26, Rizzo hit a walk-off home run leading off the ninth inning to lift the Cubs to a 1-0 victory over the Reds on Monday night at Wrigley Field.
Rizzo belted a 1-0 pitch from Pedro Villarreal to straightaway center for his 31st home run. Rizzo hit his 30th on Aug. 26 in Cincinnati, and he then had to leave the game because of lower back tightness.
"First pitch, I was taking all the way, just to see his arm," Rizzo said of his at-bat in the ninth. "The second pitch, I just let loose, and fortunately put a good swing on it."
When Rizzo was running away from the celebration at home plate, he grabbed his back. Don't worry, Cubs fans. He was joking.
"I did it on purpose, just messing around with the guys," Rizzo said. "I definitely thought about [my back] the whole game. To get through the game tonight was nice. The next couple days, we'll completely forget about it."
The Reds won't forget this one.
"It was a mistake that Rizzo took advantage of," Cincinnati manager Bryan Price said. "[Rizzo] looked a little rusty the first couple of at-bats, then he had the infield hit, and certainly is always a dangerous hitter. But it's typically going to be a simple mistake or someone taking advantage of something in a [tie] game like that's going to be the deciding factor."
Rizzo did not have a chance to rehab anywhere, so Monday's game was his first action in nearly three weeks. Alfredo Simon struck him out in his first two at-bats in the first and third, and Rizzo reached on an infield single in the sixth.
"[Simon] has got a good split, I know that, and he exposed me there," Rizzo said. "He pitched well, pitched a great game. That little infield single turned everything around."
It was Rizzo's third walk-off hit this season. He also beat the Marlins with a walk-off homer on June 6 and delivered a game-winning RBI single in the 12th on Aug. 10 against the Rays.
"The game's over, one swing of the bat," Rizzo said. "It's a good feeling. The biggest thing is the win. To win in that fashion is always fun."
Rizzo wasn't the only Cubs player to return as Jorge Soler, who missed three games for paternity leave, also was back in the lineup.
Chicago couldn't muster much against Simon on a chilly night at Wrigley Field. The Cubs loaded the bases with two outs in the first on singles by Chris Coghlan and Soler and a walk to Luis Valbuena, but Simon got Welington Castillo to pop up to first baseman Todd Frazier to end the inning. The Cubs collected just three singles over the next six innings off Simon.
Rookie center fielder Arismendy Alcantara made the defensive play of the game with one on and two outs in the eighth when he snared Kristopher Negron's fly ball in the gap in right-center field on the run and avoided a nasty collision with the outfield wall.
"It's a brick wall out there and he went into it full force," Rizzo said. "It was a great catch and saved the game. He's been really solid out there, especially for not playing out there a lot in his career in the Minors. You can't ask for more."
Alcantara was wearing a wrap on his right hand after the game but said that was "just to be careful." He is aware that it's brick behind the ivy.
"I know, because I've hit it before," Alcantara said.
This is the one series this month in which the Cubs do not play a playoff contending team, although the Reds were expected to do well in the National League Central. They've also had injury issues and have been without Joey Votto since early July.
Chicago starter Travis Wood rebounded from a rough start in his last outing, and he limited the Reds to three hits over six scoreless innings, striking out four. In his last start against the Pirates on Sept. 7, the lefty was charged with seven runs over 1 2/3 innings.
"I had a bad outing last outing and went to work on getting back out front and attacking the zone," Wood said. "I did that well tonight and I still had three walks. It's something else to look at."
Carrie Muskat is a reporter for MLB.com. She writes a blog, Muskat Ramblings, and you can follow her on Twitter @CarrieMuskat. This story was not subject to the approval of Major League Baseball or its clubs.