Altuve's big night leads Astros over Tribe
Second baseman drives in two on three hits; McHugh fans seven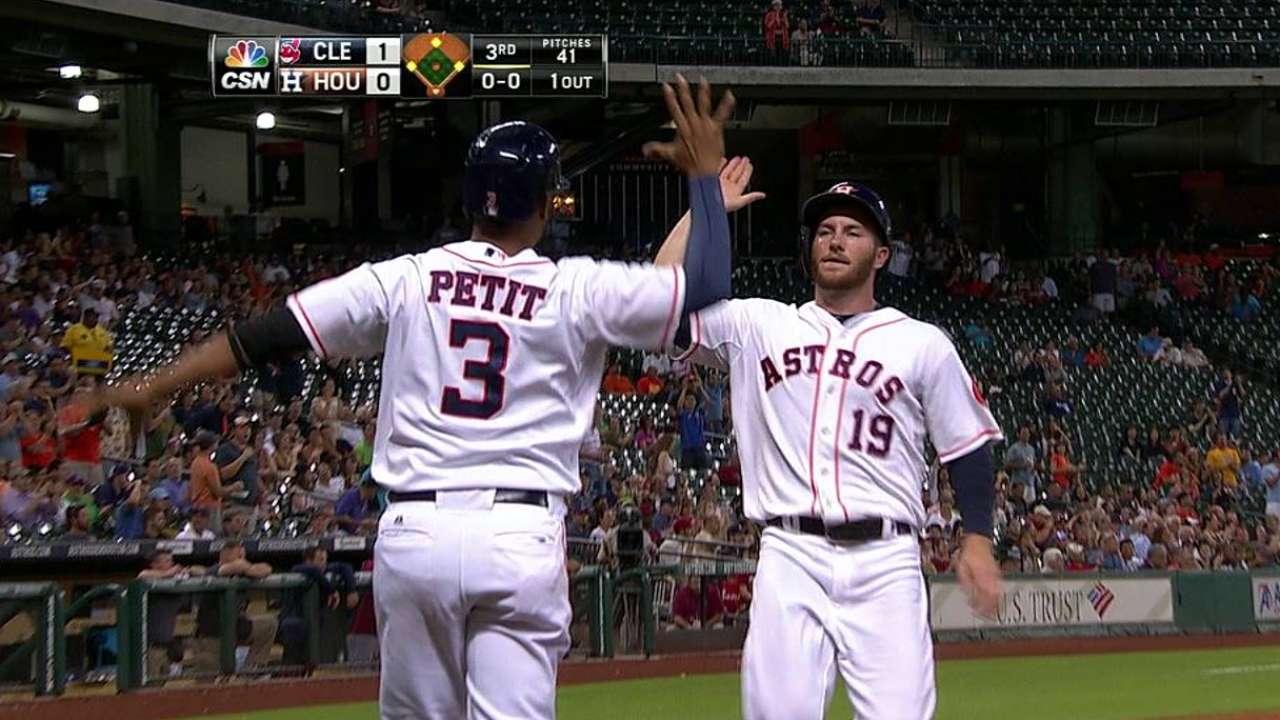 HOUSTON -- All-Star second baseman Jose Altuve's hit parade continued Monday night, including a pair of key knocks for the Astros.
Altuve moved within one of tying Craig Biggio's franchise record for hits in a season by going 3-for-4 with a two-run single in the third inning that gave the Astros the lead and sent them on their way to a 3-1 win over the Indians at Minute Maid Park.
"I'm trying to not waste at-bats, and trying to get on base and score runs," said Altuve, who tripled and scored in the eighth.
Altuve is one hit shy of tying Biggio's mark of 210 hits set in 1998 and is batting .524 (11-for-21) in his past five games, all of which have been multi-hit games. He extended his club record for multi-hit games to 63 this season, which leads the Majors.
"He's a magician with the wand," Astros interim manager Tom Lawless said. "I've seen it a long time and I've seen it up close and personal again. It's amazing what he can do with the bat in his hands. He hits breaking balls, he hits fastballs, he hits fastballs in, he hits fastballs up and away. The last pitch was a fastball away and he hits it in the right-field corner. It's a magical year for him, no doubt."
Astros rookie right-hander Collin McHugh lowered his ERA to 2.66 through 24 starts by winning his sixth consecutive decision in a span of seven starts. He went 6 2/3 innings before leaving with a bruised left forearm, allowing one unearned run and five hits while striking out seven.
McHugh has allowed two earned runs or fewer in nine consecutive starts and hasn't walked a batter in his last four starts, a span of 29 1/3 innings. He tied a franchise record by not issuing a walk in four starts of at least six innings.
"He had a really good breaking ball and threw it a lot for strikes, then mixes pitches strike to ball," Indians manager Terry Francona said. "He has a cutter that got under our barrels. We hit a few hot balls that got caught, but there weren't many chances."
McHugh said his fastball command wasn't good.
"I feel like today was a little more of a battle," McHugh said. "For whatever reason, these guys see me a little bit better than some other teams I've faced. I feel I have to make better pitches, probably throw a few more cutters than I usually would because they're a good fastball-hitting team. Overall, yeah, it was a battle today for sure."
McHugh had retired 18 of 22 batters faced since giving up an RBI single to Carlos Santana in the first inning when Lonnie Chisenhall's line drive struck him on the left wrist with two outs in the seventh. He was removed from the game, but expects to make his next start.
"It got me kind of in the meat of my wrist," McHugh said. "It scared me a little bit at first because my hand kind of clenched up, but for the most part it was one of those things. It was a blessing it hit me there instead of some other places. It will be nice and sore with a good bruise for the next few days."
Altuve tripled in the eighth and scored an insurance run on a sacrifice fly by Dexter Fowler.
"Guy's unbelievable, right?" McHugh said of Altuve. "I've never seen anything like this in my brief time here. For him to go out every night day in and day out and swing the bat the way he's been swinging is pretty remarkable."
Astros relievers Kevin Chapman, Samuel Deduno and Chad Qualls combined to throw the final 2 1/3 innings, with Qualls getting a 10-pitch save in his first action since blowing a save Sept. 6 at Oakland. He had been dealing with a right hip injury.
"I knew it had been eight or nine days since I had been out there, and in the Oakland game I only threw six pitches," Qualls said. "I don't know when my last inning was before that. In all honesty, I threw like six pitches in 10 or 12 days and it was really good to get out there. I threw a 'pen yesterday to see how my hip felt. I took more time to warm up tonight to see if I had feeling for my pitches, and I felt good."
Brian McTaggart is a reporter for MLB.com and writes an MLBlog, Tag's Lines. Follow @brianmctaggart on Twitter. This story was not subject to the approval of Major League Baseball or its clubs.