Improved McAllister not enough to halt skid
Right-hander goes six strong innings in return to rotation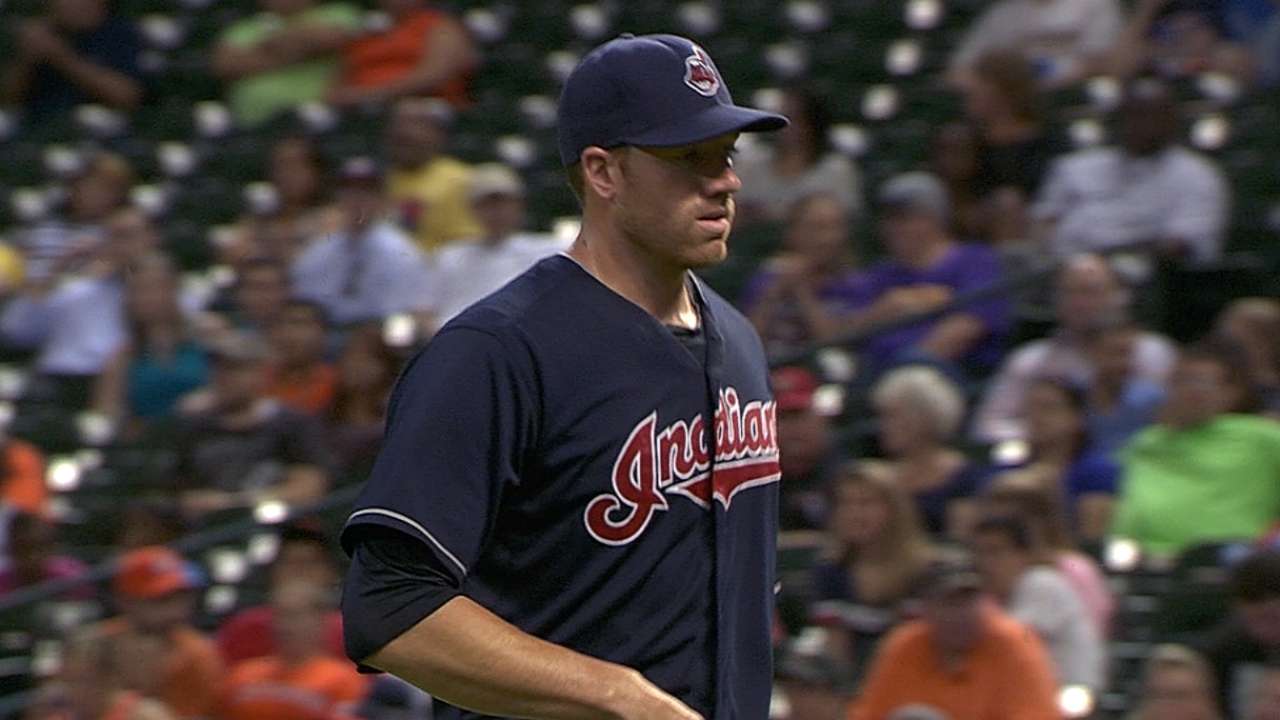 HOUSTON -- The times are getting desperate for these Indians. With another road loss, this time to the Astros in Minute Maid Park on Monday night, Cleveland doesn't have much time left to chase a playoff spot.
Even on a night with some positives, like Zach McAllister's strong effort or a first-inning run, it wasn't enough as the Tribe fell, 3-1, to move six games back of the second American League Wild Card spot.
For the Indians, it may be these series openers that ultimately keep them on the outside looking in come October. They are now 22-28 in such games this season.
This one definitely featured a little despair crammed between the positives, as the loss dropped Cleveland to 0-4 on this decisive 10-game road stretch.
Jose Altuve's two-run single in the third inning was all the Astros needed. It was the second baseman's team-record 63rd multi-hit game of the year, so it was hardly a knock against McAllister.
"He's so tough," McAllister said. "Sometimes, it's almost easier to face those bigger guys who have longer swings. With him, he's got such a short swing and knows how to manipulate the bat."
Indians manager Terry Francona said Altuve is one of the game's ultimate difference makers, and he showed more of it Monday night at an inopportune time for the Indians.
"He's one of the best players in the game," Francona said. "The stolen bases, the energy, the hitting to all fields -- he's a very difficult guy to pitch to because he can go out of the zone to get hits. There's no easy way to go around him."
Other than the mistake McAllister left up to Altuve, he looked more like the back-end starter Cleveland enjoyed en route to the playoffs last season rather than the erratic one it's seen this year.
"I felt pretty good," McAllister said. "There was times I got into trouble … Overall, entire game I felt happy with the early strikes and soft contact and good play behind me to help me out."
Early on, the Astros found some success off the righty's high offerings, but he said settling back into the starting position probably happened gradually.
Eventually, the form returned a bit, especially after he eased out of a fourth-inning jam by getting Matt Dominguez to ground out as a runner crossed home plate.
"I fell behind at times trying to overthrow a bit, so I just let myself relax and really focus on getting the ball down to get back in counts or get ahead," McAllister said. "It was different [being back in the rotation]. Going to the bullpen was definitely a different thing. … But any time they call your name or number, they expect you to put up zeros and get guys out."
The righty, making his first start since July 31, wasn't unhittable by any means. But his no-walk, seven-hit performance was a solid return to starting form in a crucial spot. It could have even been enough under more fortunate circumstances.
Instead, he's now gone 11 straight starts without a win and is mired in a seven-game losing skid as he tries to recapture his 2013 form after a stint in Triple-A Columbus and in the Tribe bullpen.
On this night, though, he and the Indians had the misfortune of facing lights-out Astros starter Collin McHugh. In fact, the only thing that drove McHugh out of the game was Lonnie Chisenhall's seventh-inning liner that hit McHugh's left forearm.
McHugh suffered a left forearm contusion, but Chisenhall was ultimately retired on the play.
Prior to that, the Indians were thoroughly stymied by McHugh and didn't have multiple baserunners in an inning after leadoff man Michael Bourn scored on Carlos Santana's single after a first-inning Astros error. McHugh lasted 6 2/3 innings while allowing just five hits and striking out seven.
"That curveball of his just has such tight spin, so it's a swing-and-miss breaking ball," Francona said. "We hit a few hot balls that got caught, but there weren't many chances."
McHugh's not just picking on Cleveland here. The start marked his ninth straight outing in which he allowed two runs or fewer.
"I feel like today was a little more of a battle," McHugh said. "For whatever reason, these guys see me a little bit better than some other teams I've faced. I have to make better pitches, probably throw a few more cutters than I usually would because they're a good fastball-hitting team.
"Overall, yeah, it was a battle today for sure."
But still one that Cleveland ultimately lost, giving the Indians a four-game losing streak for the second time in six weeks.
There's still three more games against the suddenly surging Astros in Houston, enough time to tilt the now-tied 2-2 season series in the Indians' favor.
With two weeks left in the season, that task may ultimately be a must, rather than a luxury.
Chris Abshire is a contributor to MLB.com. This story was not subject to the approval of Major League Baseball or its clubs.