Rockies miss chances before Dodgers pull away
Unable to cash in early, Colorado done in by LA's eight-run sixth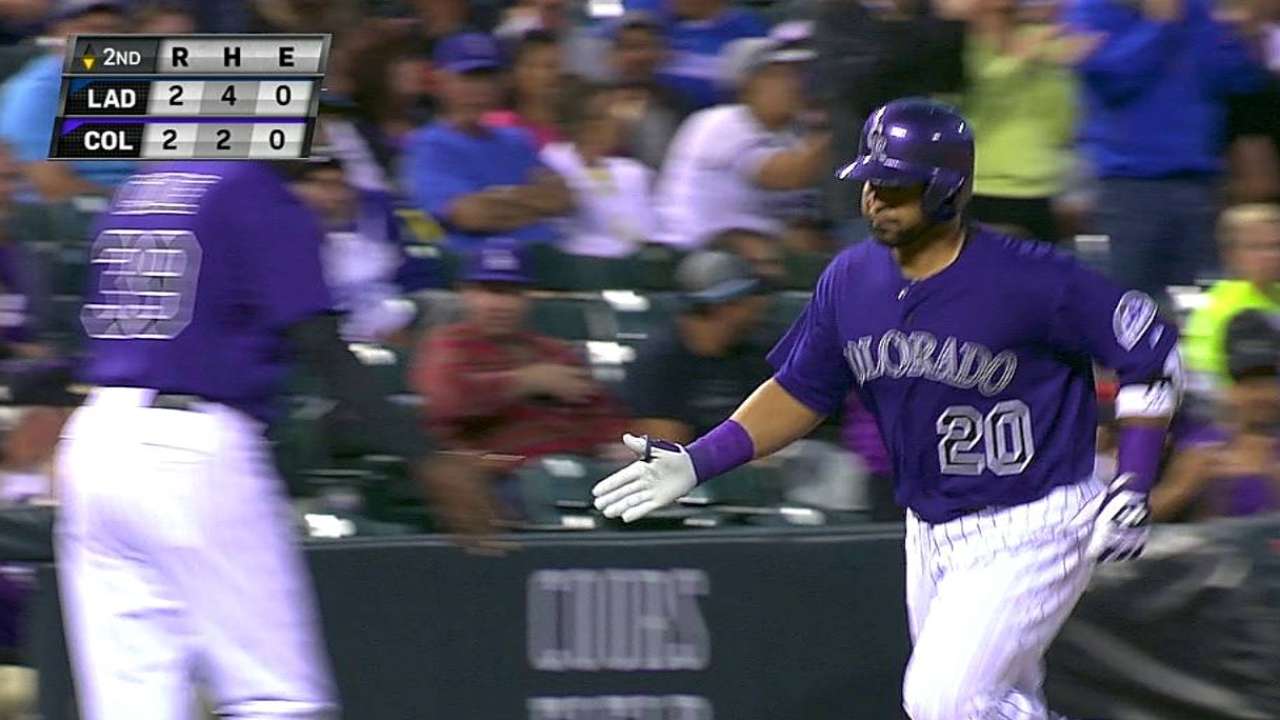 DENVER -- You can't spell dysfunction without "fun," and the Dodgers had plenty of both Monday night. As for the Rockies, well, they may be harmonious but there's no enjoyment in a seven-game losing streak.
After the Rockies blew numerous early scoring opportunities, the Dodgers ignited for eight runs on seven hits in a sixth inning that featured an animated discussion between Matt Kemp and Yasiel Puig. When all the shouting was over, the National League West-leading Dodgers had an 11-3 victory at Coors Field.
But Rockies right-handed reliever Nick Masset, the last of three pitchers who took a beating from the red-hot Dodgers in the sixth, said he's certain the Dodgers are having a blast. They've won eight of their last 10 and have scored 32 runs in their last three games.
"Of course they're having fun," said Masset, who gave up three runs on three hits in the sixth. "When you're winning, you're having fun. But as the opposing team, you really don't try to think of those things. Even though things are going bad for us, everyone's competing, keeping our heads up."
After a winless six-game road trip, the last-place Rockies began their final homestand of 2014 with much base traffic but little to show for it. The Rockies' seven-game losing streak is one game shy of the season's longest skid -- eight games from May 28 to June 6.
While the Rockies are trying to keep their heads held high, the Dodgers -- even with the fun of winning and holding a four-game lead on the second-place Giants -- have to keep their heads from butting.
TV cameras caught an angry exchange between Kemp, who hit a two-run homer in the first inning off Rockies starter Christian Bergman (2-4), and Puig that ended with Dodgers manager Don Mattingly trying to smooth things with Puig through an interpreter.
Asked about the incident, Kemp shot back, "It's a good game we played today, huh? Go Dodgers."
Mattingly reminded all that winning teams aren't always harmonious.
"Just talking in the dugout," said Mattingly, who didn't reveal the subject of the argument. "Same old things ... We're like the A's. The '72 A's.
"Just family business."
Of course, the 1972 A's were the beginning of a rollicking, bickering dynasty that won three straight World Series.
Kemp and Puig merely exchanged angry words. The blows were struck by the Dodger bats, but only after the Rockies blew several opportunities for big innings.
Michael Cuddyer doubled in a first-inning run, but that was after Charlie Blackmon was caught between third and home on Justin Morneau's grounder to Dodgers third baseman Juan Uribe. Wilin Rosario led off the second with his 11th homer, off Dodgers starter Roberto Hernandez. But later in the inning, Bergman missed a suicide squeeze bunt attempt and watched Dodgers catcher A.J. Ellis tag DJ LeMahieu at the plate.
After the wasted chance in the fourth, Corey Dickerson delivered an RBI single in the fifth off Jamey Wright. All this was good for a 3-3 tie, instead of a significant Rockies lead.
"We score in those opportunities early on, maybe the game's a little bit different," Rockies manager Walt Weiss said. "In the sixth, obviously, it got away from us."
Bergman had pitched decently to that point, with seven strikeouts. But he hit Carl Crawford to open the sixth and gave up singles to Uribe and Ellis.
"The big thing was getting the leadoff hitter," said Bergman, who gave up six runs on nine hits.
Lefty Rex Brothers replaced Bergman, but not for long. He was gone after yielding Justin Turner's pinch-hit, two-run double and Dee Gordon's RBI single, on just two pitches. In Brothers' last five appearances, six of his nine inherited runners have scored.
Masset walked Puig and coughed up Adrian Gonzalez's single before striking out Kemp. But Hanley Ramirez doubled in a run, Crawford added a sacrifice fly and Uribe doubled in a run before the frame ended.
Thomas Harding is a reporter for MLB.com. Read his blog, Hardball in the Rockies, follow him on Twitter @harding_at_mlb, and like his Facebook page, Thomas Harding and Friends at www.Rockies.com. This story was not subject to the approval of Major League Baseball or its clubs.