Eight-run sixth helps Dodgers stretch NL West lead
LA extends division cushion to four; Adrian moves atop NL RBI list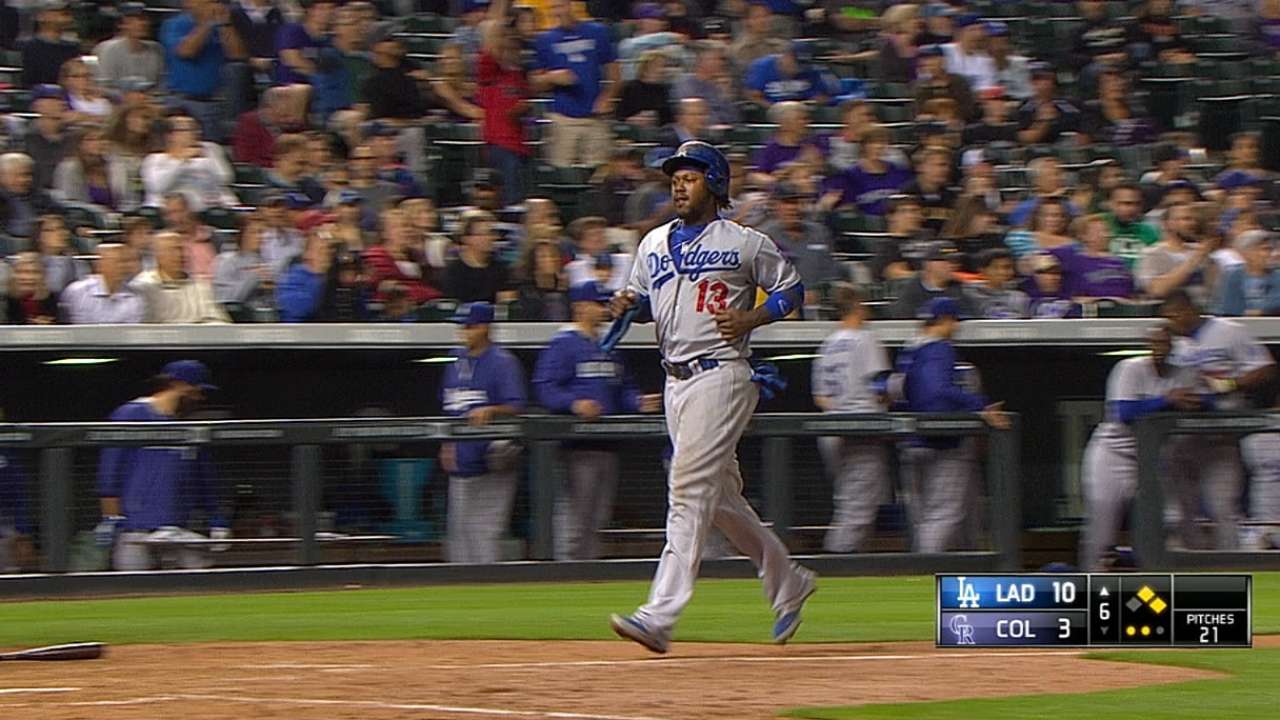 DENVER -- Sometimes, all it takes is one inning to turn a potential letdown into a bona fide blowout.
The Dodgers danced their way out of trouble all evening before erupting for eight runs in the sixth to secure an 11-3 win over the Rockies at Coors Field on Monday.
With the Giants losing, 6-2, to the D-backs, the Dodgers' eighth victory in their last 10 games extended their National League West lead to four games and shaved their magic number to nine. They've also scored 32 runs in the past three games.
With the score tied at 3, the Dodgers sent 12 to the plate in the sixth as seven players reached before the first out was registered.
"That one inning just seemed to keep going," Dodgers manager Don Mattingly said. "This is a tough place where you never feel like you have enough runs. We get two early and they get right back in it. We get up one and they get right back in it. Then we kind of explode right there."
Rockies right-hander Christian Bergman began the frame looking to build on his career-high seven strikeouts. But a hit batter and two singles later, he was pulled for left-hander Rex Brothers.
Brothers was able to total only two pitches before the Dodgers relegated him to the bench as well. On his first offering, Justin Turner delivered a two-run, pinch-hit double. Dee Gordon then poked Brothers' second fastball out to the opposite field for an RBI single.
Right-hander Nick Masset came on from there only to be delivered a similar fate at the hands of the Dodgers. By the time Los Angeles' reign was over, Adrian Gonzalez, Hanley Ramirez, Carl Crawford and Juan Uribe had each tallied at least one RBI off Masset.
The action-packed sixth inning also featured a lively exchange between Matt Kemp and Yasiel Puig in the dugout. But all Masset saw was a team that seemed to be thoroughly enjoying itself.
"Of course they're having fun," said Masset, who was charged with three runs on three hits. "When you're winning, you're having fun."
Gonzalez, who also doubled in a run in the fifth, finished 2-for-5 with three RBIs, giving him 106 to overtake the Marlins' Giancarlo Stanton for the NL lead.
"He knows how to drive in a run," Mattingly said. "He's been that guy for us."
Although eight runs is enough to erase most deficits, the Dodgers were fortunate to not find themselves trailing entering that frame.
Right-hander Roberto Hernandez lasted just 3 2/3 innings, allowing two runs on six hits, and his outing likely would have been even shorter had the Rockies not run into two outs trying to take home from third.
In the fourth, Hernandez loaded the bases with one out. Mattingly allowed him to stay in for one more batter, but after Hernandez rang up Bergman, he took a seat.
On to face Charlie Blackmon, left-hander Paco Rodriguez got the better of the lefty-lefty matchup by forcing the Rockies All-Star to ground into a fielder's choice to short.
"Paco is pretty much a strike-thrower," Mattingly said. "He's always handled all situations pretty well … I felt like he could handle it."
Kemp hit his second homer in as many days with a two-run shot in the first to put the Dodgers on the board.
Batting .325 (26-for-80) with six homers, nine doubles, 20 RBIs and 14 runs over his last 21 games, Kemp's .248 average at the end of May looks long in the rearview mirror.
"It's not the way you start, it's the way you finish," Kemp said. "I've always been a big believer in that. The season is still not over so we've got to keep grinding it out."
Cody Ulm is an associate reporter for MLB.com. This story was not subject to the approval of Major League Baseball or its clubs.