Twenty years later, Jeter reflects on move to Tampa
Yanks legend returns to where career began, where he'll live when it's over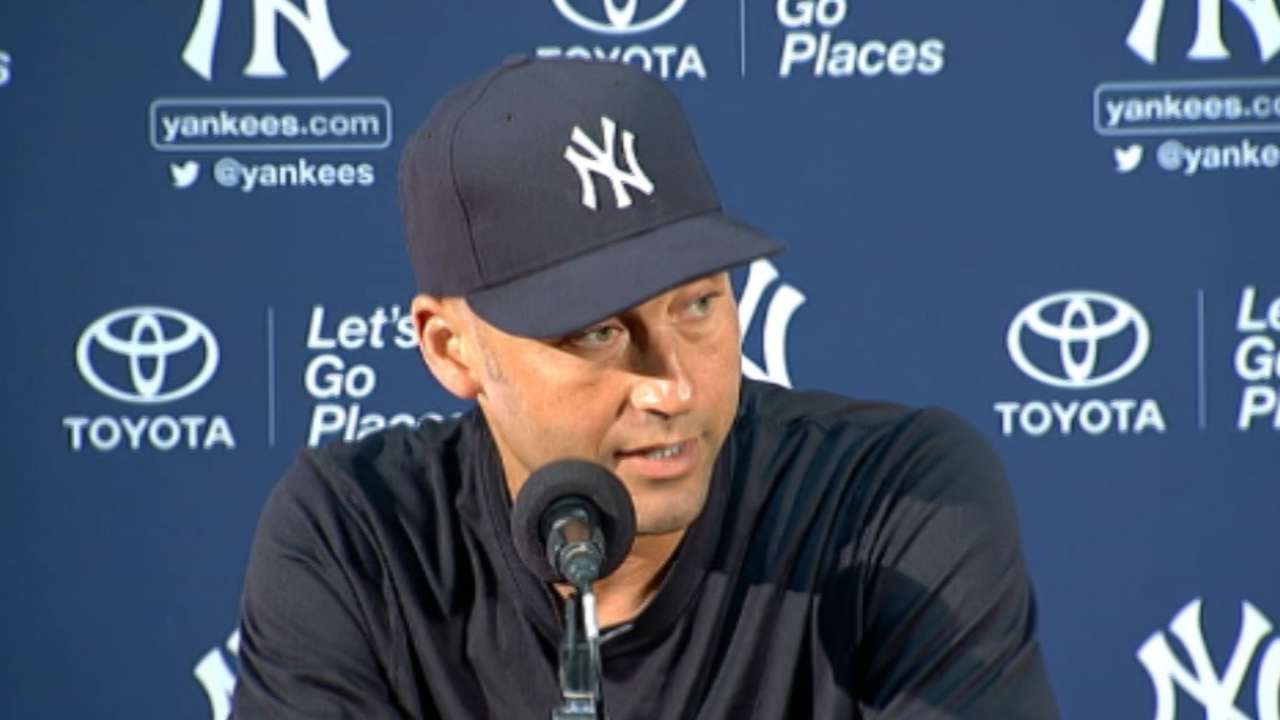 ST. PETERSBURG -- Derek Jeter moved to Tampa, Fla., in 1994 for the sake of improving his budding baseball career.
It's warm enough to work out in the winter, something he couldn't do in his home state of Michigan. It's where the Yankees' Minor League complex was and still is located. The fields on Himes Avenue where Jeter tirelessly worked to improve his fielding as a lanky 18-year-old are the same ones he started working on this January to get ready for Spring Training.
But before the 14 All-Star Games, the five World Series championships and the bay side mansion, Jeter was miserable.
"Just coming here and being extremely homesick, struggling very bad, wondering if I made the right decision, crying every night," Jeter said before Monday night's series opener against the Rays at Tropicana Field. "My first memories here really weren't fond memories, so it's kind of ironic I live here now. When I first came, I thought, 'What am I doing here far away from home?'
"I couldn't wait to leave. But now, this is home for me."
When this season ends, Jeter will hang up his pinstripes and begin life as a retired baseball player here, in Tampa. He's already got a cozy little place set up over on Davis Islands -- that 30,875-square-foot mansion on Hillsborough Bay a few minutes south of downtown, the one often referred to around these parts as "St. Jetersburg."
"I fell in love with this area a long, long time ago," Jeter said. "This is home for me. I don't plan on going anywhere."
With Jeter playing his final series at Tropicana Field, a short drive from his home, it's an appropriate time to look back on what Tampa has meant to Jeter -- and perhaps more important, how much Jeter has meant to Tampa.
*****
The baseball significance is obvious: Jeter's 20-year baseball career began here. He was an 18-year-old kid at the Yankees' Minor League complex on Himes Avenue in Tampa. He played for their Gulf Coast League affiliate and came back in 1994 to play for the Class A Tampa Yankees.
The closer he could be to the Yankees' Minor League facilities and coaches, he thought, the better off he'd become as a player.
"I always thought when I was in the Minor Leagues that if it came down to a decision between myself and another player, I wanted everyone to see how hard I was working," Jeter said. "That's why I moved here, honestly, because of the weather. Michigan's a little colder."
But he spent a lot of time then wondering whether he'd made the right decision to start his professional career, literally crying himself to sleep at night as he struggled for the first time in his baseball life.
"Those were real tears. I didn't show people for a reason," Jeter said. "Anytime you go through struggles and life lessons, I think it helps shape you as a person. Even though those weren't fond memories at the time, I look back at them now and I appreciate it."
What he's done for thousands of kids throughout Tampa since then doesn't get quite the same attention as his highlights on the field or the rumors about his famously private personal life, but it's no less a part of his legacy here.
Jeter's Turn 2 Foundation, designed to motivate young people to choose healthy lifestyles, has programs in western Michigan, where he grew up, and New York. The next logical step was to branch out into Jeter's offseason home of Tampa.
That's why two Hillsborough County students each year receive the Derek Jeter/Hillsborough Education Foundation Scholarship. That's why the Turn 2 Foundation partners with the Tampa Parks and Recreation Department to host a free annual four-day baseball camp. It's why the foundation provides financial assistance for 15 students every year to attend St. Peter Claver Catholic School in Tampa.
And it's why the Derek Jeter Center at Phoenix House exists. It's the foundation's signature program in Tampa, a care provider for at-risk kids with mental health and substance-abuse problems in Hillsborough County. The foundation helps the program bring in motivational speakers and provides tickets to Rays games and Yankees Spring Training games.
Patrick McEneaney, regional director for the Phoenix House, estimated the Derek Jeter Center has successfully helped about 500 kids per year since it opened in 2004, and the entire Jeter family has been "very engaged" in its growth.
"The Jeter foundation has supported us financially every year. Without their contributions, we could never have provided the services that we provide," McEneaney said. "The Jeter foundation has been critical -- that's the only word I can use -- in sustaining those programs in Tampa.
"He certainly has helped a lot more kids than he has hits. And he has a lot of hits."
Adam Berry is a reporter for MLB.com. Follow him on Twitter at @adamdberry. This story was not subject to the approval of Major League Baseball or its clubs.