Mauer's four RBIs not enough after Fien falters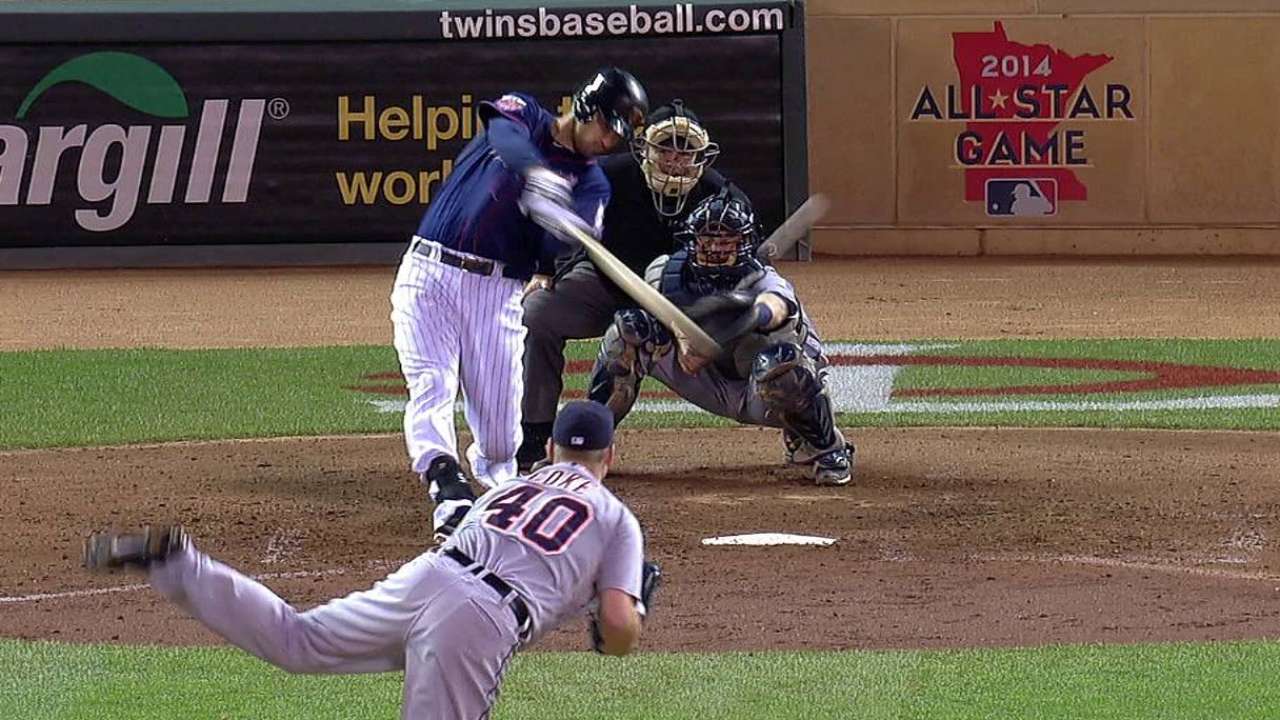 MINNEAPOLIS -- It was the kind of loss that's become all too familiar for the Twins this season. They've fought their way back into countless games after falling behind early, only to come up short, and that was again the case on Monday night.
The Twins erased a six-run deficit, a rally keyed by a pair of two-run singles from Joe Mauer, but Casey Fien served up back-to-back homers to Torii Hunter and Miguel Cabrera in the ninth in an 8-6 loss to the Tigers at Target Field.
"These guys busted their tail out there," manager Ron Gardenhire said. "It was a tough loss. We gave it everything we had. They stayed after [it] against one of the best pitchers in the game. They had some great hits and some great at-bats, but unfortunately, it ends up on the bad side of it."
After being down, 6-0, the Twins tied it in the eighth after Joba Chamberlain, pitching in relief of Max Scherzer, walked Danny Santana and Brian Dozier to open the inning. Left-hander Phil Coke came in, and after a successful double steal, Mauer hit the ninth pitch of the at-bat to left field to send home both runs and tie the score.
But the Tigers retook the lead in the ninth, with Hunter connecting on the first pitch he saw from Fien for a go-ahead homer. Just two pitches later, Cabrera homered to give the Tigers an insurance run.
"It's frustrating," Fien said. "I knew they were going to be aggressive. They always are aggressive with me. They know I'm going to attack, and it backfired on me."
Fien was the fourth reliever used by the Twins after Anthony Swarzak struggled in a spot start. Swarzak, making his second start of the season with Tommy Milone scratched due to stiffness in his neck, went 4 1/3 innings, giving up six runs on 11 hits and a walk with two strikeouts.
"They're aggressive when they need to be," Swarzak said. "When nobody's on, they'll take strike one, but with runners on, they're up there to do damage."
The Tigers scored in a hurry, with two runs in the first inning. Cabrera started the rally with a double off the right-field wall. Victor Martinez followed with an RBI double before scoring on a single by J.D. Martinez.
Detroit added three runs in the fourth, with J.D. Martinez opening the inning with a double to right field on a ball misjudged by Oswaldo Arcia, who thought the ball was going to hit the wall, but it bounced on the warning track. After a single from Nick Castellanos, Bryan Holaday scored Martinez with a double before Andrew Romine singled home two runs.
"We missed some plays," Gardenhire said. "We had some balls we could have caught out there. But he was definitely leaving balls up, and they were jumping on him early."
The Tigers padded their lead in the fifth after the Twins intentionally walked J.D. Martinez to load the bases with one out. Reliever A.J. Achter was brought in, and he promptly walked Castellanos to send home a run. Achter was able to get out of the jam with the help of Chris Parmelee, who threw out Victor Martinez as he tried to tag up on a fly ball to left field.
The offense helped back Scherzer, who didn't have his best stuff. He gave up four runs on seven hits and a walk over seven innings and was stuck with a no-decision.
The Twins didn't get a hit until the fourth inning and didn't get on the board until the fifth, when Arcia launched a solo blast into the second deck in right field. It was his 18th homer of the season.
But Minnesota made it a game in the sixth, with three runs, a rally sparked by a two-run single from Mauer after he'd fallen behind, 0-2, in the count. Kennys Vargas followed with a single before Trevor Plouffe plated Mauer with a sacrifice fly to right field.
Mauer tied a season high with his four RBIs, but ultimately, it wasn't enough for the Twins, as Joakim Soria worked around a leadoff double in the ninth to get the save.
"Those guys never give up over there," Hunter said. "They kept chipping away. Joe Mauer almost beat us himself. But we came through in the end."
Rhett Bollinger is a reporter for MLB.com. Read his blog, Bollinger Beat, and follow him on Twitter @RhettBollinger. This story was not subject to the approval of Major League Baseball or its clubs.