Back-to-back jacks in ninth keep Tigers on pace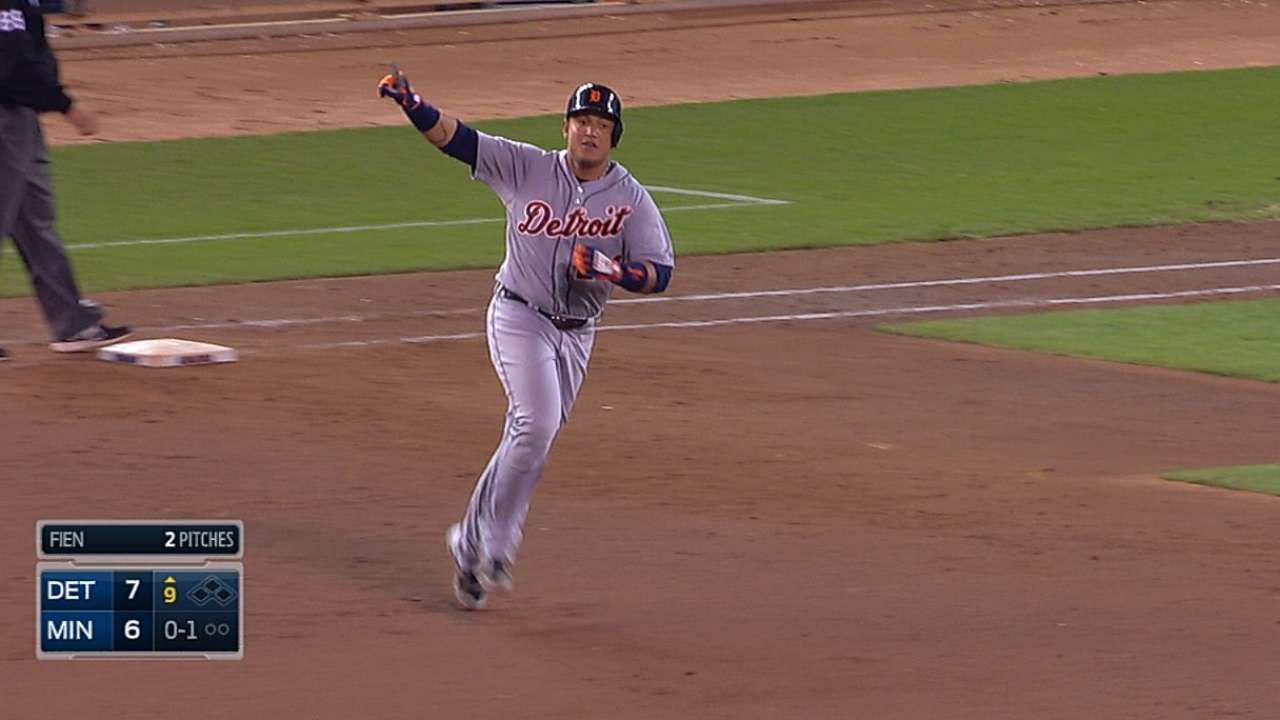 MINNEAPOLIS -- With a six-run lead gone, the pennant race tightening and a loss on the horizon, the Tigers leaned on a kid pitcher and two veteran hitters to save the day.
Kyle Ryan escaped an eighth-inning jam by getting a huge double-play grounder, Torii Hunter and Miguel Cabrera hit back-to-back homers leading off the top of the ninth inning, and the Tigers opened a three-game series with an 8-6 win over the Twins at Target Field on Monday.
The Twins rallied with three runs in the sixth off Max Scherzer, then scored twice off the bullpen in the eighth to tie the score. They threatened to take the lead, but Ryan -- making just his third Major League appearance -- got pinch-hitter Eduardo Nunez to ground into a double play with two runners on to end the inning.
"Unbelievable," Ryan said. "I was shaking like a leaf on the mound in the bullpen, and then out on the mound on the field, I was still shaking, just knowing I'm coming into a situation where I need to get two outs. I needed a double play, so I went out there and did what it took."
Hunter then pounced on Casey Fien's first pitch of the ninth inning, blasting it 403 feet into the bullpen in left-center to put the Tigers back on top, 7-6. Cabrera followed suit two pitches later to give the Tigers their seventh win in their last eight games.
"Miggy didn't want me to have fun or celebrate too much," Hunter said. "Before I could even get my elbow guard and my toe guard off, he hit one."
Joakim Soria, filling in as closer with Joe Nathan getting a night off, earned his first save with the Tigers, pitching around Kurt Suzuki's leadoff double.
Scherzer pitched seven innings -- his longest outing since Aug. 19 -- and gave up four earned runs on seven hits with one walk and five strikeouts. He handed a two-run lead to the bullpen in the eighth inning, but Joba Chamberlain opened the inning by walking the first two batters.
"You could tell right away that Joba was tired," manager Brad Ausmus said. "His velocity wasn't there -- that's why the short leash with him, and I tried to find another way to get through that eighth inning."
A double steal put both runners in scoring position, and Joe Mauer tied the score with a two-run single off Phil Coke. One out later, Trevor Plouffe ripped Al Alburquerque's first pitch to left for a single, then Ryan came on for his star turn.
"Blaine [Hardy] has been scuffling a little bit throwing strikes lately," said Ausmus, who discussed the situation with pitching coach Jeff Jones. "We needed another lefty. … We thought Kyle could handle it."
After falling behind, 1-0, Ryan threw a sinker that got in on Nunez, who rolled it over to shortstop Andrew Romine for a routine double-play ball.
"That was the perfect pitch," Romine said. "He hit his spot, and we were playing to that area to hopefully get that ground ball. I mean, all the credit goes to him, because he made his pitch, and we ended up being in the right place."
Romine had three of the Tigers' 16 hits, including a two-run single in the fourth that pushed Detroit's cushion to four runs. Cabrera had a single, a double and a homer, and Victor Martinez doubled twice in five at-bats as he chases the Astros' Jose Altuve for the American League batting title.
Scherzer was cruising until Oswaldo Arcia hit his 18th homer of the season to break up the shutout in the fifth inning. The Twins then scratched across three runs in the sixth, two of them scoring on a Mauer single after a nine-pitch battle between the three-time batting champ and the reigning AL Cy Young Award winner.
"That's a typical Mauer at-bat -- he's going to do that," Scherzer said. "I made some good pitches, he fouled them off, then he hit it back up the middle, and that's when a lot of the damage was done."
Still, on a night when the Royals rallied for a comeback win to remain 1 1/2 games behind the Tigers in the AL Central, nobody in the clubhouse was complaining about how they won. At this point in the season, any win is a good win.
"It means something because it's 'Septober,'" said Hunter, using one of his unique coinages. "Septober is awesome. In Septober we're trying to win games and keep fighting. You just never give up."
Patrick Donnelly is a contributor to MLB.com. This story was not subject to the approval of Major League Baseball or its clubs.