Nicolino, Realmuto win Minor League awards
Left-hander, catcher named Pitcher of the Year, Player of the Year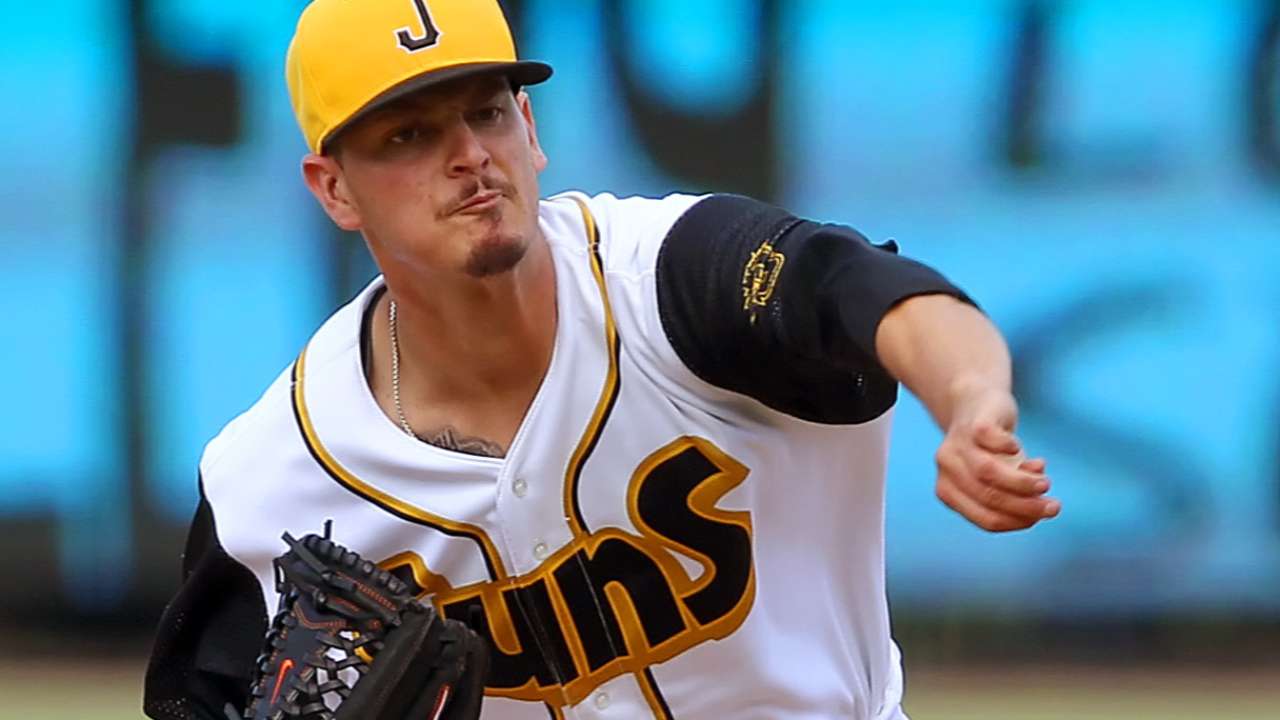 NEW YORK -- A philosophical change in direction is a major reason one of the Marlins' top pitching prospects did not get promoted to the big leagues this summer. Instead of placing Justin Nicolino on the fast track, the club opted to let the lefty get a full season of development at Double-A Jacksonville.
It paid off with a Southern League championship, along with valuable experience commanding the strike zone. Nicolino received another honor on Monday, when he was named the Marlins' Minor League Pitcher of the Year. J.T. Realmuto, currently on the big league club, was the organization's Player of the Year.
Realmuto, a catcher who batted .299 at Jacksonville, has already got a taste of the big leagues. Nicolino's turn will have to be next season, at the earliest.
"We made the decision, when we can slow certain guys down, because you don't have to rush them," Marlins general manager Dan Jennings said. "You can give them that full year of development at one level, with one pitching coach. I think it maximized the year for Nicolino."
The lefty made 28 starts in the regular season for Jacksonville, and he finished with a 14-4 record and a 2.85 ERA. In 170 1/3 innings, he struck out 81 and walked 20.
When Michael Hill was promoted to president of baseball operations and Jennings to general manager at the end of 2013, the organization changed its thinking about rushing prospects. Previously, the franchise moved players quickly, often directly from Double-A to the big leagues.
Nicolino, ranked the Marlins' No. 4 prospect by MLB.com, may have fallen into that category in the past. But now, he was allowed to develop at his own pace.
Lefty Andrew Heaney, the club's top prospect, also was moved along slowly. Like Nicolino, Heaney started the season at Double-A. But Heaney was moved up to Triple-A New Orleans before making his big league debut in late June. Heaney had four starts in the Majors, and he was sent back to New Orleans in early July after he was struggled.
In Nicolino's case, he isn't overpowering, reflected by his strikeouts-to-innings rate.
"He's got a nice fastball, but it's not a plus fastball," Jennings said. "I think when you look at his overall body of work, 14 wins, what he did in the playoffs ... the guys who saw him in the playoffs said he took another step forward in the postseason.
"I think he's learning the importance of commanding in strike zone with all of his pitches. That's what he's going to be. He's going to be that guy who can add or subtract a little bit. That's where his success is going to come, to be able to command in the strike zone."
Realmuto, ranked Miami's No. 7 prospect, is gaining some big league experience in the final two weeks.
"It's been an eventful last three days, that's for sure," Realmuto said. "Winning a title with those guys was an unbelievable experience. Being called up, obviously, is a dream come true. And finding out I won Player of the Year. You can't really ask for much more to end my year."
Joe Frisaro is a reporter for MLB.com. He writes a blog, called The Fish Pond. Follow him on Twitter @JoeFrisaro. This story was not subject to the approval of Major League Baseball or its clubs.