Sharp Harvey touches 95 mph in simulated game
Mets righty shut down for season after final throwing session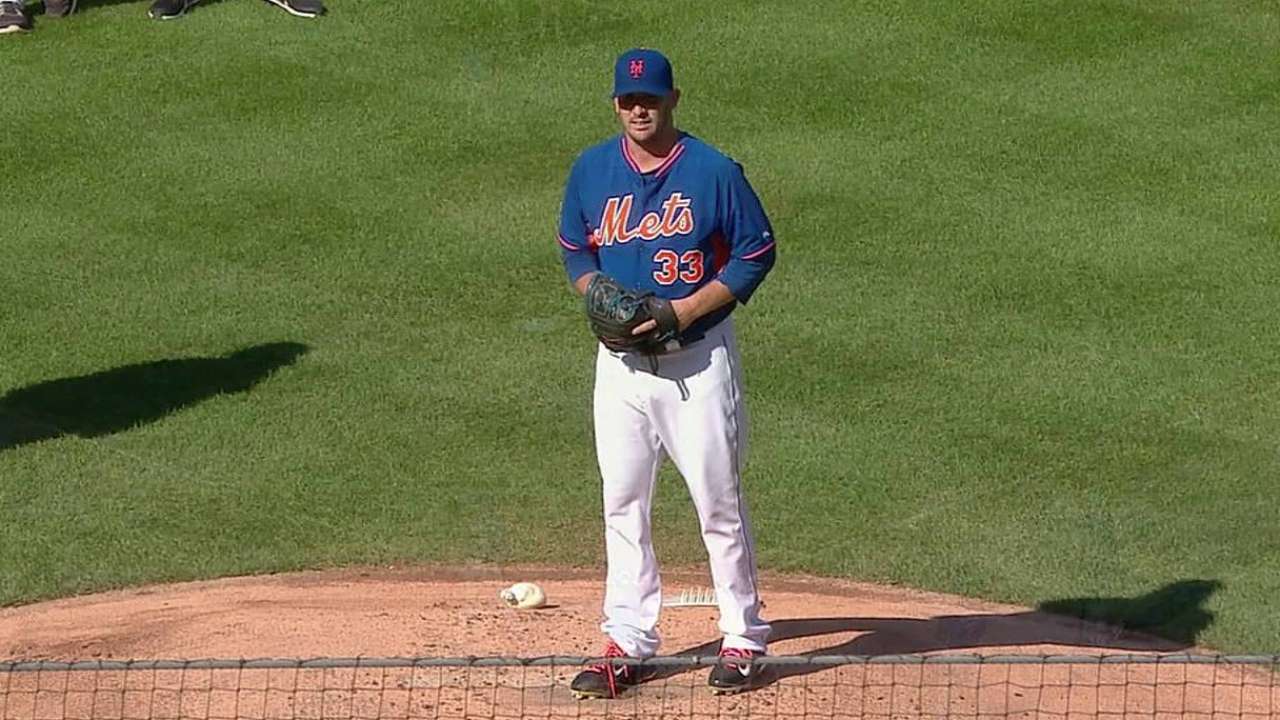 NEW YORK -- For the first time in over a year, Matt Harvey climbed atop Citi Field's main pitching mound on Monday afternoon, toed the rubber and began firing. Fastballs came out of his hand at 95 mph. Curveballs crashed to the dirt. After one particularly devilish changeup, Harvey grinned.
It was the final throwing session of the season for Harvey. The Mets did not make Harvey available for comment after his three-inning simulated game, though plenty of others were willing to gush about him.
"Everything we were trying to accomplish this season has been accomplished," general manager Sandy Alderson said. "From our standpoint, we wanted to make sure that he was physically back to a level that would ensure he wasn't behind in Spring Training. And then secondly, he needed to be back to a state, mentally, where he felt comfortable going into next season and any uncertainty had been eliminated. We feel we're at that point."
To be clear, Harvey will not go into the spring of 2015 completely unrestrained. He may need to alter his usual offseason routine to prepare, and the Mets may limit his innings and/or pitch counts at the beginning of the regular season. Alderson said the team will eventually map out a specific set of limitations for Harvey, preferring to limit him at the beginning of the season rather than the end.
In many ways, the Mets have been limiting Harvey ever since he underwent Tommy John surgery last October, squelching his desire to pitch in games this season -- even in instructional ball or the Arizona Fall League -- and even ordering him to scrap his slider during Monday's bullpen session.
"We didn't want him amping all the way up," Alderson said. "There's no reason to put a lot of torque on that elbow today."
By limiting Harvey in 2014, the Mets believe they have put him on schedule to become a force once more in '15. Monday's session was just the latest bit of tangible evidence.
"You can't look back and worry about what happened," manager Terry Collins said. "You look forward and say, 'That's a really nice piece.' Come February, that's a really, really nice piece."
Anthony DiComo is a reporter for MLB.com. Follow him on Twitter @AnthonyDicomo. This story was not subject to the approval of Major League Baseball or its clubs.